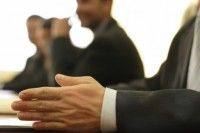 With the world?s political heavyweights landing in Brisbane for the G20, what do they discuss, apart from who?s "shirt-fronting" who?
Here?s a basic rundown of what global economic and financial issues are on the table:
Anti-Corruption
Cross-border tax evasion and avoidance costs businesses and developing economies around US$1 trillion in lost revenue annually – money that could have been spent investing in critical infrastructure. The G20 continues to fight corruption and alleviate its negative impact on economic activity.
Development
Emerging and developing economies contribute the bulk of global economic growth, but face several constraints. Overcoming these bottlenecks is not just a problem for poor countries – G20 economies amount for around 85% of the world?s gross domestic product but are home to more than half of the world?s poor.
Employment
With the world economy still recovering from the Global Financial Crisis (GFC), unemployment continues to hamper many countries and people are struggling to find work and study opportunities. The G20 will discuss measures to lift labour force participation and create the right conditions to generate employment opportunities.
Energy
Well-functioning energy markets and reliable supply are vital to keeping down the cost of living for households and business operations. Global energy demand is expected to increase by over one-third by 2035 and the patterns of supply and demand are changing. G20 members are exploring ways to work together to achieve better outcomes on energy efficiency.
Financial Regulation
After the GFC shook the economy and triggered a global recession, G20 members are working to restore and promote financial stability and strong yet balanced growth. Ongoing monitoring to identify new risks is also a focus.
Growth Strategies
Economic growth is dependent upon increasing infrastructure, reducing barriers to trade, promoting competition and lifting employment and participation. The aim is to identify reform at domestic level that suits each country?s circumstances and potential.
Investment and Infrastructure
The G20 is focusing on ways to boost private sector involvement in infrastructure development, through global initiatives, to increases jobs and boost economic growth.
Reforming Global Institutions
In recent decades, emerging and developing economies have become bigger players in the global economy. However, their representation at the International Monetary Fund (IMF) has not kept pace with these changes. G20 members will review this to ensure the continuing relevance of IMF and other global institutions.
Strengthening Tax Systems
Where the tax burden isn?t spread fairly or there are loopholes in tax laws that allow some companies to escape paying their share of tax, taxpayers and businesses either have to pay more tax or accept a reduced level of government services. The G20 is strongly committed to protecting the integrity of national tax systems.
Trade
Reducing barriers to trade underpins a country?s ability to grow economically. Many products cross national borders often as they are being created. Cutting red tape helps economies become more productive and efficient.
The G20 is not all talk, though. Action plans are drawn up and member countries held accountable for their actions or lack of. The summit may have its shortcomings, but it is an active forum of international economic consultation at the highest level. In an ever-changing global economy, cooperation and dialogue are essential.