How do you know when a business is worth more than it's listing on the market? In this article, Roger Montgomery deep-dives on finding high-quality shares in any market climate.
The vast majority of investors who allocate to our funds have arrived at a point where the time taken to analysing businesses and calculating intrinsic value is better spent with family and friends, running their own business or pursuing leisure activities. As one wealthy investor quipped rhetorically, 'what's the point of being wealthy if you're tied to your computer?"
The outperformance of Montgomery funds, since their inception, demonstrates that it is entirely possible to beat the market and that there is merit in researching individual company opportunities. For investors who wish to go it alone and build their own direct share portfolio, that is good news indeed. This column is all about identifying high-quality businesses and buying them for less than they're worth.
Before we begin, it is vital to differentiate between speculating – an activity that is all too common during the COVID-19 lockdowns – and investing. Investing treats each share as a piece of a business. Speculating however is betting on the ups and downs of the share prices. Speculating is gambling and gamblers tend to lose. Of course, hope springs eternal and so there is never a shortage of speculators who boast of their success, no matter how fleeting that success inevitably is.
According to Benjamin Graham, the founder father of modern security analysis and the mentor of Warren Buffett; "Investing is most successful when it is most business-like".
At Montgomery Investment Management, we are not inclined to own a little piece of a business (stock) for 10 minutes if we would not be prepared to own the whole enterprise for 10 years. That disposition forms part of our investment philosophy, which permeates our entire investment framework and process.
When one starts treating shares as an ownership stakes in a business, the entire approach to allocating capital changes; instead of betting on a piece of paper that wiggles on a screen, we become interested in how the underlying business makes money, how it fits within its competitive landscape, and how much it could grow by and for how long. Owning a business also changes the way you think about selling. If you owned a successful Australian business outright, would you sell it because there was concerns over who might be the next US president, or because Europe's inflation rate had just picked up? Of course you wouldn't.
The issue however is that your business is not owned outright, it is shared with thousands of other investors, many of whom react irrationally to US presidential nominations and European inflation rates. The consequences of their emotion, impatience and fear is that the price of your business changes daily, moving up and down like a yo-yo.
The key to approaching investing in a business-like manner is to prevent the daily ups and downs influencing your view of the underlying business. If the share price falls, instead of running for the exits you may want to be buying more of that great business.
If the idea of investing in outstanding businesses appeals to you more than gambling or speculating on share prices, you'll need a set of tools to help you identify and value those outstanding businesses.
And before you start employing those tools, you will need a framework. A framework is your 'How To' manual for those tools. At Montgomery we have distilled our framework into three components: 1) Quality, 2) Value, and 3) Cash when quality and value are unavailable.
How to identify outstanding companies
To appreciate how we identify and think about businesses of extraordinary quality it is essential to understand how a business's performance helps a company become more valuable.
The example I have been using for many years for this exercise starts by considering a bank account with $10 million deposited, earning a very attractive annual interest rate of 20% forever. We start by assuming the account must distribute all the interest earned – $2 million – every year. If we were to auction off this bank account, we would quickly discover that, with interest rates where they are today, its market value is much higher than the equity deposited in the account. In other words, the price it would sell for at an auction (remember the sharemarket is a just a giant auction room) would be much higher than $10 million.
An initial step is to determine the return you would like on your money. Importantly, this 'required' return must consider the risks being adopted as well as the returns available elsewhere. For an investor with a required return of 10%, they could pay $20 million for this bank account, which is earning $2 million per annum, thereby receiving a return equivalent to 10%, equivalent to their required return. If someone was happy with a five% return, they could pay $40 million for an account with $10 million of equity. But would they have paid too much?
Let's fast-forward 10 years. What would this bank account trade for if it were auctioned again? The answer, of course, is that it could be higher or lower than the amount we would have received by auctioning it today.
We know, for example, that the bank account has been paying out $2 million per annum. We also know that inflation has eroded the purchasing power of that income and so the $2 million today is not what it was 10 years ago. That means, all things being equal, I am not going to obtain $40 million unless I speculate that people might be willing to pay a lot more.
We also know the account has been paying all the interest out every year, so the equity, even in a decade's time, remains stuck at $10 million (assuming no deposits or withdrawals are made).
(As an aside, at this point you might see that this bank account, paying all of its interest out each year, is a lot like a company that pays all of its profits out as a dividend every year).
At the auction, if someone turns up willing to accept a 10% return they might be willing to pay $20 million, or if interest rates are lower they may be willing to accept a 7.5% return and pay $26.7 million. We can make an educated guess, but we don't know what interest rates are going to be in the future.
If rates jump to 15%, a bank account earning 20% is attractive but not a lot more than bank accounts going around elsewhere. We are not going to get our $40 million returned to us in the scenario.
So, whether we get our money back will depend on interest rates, inflation and where sentiment is at the time. These are not things we can predict.
An alternative approach
Now consider a second bank account being auctioned today at the same event as the first. The second account also has $10 million deposited and earns 20% interest every year, but in this second example, all of the interest is retained and is remains invested to compound at 20% per annum.
This second bank account is a like a company that reinvests all of its profits back into itself, ensuring its equity grows at the same rate as the return it is generating on its equity.
At auction today, the account will trade for much more than the equity deposited and for more than the first account. What we are interested in, however, is how confident we can be about what it might trade for in a decade's time.
By then, this second account will have earned 20% of its balance each year and retained that amount. After a decade of compounding, the account will have almost $62 million deposited and still be earning 20%.
At auction in a decade's time, it is reasonable to assert that not only will it sell for more than $62 million, but it will also trade for more than the price received at auction 10 years ago. The only caveat is that an irrationally exuberant price wasn't paid previously.
If we had paid $40 million for this bank account 10 years ago, we can be reasonably confident we earned an attractive positive return. More importantly, if sentiment is negative towards the business in a decade's time, and the economics of the business have not changed, we can be confident in the ongoing increasing value of the business.
The owner of this bank account doesn't need to worry about China, Donald Trump or even COVID-19. If any of those factors cause the share price to fall, it is clear the only thing to be done is to buy more.
We can therefore ignore the vicissitudes of the market and continue to own the business. Inevitably the auction room will be filled with people clamouring for our brilliant bank account.
Importantly, you can now see that real investing – the kind that produces solid returns for investors – has little to do with predicting share prices and everything to do with identifying the right "bank accounts".
Three criteria to look for
The right bank account is the same as the right business, and the right business has three criteria.
The first is a high rate of return on its equity. In the above example, the return on equity was 20 per cent. You intuitively appreciated that rate of return and the same is true in business. When it comes to returns on equity, May West was right when she observed that "too much of a good thing … is wonderful."
To be able to sustain a high rate of return on equity, the company requires something called a competitive advantage. In business, high returns attract competition and usually the competition erodes the outsized returns being generated. The most valuable competitive advantages protect a business from would-be competitors. So if you find a businesses generating very high rates of return for a long period of time, it is likely the business has something that is difficult or impossible for others to replicate.
By way of example, why is it that people pay more for a Tiffany's diamond, even though diamonds are cheaper elsewhere? Why do people selling their houses list them on Realestate.com.au or their car on Carsales.com.au even though there are many other sites that don't charge as much? It is because these businesses offer something the others don't. They have in fact created something called a 'network effect' which is a competitive advantage that produces unusually high returns.
How high the return produced determines how "deep" the competitive advantage is. And how long the advantage might last is a description of how "wide" the competitive advantage is. When it comes to competitive advantages, deeper and wider is better.
Another important consideration is debt. We want businesses whose returns on equity are not artificially boosted by lots of gearing. By definition an outstanding business doesn't need a lot of debt or it generates so much cash that it quickly pays off any debt it has and doesn't need any more.
Finally, we want a business that generates lots of cash. Profits can be boosted by aggressive accrual accounting (recognising revenues and expenses when they are incurred, not when cash changes hands) but high levels of cash profits cannot be faked. It is essential that the company's cash flow after investing in itself is sufficient to do attractive things, like making rationally priced and synergistic acquisitions, buying back shares or paying dividends.
Ultimately, we want a business that can take large amounts of equity and generate very high returns on it.
In summary, put together a portfolio of businesses purchased at rational prices, with high rates of return on incremental equity, bright prospects for earnings growth, and little or no debt. Then sit back and watch the market value of the portfolio look after itself. The only ingredient left is patience.
For more insightful pieces on investing and market commentary, you can follow our thoughts at our blog: rogermontgomery.com
If you're comparing Online Share Trading companies, the comparison table below displays some of the companies available on Canstar's database with links to the company's website. The information displayed is based on an average of 6 trades per month. Please note the table is sorted by Star Rating (highest to lowest) followed by provider name (alphabetical). Use Canstar's Online Share Trading comparison selector to view a wider range of Online Share Trading companies.
---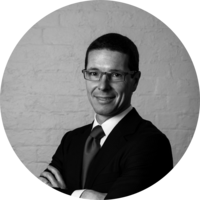 About Roger Montgomery
Roger Montgomery is the founder, Chairman and Chief Investment Officer of Montgomery Investment Management. He is a renowned value investor with 30 years' experience.
Following a successful career as an analyst and public company Chairman, Roger published the First Edition of his stock market guide, Value.able, in 2010, becoming an Australian best seller in just 16 weeks.
He is an awarded presenter on the subject of investing and appears regularly on the ABC. Roger also writes regular commentary for major financial publications and newspapers. Follow him on LinkedIn.