How much do you think about the planet in the everyday decisions you make? Perhaps you try to avoid plastic, eat less meat and use public transport. Or maybe you use renewable energy, take shorter showers and always remember your keep cup when you head out.
Climate change and its impacts are an ongoing concern for many of us, even amid the upheaval and uncertainty wrought by COVID-19. If anything, the climate crisis seems more urgent than ever, and while there are actions we can take to reduce our impact, it's easy to feel overwhelmed.
Is there one fix we can make to avert a climate catastrophe? Not right now. But there is one simple switch we can make that's more impactful than flying less, eating less meat and using public transport combined.
And that's investing ethically.
Regardless of how much money you have – a lot, not much or in between – our compulsory superannuation system here in Australia means everyone who works is effectively an investor.
And with billions of dollars invested in superannuation supporting fossil fuels and other harmful industries, many Australians are unwittingly funding the very thing they are concerned about.
So, if you're one of the 79% of Australians who care about climate change, according to a 2020 poll by The Australia Institute, perhaps you should consider putting your money where your mouth is and switching to an ethical super fund.
What is an ethical super fund?
An ethical super fund is one that invests its members' money in an ethical or socially responsible way. Ethical can mean different things to different people, depending on your personal values. But generally, ethical investing involves supporting companies and industries that are making a positive impact on our communities and on our environment, while actively excluding those that are making a negative impact.
For example, Australian Ethical Super seeks investments in the areas of renewable energy, sustainable products and healthcare while avoiding investments in coal, oil, tobacco, logging and gambling. Some funds may also select investments based on a combination of environmental, social and governance (ESG) criteria.
Why choose an ethical super fund?
In very basic terms, choosing where your super fund puts your money is deciding what you want to have around in the future. Because your super fund invests your money on your behalf, you may unknowingly be funding fossil fuels or other industries that aren't aligned with what you want for your future.
Your investment supports the survival of harmful companies, so if you want a better world, it's a good idea to start thinking about what kinds of things you want to invest your money into. By using your money to support companies that are making positive changes in the world, you are shaping the future and encouraging better business practices from all companies.
Of course, no one is obliged to invest in an ethical super fund, and the decision is completely up to you as to how your super is invested. But one of the most effective ways to fight climate change is with your wallet and switching super funds could be a good place to start.
But this doesn't mean you should just pick the first ethical fund you lay your eyes on.
Because 'ethical' can mean anything from green energy to animal rights to bans on gambling and alcohol, it pays to do your research.
How can you choose an ethical super fund?
Choosing a super fund can be a confusing and complicated process; choosing one that aligns with your values potentially even more so.
Thankfully, as more and more people have shown interest in ethical investment options, it has become much easier to find resources that can help you to put your money where your morals are.
A good place to start is RIAA's Responsible Returns website. To determine how ethical a fund is, check to see if it has a Responsible Investment Certification from RIAA and take a deeper look at what it invests in.
When people join any super fund, they're often put into the default option regardless of whether it's the best option for them and their life stage. So, it's important to choose the option that's appropriate for your financial objectives. And while past performance does not indicate future performance, you should examine a fund's investment performance to see the returns it has generated over the long-term.
What else should you look out for?
Because there is no legal definition around what an ethical fund is and nothing stopping a fund from claiming that it's 'ethical' or 'sustainable' you must be prepared to ask the right questions. For example, how rigorously does the fund screen companies it considers for investment? Are you aligned with its investment policy? Does the whole fund follow an ethical investment approach, or just one or two of its investment options?
It's also important to keep an eye out for funds that make misleading or exaggerated claims about their impact. Look for a history of sustainability reporting and quantified impact claims.
A lot of people don't know where their super is invested, even fewer know that ethical investing is even a thing. They're simply unaware that you can get competitive financial returns with a positive impact. Being conscious of how your money is impacting the world can go a long way in accelerating our transition to a more sustainable future, so it's worth doing your homework.
After all, what's the point of saving for retirement if you don't have a world you can retire in?
Main Image Source: Shutterstock (by yuttana Contributor Studio)
---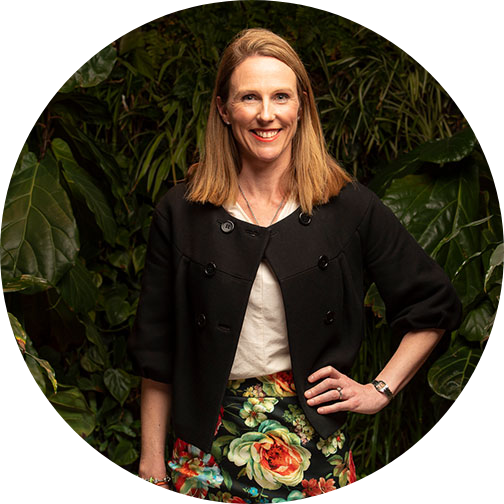 Maria is Chief Customer Officer at Australian Ethical Super. She is responsible for sales, marketing and customer experience to help drive business growth, which in turn increases positive impact on society. Maria has more than 20 years of strategic marketing, CX and leadership experience having previously held senior roles at neo-bank Volt, SocietyOne, OFX, AMP, Optus, and Virgin.
---
Thanks for visiting Canstar, Australia's biggest financial comparison site*