A definition of the word 'democratise' is to make (something) accessible to everyone. Not sure if it's just me but these days I see this word everywhere as technology has democratised all sorts of products and services that previously only a small portion of society could afford. And investing is no different.
Whether you're doing it yourself or using a digital adviser for help, costs have come down and it is now far more accessible to everyone. So what are your options?
Investing yourself through a share trading platform.
I still remember when I was 18 and I bought my first stock through a broker. It was a 30-second conversation over the phone and after the order was quickly executed I was charged $80 for the process. This is no "back in my day" story – this was less than 20 years ago! Now it can be done online for a fraction of what it once cost, and there are even some providers that allow you to trade internationally for free.
The positives of this are obvious. You can now invest in any way you like from blue-chip shares, small-cap stocks, popular tech stocks in the US to ETFs and index funds. Furthermore, transaction costs eat into your returns, so lowering these costs can improve your potential returns over time.
However, there is a flip side to this. As access to global and exotic markets becomes easier, you may be tempted to dabble in new investments that are outside your circle of competence. In addition, lower costs can make you more likely to trade more frequently.
This very scenario has played out this year.
Earlier this year ASIC noticed a significant increase in the number of retail investors trading the market. They noticed that trading frequency was up, as was the number of different securities being traded per day. The average holding period significantly decreased, indicating a concerning increase in 'day-trading'.
So as good as it is to have lots of options available at a low cost. Be aware that all investments come with risk, and saving $10 on a trade won't mean much if the trade itself costs you thousands of dollars.
Using a digital adviser
Not everyone is comfortable managing their own investment portfolio. In a similar way to meeting with a 'human' financial planner, a digital adviser (sometimes called a robo-adviser) will start the process by taking you through a risk assessment. This is to determine your risk profile so it can then provide you with an appropriate globally diversified portfolio recommendation for your risk appetite. This ensures you're suitably diversified across multiple asset classes and geographies. The reason they do this is that stocks (equities) are a high-risk asset class and a portfolio containing only stocks won't be appropriate for everyone, especially if you don't have a long-term investment horizon and/or you don't typically have an appetite for risk in life.
There are other asset classes such as property, infrastructure, commodities, bonds and cash that a digital adviser may include in the construction of your portfolio, which can help reduce the volatility you may experience when you only invest in a single asset class.
Meeting with an adviser to determine your risk profile and providing a diversified portfolio over multiple asset classes has traditionally involved high up-front costs. A statement of advice can be in the thousands of dollars, but a digital adviser will usually issue the statement of advice for free.
Digital advisers typically do not provide significant ways to customise the portfolio. Some may see this as a negative but a digital adviser usually has a level of human overlay with experience in investment management and portfolio construction. The more that you tweak the adviser's portfolio recommendation, the greater the amount of risk you may be adding to your portfolio.
There are also micro-investing options such as Raiz that construct similar portfolios for investors. These also provide functionality to round up your spend to the nearest dollar and invest the difference.
So which is better, DIY or a digital adviser?
Ultimately that is up to the individual. Both are low cost, but each is suitable for a different type of investor.
If you enjoy the process of researching investments and regularly reviewing your portfolio, then doing it yourself may make sense.
Conversely, if you are time-poor, want a 'set and forget' solution whereby someone will manage the portfolio for them then using a digital adviser or micro-investing platform may make sense.
Technology that has democratised investing has been great for people who previously couldn't afford it. What's great about this is that no matter how big or small, people now have options to make their money work harder for them. Be it an investment for themselves or a gift for someone else, who knows what the investment could turn into.
Main Image Source: Shutterstock by Boonchoke
If you're comparing Online Share Trading companies, the comparison table below displays some of the companies available on Canstar's database with links to the company's website. The information displayed is based on an average of 6 trades per month. Please note the table is sorted by Star Rating (highest to lowest) followed by provider name (alphabetical). Use Canstar's Online Share Trading comparison selector to view a wider range of Online Share Trading companies.
---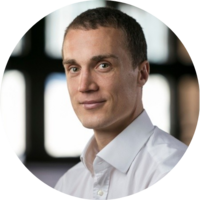 Ted Richards
Ted Richards is Head of Distribution at online investment service Six Park and host of investment podcast The Richards Report. Six Park is one of Australia's leading providers of online investment management, allowing more Australians to access affordable professional investment management, whether they're first-time or seasoned investors.
---
Thanks for visiting Canstar, Australia's biggest financial comparison site*