The impact of the Coronavirus has been felt across the market leaving even the most experienced investors to consider their tolerance to risk. Stockpot's Chris Brycki explains the key factors to consider to minimise risk in your own portfolio.
Risk is central to making investment decisions and while it's often thrown around that "the higher the risk, the higher the return", it's important to consider your own affinity and behavior around risk before making key investment decisions. In volatile markets like we are experiencing now, it is an opportune time to consider how you manage risk and the ways to protect your portfolio.
When advising clients on their investment strategy, there are four main strategies Stockspot recommends to keep portfolio risk in check during (and after) the Coronavirus crisis.
1. Ensure your investment profile is up to date
Your investment profile defines what type of investor you are and is made up of two parts:
Your investment timeframe – How long you plan on investing for?
Your risk profile – How much risk you are comfortable with?
Asking questions about these two areas helps to ensure that the investment strategy clients take is suitable and they don't take on too much risk. This is why we encourage clients to complete an online risk questionnaire when they begin investing to help recommend an investment strategy suited to their appetite for risk.
We also recommend reviewing your investment profile annually so it can be updated with any relevant changes – like a new job or loan. This keeps the investment strategy relevant to your needs and ensures that it is reflective of any lifestyle changes and goals. If you revise your strategy annually, it means you don't need to stress about continually checking whether you're taking on too much risk, or too little during a period of high market volatility. You have a clear understanding of where you are at and what goals you're hoping to achieve.
2. Include government bonds in your portfolio
Another piece of the risk puzzle is the benefit of owning defensive assets.
Defensive assets generally move in the opposite direction to shares to give your portfolio some cushion. For example, high-grade Australian bonds and gold have proven defensive qualities.
In 2018 when Australian shares fell by -2% for the year, Australian bonds rose by 4% and gold rose by 8%. In fact, the last seven times Australian shares fell in a calendar year, Australian bonds rose on every occasion!
This is the beauty of diversification into defensive assets. Timing when to get in and out of the share market is difficult but by owning some defensive assets your portfolio will help you weather all types of markets.
3. Gold is your last line of defense
Like high-grade bonds, gold typically moves in the opposite direction to shares.
In finance-speak, gold helps to improve the quality of the portfolio returns which means you can earn a similar return with less risk. Gold has also been an effective way to preserve the real value of your wealth since it acts as an insurance policy against currency devaluation.
For example, if in 2017 you identified a need for defensive exposure, increasing gold allocation in your portfolio from 10% to 12.3% would have notched up a return of 43% over the past year.
An allocation of at least 30% invested in high grade bonds and gold for growth investors gives the best of both worlds right now – participation in market gains and more protection in any temporary falls.
Even though Australian and global shares have fallen heavily in early 2020, allocations to defensive assets like bonds and gold can help you stay calm through market turbulence.
4. Avoid dividend traps
Finally, we've noticed that Aussies have an unhealthy obsession with income from dividends.
Income focused portfolios e.g. high dividend securities like banks and Telstra, hybrids and high-yield debt, are much riskier than owning a diversified portfolio.
What you get in one hand (income) you could just as easily lose from the other (capital). It is important to focus on your total return (income + capital growth) rather than just your income or dividend yield.
When you only focus on boosting income it comes at the expense of growing (and preserving) your capital. Australians who have only been invested in seemingly defensive sectors like banks, property and infrastructure during this Coronavirus crisis have seen their portfolios fall more than 35%.
Trying to 'juice up' the dividends in your portfolio is riskier than you may think which is why we don't recommend yield chasing strategies. Consider sticking to a well balanced portfolio of low cost exchange traded funds (ETFs) which provide a balanced option and diversify your overall risk.
If you're comparing Online Share Trading companies, the comparison table below displays some of the companies available on Canstar's database with links to the company's website. The information displayed is based on an average of 6 trades per month. Please note the table is sorted by Star Rating (highest to lowest) followed by provider name (alphabetical). Use Canstar's Online Share Trading comparison selector to view a wider range of Online Share Trading companies.
---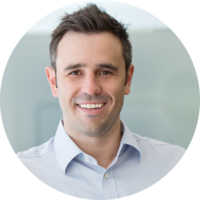 Chris Brycki is the Founder and CEO of Stockspot, Australia's largest online investment advisor. He sits on two Advisory Committees for the industry regulator ASIC, and was previously a fund manager at UBS. He holds a Bachelor of Commerce (Accounting/Finance Co-op Scholarship) from UNSW.
Main image source: Jonathan Francisca on Unsplash
As with all our content, Canstar's Coronavirus coverage will always be free for our readers.