Investors globally were left shell shocked in early 2020 as rising fears around COVID-19 triggered one of the biggest share market crashes in history.
Yet, within a few weeks, financial markets were already rebounding strongly. By the end of 2020, some share markets – most notably in the United States – were again breaking records.
The biggest investment lesson from 2020 was that staying focused on your long-term investment goals, rather than being distracted by sudden events, ultimately pays off.
Investors who stayed the course, without being panicked into selling during the March 2020 crash, have ended up in a much better position than people who sold at a loss and then watched from the sidelines as share prices steadily recovered throughout last year.
The same investment lesson still holds true for 2021 as the far-reaching economic and financial impacts of COVID-19 play out around the world.
1. Investment tip: read the economic signs
That being said, the global economic outlook and how financial markets behave in 2021 do remain tied to what happens with the pandemic.
And how different countries respond to COVID-19 over 2021 will play directly into the operations and earnings of companies.
This will affect investment returns in those markets over the course of this year and potentially beyond.
So how and where you invest your money should take the current economic environment into account.
Economic growth rates in countries will vary over 2021, with some economies expected to rebound more quickly than others because of their vaccine rollout programs.
High company valuations on share markets, and lower economic growth rates, mean lower returns are likely from shares over the next 10 years.
The recently released Vanguard Economic and Market Outlook noted that the outlook for global asset returns over 2021 and beyond is guarded.
Shares are expected to return between 5% and 7% a year over the next decade on a global level, while Australian shares have a slightly higher return range of between 5.5% and 7.5% a year.
But these forecasts are lower than the higher double-digit returns from shares over past decades.
Meanwhile, record low-interest rates mean returns from bonds and cash will remain low for years.
Our own Reserve Bank has just gone as far as stating that interest rates won't rise here until 2024, at the earliest.
2. Investment tip: follow the money
So, where are investors putting their money?
One of the quickest ways to pick up investment trends is to follow the global and domestic investment money flows.
Australian Securities Exchange data shows that share investors in Australia have a strong home bias, but are increasingly investing their money offshore, mainly through exchange traded funds (ETFs) that are listed on our share market.
ETFs invest in the shares of hundreds, and sometimes thousands, of listed companies in markets around the world.
Last year was a record year for investor inflows into ETFs, with close to $100 billion now invested into Australian-listed funds.
In fact, during 2020 around $7 billion of investor capital went into ETFs on the Australian share market that exclusively invests in ASX-listed shares, and about $7.1 billion went into funds covering shares in other countries and regions.
Shares are likely to continue outperforming most other investments and the rate of inflation, with returns expected to be 3 to 5 percentage points higher than bonds over the next decade.
That said, bonds continue to play a key role in well-balanced portfolios as a buffer to the volatility on share markets.
3. Investment tip: spread your risk
Despite the higher returns expectation for Australian shares, having a spread of different types of assets ultimately reduces investment risk and delivers smoother returns.
This underscores the benefits of a globally diversified exposure in managing risk, particularly given the expectation for higher risks in 2021 and the lower returns environment over the medium term.
Maintaining a broadly diversified portfolio that's appropriately aligned to your goals and risk-tolerance is important, as is avoiding taking on too much risk by over-reaching for income or growth.
Ideally, you should be aiming to put certain amounts of your money into specific assets and then keep your portfolio weightings at around the same levels over time.
For example, depending on your investment strategy, you may have a higher percentage of your money invested in shares, and the remainder split between other types of assets.
In 2021, it will be important to remain disciplined and focused on your long-term goals, to not be distracted by short-term markets volatility, and to accept that current economic events will probably translate into lower-for-longer investment returns.
Main image source: Kinga/Shutterstock.com
---
If you're comparing online share trading companies, the comparison table below displays some of the companies available on Canstar's database with links to providers' websites. The information displayed is based on an average of six trades per month. Please note the table is sorted by Star Rating (highest to lowest), followed by provider name (alphabetical). Use Canstar's Online Share Trading comparison selector to view a wider range of online share trading companies.
---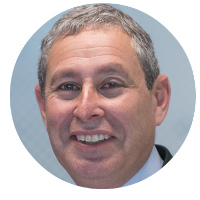 Tony Kaye is Senior Personal Finance Writer at Vanguard. He was a former manager at Standard & Poor's Ratings and has a regular column in the Australian's Wealth section. Tony has also written for newspapers nationally; The Telegraph, The Herald-Sun, The Advertiser, The Courier-Mail, NT News, Canberra Times and more. He has a Bachelor of Arts and Journalism at Curtin University and Public Relations at RMIT University. Follow him on LinkedIn.
---
Thanks for visiting Canstar, Australia's biggest financial comparison site*
→ Looking more ways to create wealth? Learn more about Online Share Trading, Exchange Traded Funds and Cryptocurrency.
You can also compare health insurance, credit cards and life insurance and home loans with Canstar.