Imagine if you could travel whenever you wanted, simply by dipping into a self-replenishing pool of travel money?
It's a nice thought, because, for most of us, travelling takes a huge chunk out of finances.
Some people sometimes use credit cards to fund trips, but if you go down that route, whatever financial effort you avoid before you travel will only result in pain when you get back.
There's generally no way around it: for most of us, travel requires months or even years of careful saving and sacrifice. The good news is there are ways to be much smarter about how to grow the money you save, which will allow you to enjoy your travel time, as well as the time you spend preparing and saving for it.
These days, with interest rates at an all-time low, it makes sense to try and find options
I'm talking about investing, which, done correctly, is a faster way to grow your money than simply ferreting it away in a savings account
There's no best time to invest
When people think about investing, they often imagine buying shares at a rock bottom price, and watching the price soar over the coming months or years. The reality is often very different. It's true that the overall trajectory of the market is an upward one, but there are always ups and downs and it's impossible to predict.
If you're ready to start investing and you've educated yourself on the best strategy for you, then the best time is now because the general rule of thumb is that the longer you stay invested, the better your returns will be.
..
but timeframe does matter
Time is the number one factor that will affect your investments. That's because the longer your investment timeframe, the longer you have to withstand the inevitable ups and downs of the market.
That means if you're investing for the long term ie. five or more years, you have plenty of time for your portfolio to grow, enjoy compounding returns and recover from any market dips. With a longer investment timeframe, you can afford to take more risk.
If, however, you're investing for just two years, you have fewer years for your portfolio to grow, less time for compound returns to take effect, and you might be more affected by market lows. With a shorter longer investment timeframe you should take less risk.
So, if you're going on holiday next year, you might want to choose a more conservative strategy that will have more slow and steady returns. On the flip side, if you have a big trip that's coming up in four years time, you have leeway for a more aggressive investment strategy.
You don't need to start with a lot
Investing can be daunting if you've never done it before, but the truth is, you don't need to start with a lot. In fact, using a technique called dollar-cost averaging is one of the easiest ways to start investing.
Dollar-cost averaging is when you invest small amounts regularly over a period of time. This strategy averages out the cost of your investments and you'll take advantage of any market dips as well as any gains if markets rise.
If you're saving for a holiday, this could be the ideal way to invest, and you can set up automatic payments to your investment account instead of sending that money to a regular savings account.
Use online advice to get started and stay on track
When you start to invest, a financial adviser can help you figure out which investment strategy you should choose and how much you should be investing each week or month. However, traditional financial advice is expensive and out of reach for most people.
Luckily, technology saves the day, and many people now use online advisors to get a personalised strategy and a properly diversified portfolio that suits their time-frame. It's also important to set a goal so that you have some guidance around how much you should top up your investments and when.
It's also important to rebalance your investments so that your portfolio can be adjusted periodically as the market fluctuates. This can be difficult for an individual investor to execute, but online advisors have the algorithms to automatically change asset allocation within a portfolio.
If you do decide to invest as a way of realising your travel goals, make sure you educate yourself about the risks, but know that the right strategy will likely hold you in better stead than a savings account. Then, once you're back from your holiday, you can use your investing know-how to facilitate another goal – travel or otherwise. Investing, at least, is one journey that doesn't have to end.
Main image source: Graham Isle (Unsplash)
---
If you're comparing Online Share Trading companies, the comparison table below displays some of the companies available on Canstar's database with links to the company's website. The information displayed is based on an average of 6 trades per month. Please note the table is sorted by Star Rating (highest to lowest) followed by provider name (alphabetical). Use Canstar's Online Share Trading comparison selector to view a wider range of Online Share Trading companies.
---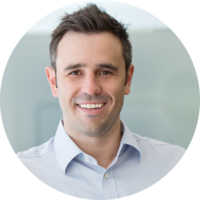 About Chris Brycki
Chris Brycki is the Founder and CEO of Stockspot, Australia's largest online investment advisor. He sits on two Advisory Committees for the industry regulator ASIC, and was previously a fund manager at UBS. He holds a Bachelor of Commerce (Accounting/Finance Co-op Scholarship) from UNSW.
Follow him on LinkedIn.
---