Having started investing at the earliest age possible, 18, I know the struggles that come with being a new investor.
It can be a very confusing journey, though there is information available to make it easier.
However, in this article, I am going to break it down for you and share with you how you may begin investing as an Australian step by step!
Step 1: Learn the fundamentals
The first thing you need to do is understand the fundamentals.
Everything from what investing means; taking a risk in the hope of gaining financial gain to investing risks such as volatility, liability to change rapidly and unpredictably, think of the stock market prices rapidly changing. Or total loss, the risk of losing some or all of your initial investment.
This is in addition to other basics such as return on investment (ROI) which is your return on investment expressed as a percentage. E.g. the stocks I invested in had a return of 4% this year.
It would also be important to learn what to expect from an investment, for example, Australian property returns an average of 6% a year while stocks return roughly 8% per year.
Really, you can start investing without this knowledge though you may find a lot less success this way and find the journey much more stressful.
Step 2: Decide what your goals are
There are various things to invest in and ways to invest in those things and hence your goals are important as to determine what you invest in and how.
Something that may be good to do here is fully understand why you want to invest, e.g. to one day pay off your house, to retire early, or to buy a new car. And then decide how much these things will cost and when you wish to achieve them by.
You will of course need to consider your current circumstances as well. For example, if you currently hold a lot of high-interest debt at 20% p.a. it likely will not make sense to invest at 6% p.a. before paying off the debt.
You can then use this information to help you decide on important details such as how much you need to invest, what return you require, how long you may need to invest for as well as the risk you might need to take.
This will ultimately allow you to decide what to invest in and how.
It is also important to make sure you fully participate in step 1 as understanding investing risks will allow you to choose an investment style that best matches your needs and wants. E.g. While some more risky investments may offer the potential to make a higher than normal return, they would almost always be much more likely to lose money or at least more likely to lose more money.
Step 3: Research your options
Once you have an idea of your appetite for risk, investment timeframe, and how much you want to invest, you can begin assessing your investment options. The most common asset classes for investment in Australia are shares (the stock market), property, fixed interest investments such as bonds, cash, and alternative investments such as Peer to Peer Lending or Cryptocurrency.
Each of these investment vehicles carry alternative risk/s, benefits, and limitations. Deciding which is right for you starts with some research into each. You can see my comparison of property and stocks here. I will be covering each asset class in detail on my YouTube channel soon.
Again, your decision will need to depend on your individual circumstances and goals which we discussed in step 2.
Step 4: Learn your chosen option
Once you decide on which option/s are best for you, you can jump into learning all about that investment class. For example, if you chose shares you should learn everything about shares from the common terminology to some of the different investment styles used in the share market.
You can see an article on how to start investing in shares here. This will allow you to decide which method may be best for you.
Once you have done your reading on your investment of choice and are 100 percent confident in it, you can do what I did and invest every cent you get and start seeing the compounding of your money.
If you're comparing Online Share Trading companies, the comparison table below displays some of the companies available on Canstar's database with links to the company's website. The information displayed is based on an average of 6 trades per month. Please note the table is sorted by Star Rating (highest to lowest) followed by provider name (alphabetical). Use Canstar's Online Share Trading comparison selector to view a wider range of Online Share Trading companies.
---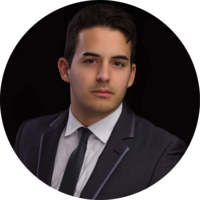 Nicholas Muscat is an entrepreneur, investor, and personal finance expert. He also runs AussieMoneyMan, Australia's largest personal finance YouTube channel. See more from Nicholas at AussieMoneyMan on YouTube or follow him @aussiemoneyman on Instagram or Facebook.