Back in 1990, it might have been tempting to keep all of your money in a bank account rather than invest it anywhere else.
After all, the return from a cash investment in that year was a whopping 18.5 per cent, easily smashing the 4.1 per cent return from the Australian share market. As it turns out, that was the only year in the past 30 when cash was actually king in terms of asset class returns.
Since then, the returns from cash have been slipping. Right now they're almost negative. So, what would have happened if you did put your $10,000 into a bank savings account back in 1990 and just left it in there to grow by earning interest along the way?
The good news is that you would be ahead of where you started. Your money would have achieved a respectable average annual return of 5.1 per cent and now be worth about $44,000.
But compare that with returns from the Australian share market over the same time. The latest Vanguard Digital Index Chart shows that if you had invested $10,000 into the broad Australian share market back in 1990, through an index exchange-traded fund (ETF) product or a managed fund, it would now be worth over $130,000. That's about three times the total return from cash.
The reason is simple. Over the same period, the Australian share market has delivered a higher average annual return of 8.9 per cent.
Keep in mind that the return from Australian shares includes all of the company dividends paid out to shareholders since 1990. To get the average return, you would have needed to reinvest these dividend payouts back into your ETF or managed fund in the same way as interest payments can be left inside a bank account to compound the savings returns.
Had you invested into the United States share market in 1990, your $10,000 would have delivered an even better average annual return of 10.3 per cent and now be worth $186,799.
Don't count on steady returns
So, knowing what has occurred over the last 30 years, are some asset classes better than others?
One of the most important things to remember about investing is that investment returns from asset classes are rarely repeated from one year to the next.
While the Australian share market can do very well in one year, for example, in the following year it may not perform as strongly as other sectors.
Take Australian listed property. In the 2018-19 financial year it was by far the best-performing asset class when it delivered a stellar return of 19.3 per cent. In that same period, the Australian share market as a whole returned 11 per cent.
But, a year later, Australian listed property was the worst-performing asset class after recording a negative return of 21.3 per cent. In the same time, Australian shares delivered a negative return of 7.2 per cent, while the US share market was the best performer, returning 9.6 per cent.
That's why having diversification (not putting all your investment eggs into one basket) is so important over the long term.
The benefit of spreading your money across different types of assets, such as shares, property, bonds and cash, will help to smooth out your investment returns over time.
Doing so will also reduce your overall risk by compensating for times when other investments don't perform well.
The importance of compounding returns
One of the other key takeaways from the recorded investment returns over the last 30 years is the value of compounding returns.
When ongoing payments in the form of company dividends or interest are added to your initial investment amount, any asset returns earned will be applied to the higher balance.
For example, if you've invested into an ETF and, instead of taking cash payments, reinvest all of the distributions into new units, then the number of units you hold will keep increasing over time.
The compounding effect comes in because, as your ETF holding increases, so do the total distributions paid out.
Aside from using distributions such as dividends, the other way to grow your investment balance and leverage compounding is by making regular ongoing investments over time.
Investing the same amount of money at set intervals over a long period is known as dollar-cost averaging. That means you're averaging out the cost of your investments through incremental investing – regardless of whether market prices are up or down.
The easiest way to illustrate a dollar-cost averaging strategy is to calculate how investment balances can build up over time, using a combination of regular contributions, the reinvestment of distributions and compounding returns.
How extra investments add up over time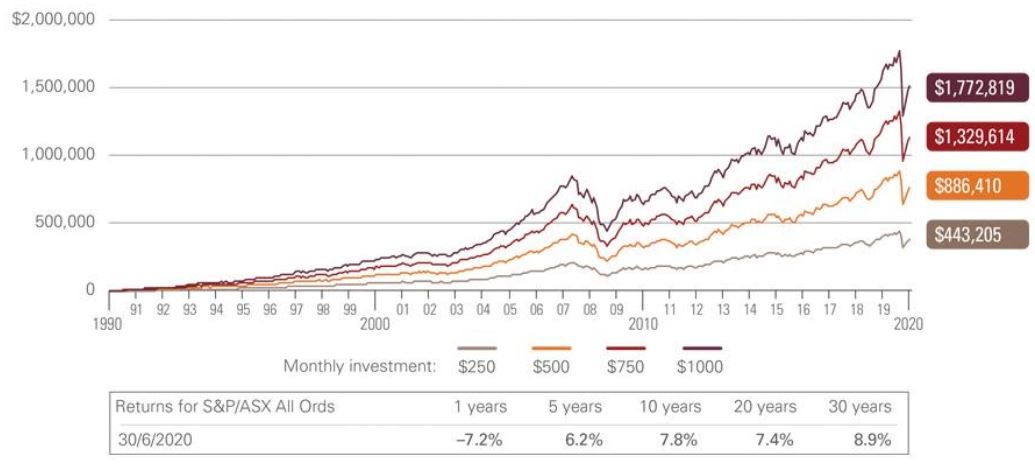 The chart above is based on the actual Australian share market return and follows someone who started out investing on 30 June 1990 and who continued making set monthly contributions.
If they'd stuck to a strategy of investing $250 a month into Australian shares, irrespective of market movements, they would now have a balance of more than $380,000.
Had they been able to keep investing $1,000 a month, their balance would now be more than $1.7 million. That's despite the sharp fall in markets in early 2020.
Whether you're a newer investor or someone closer to retirement, these are all important factors to consider.
Successful investing revolves around having a well-planned and diversified strategy that's aligned to your specific goals, and the discipline and resolve to stay on track, even during volatile investment periods.
If you're comparing Online Share Trading companies, the comparison table below displays some of the companies available on Canstar's database with links to the company's website. The information displayed is based on an average of 6 trades per month. Please note the table is sorted by Star Rating (highest to lowest) followed by provider name (alphabetical). Use Canstar's Online Share Trading comparison selector to view a wider range of Online Share Trading companies.
Main image source: Shutterstock (fizkes)
---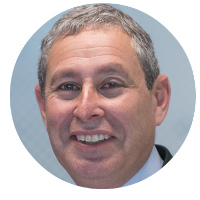 Tony Kaye is Senior Personal Finance Writer at Vanguard. He was a former manager at Standard & Poor's Ratings and has a regular column in the Australian's Wealth section. Tony has also written for newspapers nationally; The Telegraph, The Herald-Sun, The Advertiser, The Courier-Mail, NT News, Canberra Times and more. He has a Bachelor of Arts and Journalism at Curtin University and Public Relations at RMIT University.
Follow him on LinkedIn.
Follow Investor Hub on Facebook and Twitter for regular investment updates.
---
Thanks for visiting Canstar, Australia's biggest financial comparison site*
→ Looking more ways to create wealth? Learn more about Online Share Trading, Exchange Traded Funds and Cryptocurrency.
You can also compare health insurance, credit cards and life insurance and home loans with Canstar.