2020 was a year during which long-term digital trends accelerated given the COVID-19 pandemic. One of the most recognised long-term secular trends is the video gaming and esports sector with more than three billion people now playing video games in 2020 and the sector is expected to continue growing rapidly in the years to come.
Video gaming and esports' recent rise has been augmented by COVID-19 lockdowns. Avid sports fans, self-isolating and craving their usual sports fix, turned to watching and playing video games for entertainment. But the trends for professional sports leagues were not confined to COVID-19; falling viewership and match spectatorship have been underway for some time across many major sports.
Technology has enabled much of this disruption and will continue to drive the sector's expansion, allowing for the merging of entertainment experiences. Movies and television, rather than just being a one-way engagement are adapting to become two-way engagement.
In 2020, the total video game industry is projected to have reached US$175 billion in revenues, which would have made it a bigger industry than both cyber-security and robotics. Revenues are forecast to reach US$218 billion in 2023, representing a 9.4% compound annual growth rate since 2018.

Global video gaming revenue per year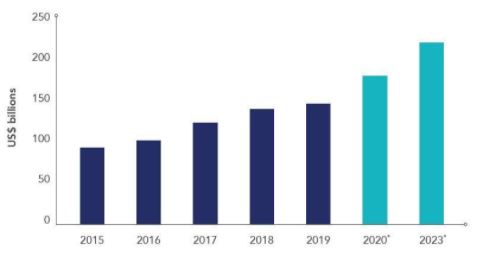 Video gaming revenue comes from a variety of sources, the biggest proportion of this is smartphones, followed by console games, then games played on PCs, as the charts below show.

Revenue from a variety of platforms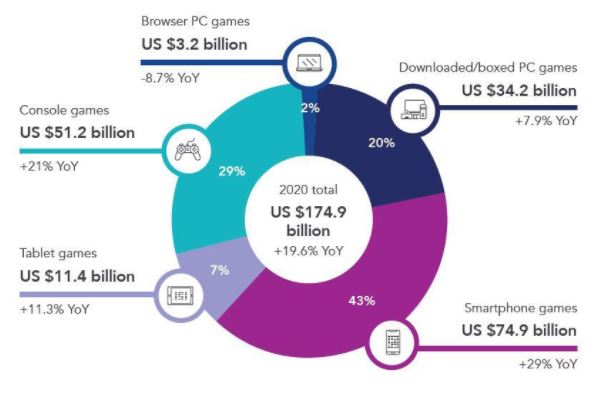 Esports, a part of the video gaming industry, is experiencing rapid growth too. Its revenue has tripled over the last three years, coming from growing audiences, sponsorships, advertising and team franchises.
Esports revenue growth per year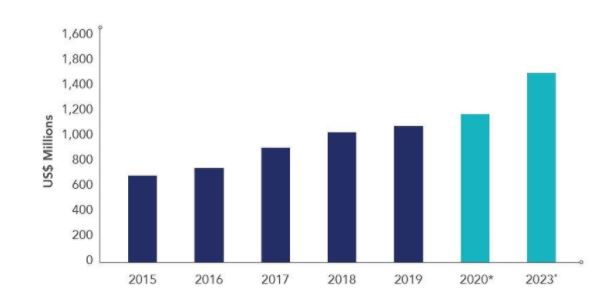 Another indicator of the potential growth of esports is "total revenue per fan", which shows how well a sport is 'monetised'. Since 2014, the global average revenue per person of esports enthusiasts has increased by 175%. We are witnessing a cultural paradigm shift as esports athletes and competitions are considered by many to be on par with traditional sporting events. Even the International Olympics Committee has said that esports should be recognised as a sporting activity.
Accessing the investment opportunity for eSports and video games
Despite these compelling trends and fundamentals, most investors are underexposed to this sector; esports and video gaming companies make up only around 5% of the tech heavy NASDAQ 100 and only 3.74% of MSCI World Information Technology Index. The local (Australian) listed sector is small too, with the biggest video gaming companies listed offshore.
According to the Australian Financial Review, the VanEck Vectors Video Gaming and eSports ETF (ESPO) is an option for portfolio investors seeking thematic global exposure to large video-games and e-sports companies, including publishers Tencent, Nintendo, Electronic Arts and Activision. ESPO is the latest of several technology themed ETFs that have launched on the ASX in the past three years.
---
If you're comparing online share trading companies, the comparison table below displays some of the companies available on Canstar's database with links to providers' websites. The information displayed is based on an average of six trades per month. Please note the table is sorted by Star Rating (highest to lowest), followed by provider name (alphabetical). Use Canstar's Online Share Trading comparison selector to view a wider range of online share trading companies.
---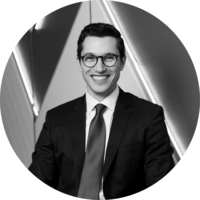 Arian Neiron is the Managing Director and Head of Asia Pacific at VanEck. Mr Neiron joined the firm in 2012 and a year later, he founded and established VanEck Australia's asset management business. Since then, he has overseen the growth of VanEck to be Australia's quickest growing and most successful smart beta ETF providers. In 2018, Mr Neiron was appointed to lead VanEck's Asia Pacific business and as part of that role, he is the Managing Director of VanEck Singapore and Director of VanEck Investment Management (Shanghai). Prior to joining VanEck, he was a partner at boutique asset management consulting firm Sunstone Partners. Mr Neiron has also held roles at Perpetual Investments, Credit Suisse and MLC, where he started his career in finance. He holds a Bachelor of Commerce, Curtin University and a Diploma of Financial Services.
---
Thanks for visiting Canstar, Australia's biggest financial comparison site*