Covid-19 has prompted a huge surge in Australians investing in US companies, with many identifying a unique opportunity to get involved in the world's largest and most innovative equity market.
New data released by Australian-owned US share trading platform, Stake, reported trade volumes by Australians increased by 167% increase in quarter on quarter trades during the first phase of the pandemic, Jan–Mar, this year compared with Oct–Dec in 2019.
In this article, Stakes' CEO and co-founder Matt Leibowitz shares a stock report in the wake of a virtual panel event that discussed the opportunity to buy US stocks that have become household names this year.
Tesla
It wouldn't be a stock report without Tesla headlining the show! It has been our most-traded stock for months and safely embedded in our top five since it began its meteoric rise from $200 in October last year.
In Quarter 2, Tesla accounted for 5.03% of all trades on Stake and 12.3% of all trade volume; a
figure close to US$10 million. In fact, Tesla was responsible for the biggest single trades on Stake with several moves deep in the six-figure range.

Who's trading the stock? Usually certain stocks appeal to certain demographics. Young traders (18–24) love trading volatility, but the Dow Jones Index remains a less appealing option compared to the love it receives from senior traders for instance. In the case of Tesla, it is amongst the top 5 most popular stocks for all age groups. Elon almost has as many fans as he does dollars!

Another factor that keeps Tesla in our most-traded lists is its volatility. As the stock drops by the day it induces traders looking to scalp and pushes it up our lists.

Nike
The Last Dance was a hit for old-school basketball fans but also sparked an investing trend on the platform. Following the release of the show, Nike share volume started to rise.

Nike trade numbers in H1 2020 were up 45% compared to H2 2019. The nostalgia and fantasy of primetime Jordan may be the biggest thing driving investors back to the swoosh; of all age groups, millennials had the biggest uptick in their trade numbers.
Zoom
While the vast majority of readers aren't plugging in their Model 3 to charge overnight (yet), we've all spent some time eating cereal and online shopping while on a Zoom call. In the last three months it sits safely inside our top 20 most-traded stocks and investors have been rewarded. $ZM has added 94% since April 1.
What makes this stock so popular has been its resilience through the February/March crash climbing 109% from February 1 to the market bottom on March 23. In the same time period the market was down 30%. While adding to its gains through Q2, it's a stock that will remain popular through a potential second wave crash.
Fundamentals don't matter when the money printer remains hot anyway, right?
Apple
Sitting pretty at an all-time high valuation of US$1.65 TRILLION as the biggest company in the US, traders may be looking to pay off that bottle green iPhone 11 with gains and dividends. Interestingly, in the months following the iPhone 11's release, trading volume in $AAPL rose by almost 900%. Sticking to this theme, the average trade in the stock is 2x the cost of the handset at US$1452.

Where's the trade traffic coming from? Gen Ys and millennials account for 69% of all trade volume.

Spotify and Netflix
Following the announcement of lockdown across Australia, Netflix trade volume rose by 172% on Stake! While the world clicked on Joe Exotic prison updates and Carole Baskin murder theories, Stake traders were tapping that buy button. It has been our #27 most-traded stock this year.

At the same time, it's Spotify, another streaming service, that has appealed most to Stake traders. It has stood at #20 over the last two quarters. Perhaps it's a tale of the ticker tape; Spotify added 120% over the last three months while $NFLX "only" gained 38%.

There's a clear trend forming; momentum stocks are hot on Stake!

Spotify has had a huge quarter announcing monster deals with Kim K and Joe Rogan. Rogan's deal is rumoured to be in the nine-figure range, which was very quickly paid off as $SPOT added almost US$30bn to its market cap in Q2.
If you're comparing Online Share Trading companies, the comparison table below displays some of the companies available on Canstar's database with links to the company's website. The information displayed is based on an average of 6 trades per month. Please note the table is sorted by Star Rating (highest to lowest) followed by provider name (alphabetical). Use Canstar's Online Share Trading comparison selector to view a wider range of Online Share Trading companies.
---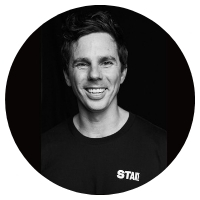 About Matt Leibowitz

Matt launched Stake after returning to Australia from the US, and finding it difficult to continue trading US shares. Having run global trading teams in the most sophisticated financial markets using the most advanced technologies, Matt set out to open up the world's biggest markets to the rest of the globe.