Looking to invest in international shares?  Canstar has rated international share trading platforms for the first time, evaluating 11 international share trading platforms from 8 providers and announcing three 5-Star rated products.
How do international share trading platforms work?
International share trading platforms allow you to access overseas exchanges and buy and sell shares from some of the biggest companies in the world.
By opening an international share trading account, you can access a huge range of extra investment options from the likes of:
The New York Stock Exchange
NASDAQ
The London Stock Exchange
The Hong Kong Stock Exchange
The Tokyo Exchange and more
Outstanding value international share trading platforms
After crunching the numbers, Canstar has announced three international share trading platforms that received a 5-Star rating, considered to provide outstanding value:
IG Markets Share Trading
Interactive Brokers Australia PL Share Trading
Saxo Capital Markets (Australia) SaxoTrader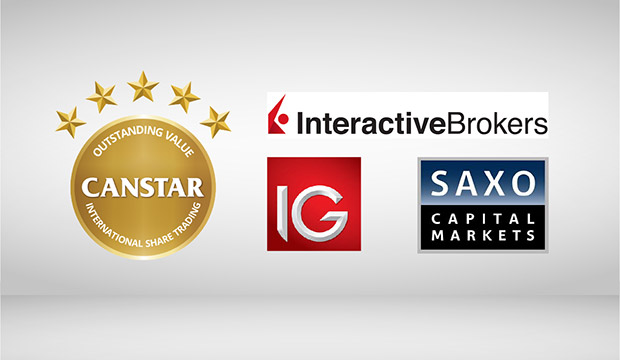 Here are the key reasons we deemed our 5-Star ratings winners as standouts within the market:
IG Markets
IG Markets was awarded 5 Stars for outstanding value on the back of a strong price and features combination.
IG Markets use a per-share brokerage structure in the US market, which can result in lower brokerage than a trade value-based brokerage structure, depending on the number of shares traded. They also charge competitive brokerage fees in the UK and don't charge an ongoing fee to use the platform.
IG Markets provide a range of research tools allowing investors access to company and market information and the easy-to-use app allows you to quickly and securely identify and respond to opportunities.
About IG Markets

Established in 1974, IG Markets is a world-leading online trading provider with clients in more than 150 countries. An IG Markets account gives you access to more than 11,000 international shares on major indices. IG Markets charge from $8 commission per trade on Australian shares and from US$10 commission on international trades.
Interactive Brokers Australia PL
Like IG markets and Saxo Capital Markets, Interactive Brokers was particularly impressive when it comes to pricing and feature options.
Interactive Brokers offers competitive brokerage in both the US and UK markets. It also uses a per-share brokerage structure in US markets, which can result in lower brokerage fees when compared with a trade value-based brokerage structure in some cases.
Interactive Brokers Australia PL offers a wide variety of features to make things easier for customers, such as in-depth reporting and charting options while also allowing access to many markets around the globe.
About Interactive Brokers Australia

Interactive Brokers celebrated its 40th birthday earlier this year.  2017 also marks the year Chairman Thomas Peterffy bought a seat on the American Stock Exchange (AMEX) and started trading as an individual market maker in equity options.

Since then Interactive Brokers has grown to be one of the world's premier securities firms with more than $6 billion in equity capital. It now executes more than 1,000,000 trades in 120 markets worldwide.
Saxo Capital Markets
Saxo Capital Markets provides a platform with excellent accessibility and service functionality for users. Saxo Capital Markets offers competitive brokerage in the UK market while also using a per-share brokerage structure in the US market (this is a staple of our 2017 5-Star winners).
You can also receive up to $500 of commission rebates on selected products in your first month of trading when you open an account with Saxo Capital Markets before December 2017.
About Saxo Capital Markets Australia

The Saxo Group is a leading investment and technology company that has been operating for more than two decades. Saxo Capital Markets (Australia) Pty Ltd is a subsidiary of Saxo Bank A/S. It is fully licensed by the Australian Securities & Investments Commission and has operated in Australia since 2011.

In the short time it has been in our market, Saxo Capital Markets has established itself as a high-quality provider of share trading platforms.
How does Canstar rate international share trading platforms?
Canstar rates international share trading platforms using a sophisticated ratings methodology that compares both price and features.
Eligibility
To be considered within the Canstar International Share Trading Star Ratings, the provider must:
Offer trades on international exchanges in at least the US and the UK.
Offer online share trades in the US.
Price
The price score is based on 100 hypothetical trades in each market considered and takes into consideration any ongoing fees and brokerage costs.
The price score accounts for 50% of the final rating.
Features
The feature score accounts for the remaining 50% of the total score and takes into account a number of features from eight different categories:
Research tools, charting and information
Settlement/holding accounts
Platform information and options
Account services and support
Education
Accessibility and security
Markets available
Fees and charges
Products are ranked based on the total score received for each profile. Stars are then awarded based on the distribution of the scores with the objective to award the top 5-10% of products with a 5-Star rating.
To compare products and learn more about international share trading visit our international share trading page:
Compare International Share Trading Platforms