Whether you've just moved in or are looking for a quick, little home pick-me-up, here are some well-known interior design tricks that you can easily do with minimal effort and cost.
Light is an interior designer's best friend. Your home may be naturally dark, but there's no need to convince yourself it's more intimate that way. Bright rooms can transform a home and uplift your mood. And when it comes time to sell, light and airy rooms lend an inviting atmosphere for home buyers.
Sometimes the smallest things make the greatest impact. It could be the addition of a mirror, a painting, a lamp or even a plant. Maybe you want to soften your walls, brighten a room, or add some warmth to your living space. But where to start? First look to your space for natural light sources. The more windows and doors your walls have, the darker the wall colour can be. If you have very small windows or only a few, opt for lighter shades of the darker hue to make the room feel brighter and larger.
Here are some simple and affordable design techniques to freshen and brighten up your living spaces.
Paint to lighten and warm the room
A colour in a sunny room looks quite different in a dark one. So it's best to avoid cool colours in dark rooms and instead balance any weak, natural light with warm, pale shades. If you want to be sure how a paint colour will look, use a tester to and try out your chosen hues in the room under different light conditions.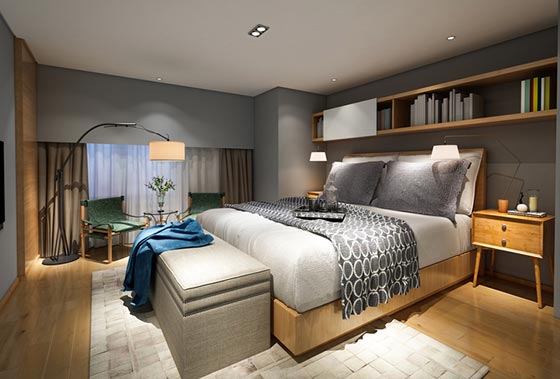 Lighter neutrals such as warm white, dove grey or light taupe will make a space appear more open and airy. But don't simply paint the walls. If your ceilings are low, consider painting them the same light colour as the walls to elongate the room.
Generally speaking though, always paint the ceiling a lighter colour than the walls, preferably a bright white. That gives you the feeling of space and height, which really opens up the room. It will also reflect any of the light that's directed to the ceiling from lamps or fixtures.
Use a paint with sheen. Painting in flat, matte or satin finishes will soak up light, while semi-gloss, high-gloss and lacquer finishes tend to reflect light, which make a darker room feel brighter and lighter. If you choose a neutral grey, for example, make sure to stay away from brown or black undertones.
Related Articles
Ways to keep your house cool
Shopping around for a home insurance policy?
Whether you're looking for home, contents or combined cover, you can easily compare from 100+ policies with Canstar.
Decor or Artwork to create contrast against dark walls
Artwork with white matting creates contrast against darker walls. Why not go for a gallery wall or a collection of artwork to make the wall feel brighter, watching out for darker artwork, which – like painting a room a darker colour – can soak away the light that would otherwise bounce around the room. Large-scale artwork in lighter colours or even in black-and-white can make a room feel more spacious and brighter.
Get rid of distracting personal objects. Less is more. While the room technically won't be darker if there are too many accessories, it will feel less open and airy. Opt instead for a few central statement pieces that are carefully curated.
Drapes shouldn't be so heavy they block out the natural light, giving you the feeling you've living in a cave. If your windows are small, don't cover them with heavy blinds or curtains. Instead, use sheer or lighter fabric to offer an illusion of more space and light in the room. According to interior designers, the number one drape design crime is to hang drapes in front of windows – they should be just off the glass. It's okay to cover the window frame, but make sure you allow the natural light in.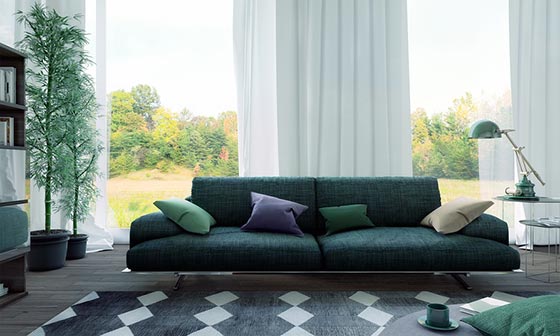 Adding live plants will give your room a brighter and livelier feel. Some plants, such as ferns, are a safe bet, as they can thrive for days in limited sunlight. Plants are a perfect way to add a dramatic effect to the dingiest areas of your rooms.
Crystals and shiny finishes reflect the light and make the room feel more alive. Try adding sparkly accents, a gold table or a metallic-finish wall hanging to brighten the room and add style.
Lighting Alternatives
Substituting artificial light for natural light can make a room feel brighter. Instead of relying on one overhead light, place table and floor lamps throughout a room for balanced illumination. Lamps with off-white shades are ideal and dimmer switches give adjustable ambient light.
When the corners and borders of a space aren't well lit, the room can feel cave-like and dark. Directing recessed fixtures out from the walls up onto the ceiling will make those shadows disappear.
Try placing corner floor lamps or wall sconces in the room. These could be a good option for those who are renting and don't want to incur the expense of hiring an electrician to install pricey recessed fixtures.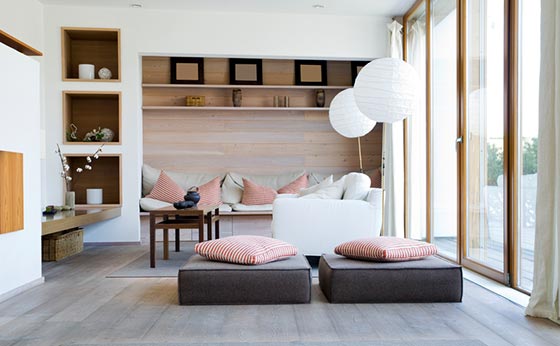 Make sure you have an assortment of lighting types. Overhead lighting (recessed fixtures, pendants and chandeliers), task lighting (desk lamps, art lighting and table lamps) and accent lighting (sconces and under-cabinet lighting) should work in harmony so that a space feels layered in light without feeling alarmingly bright. Dimmer switches are powerful tools in creating the right lighting look so use them whenever possible. A room should be well-lit without being blinding or institutional in feel. 'Yes' to the vibe of a beach house on a summer day, 'no' to the feel of a caustically bright hospital waiting room.
Mirrors to increase light
Choose decorative instead of full-length mirrors. Try a vintage mirror or mosaic mirror to bounce around light, while avoiding the somewhat annoying side-effect of seeing everything, including yourself before coffee consumption, perfectly reflected in the clear surface. A vintage mirror, mercury mirror or convex/concave mirror will assist with scattering light throughout your space while feeling a little less obvious than a wall of mirrors or an oversized floor mirror.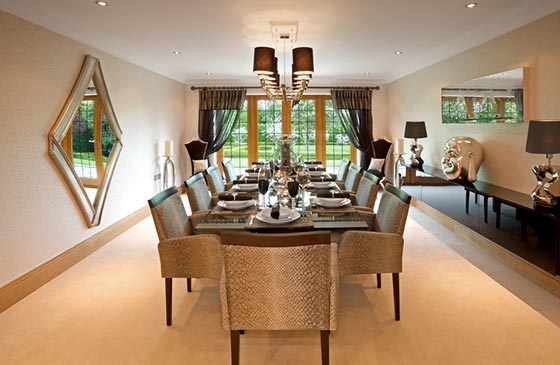 Cut the clutter
Remember, when deciding how to update that tired old room, the first place to start is to de-clutter it. This doesn't necessarily mean a mass throw-out. It will mean finding homes for things and putting them away in their rightful place to give your room a more open, inviting feel.