Canstar
AR releases inaugural Overseas Student Health Cover Star Ratings report today, finding significant price difference between providers.
A condition of entry to the country for the approximately 640,000 international students studying in Australia at any one time is a fully paid in advance health insurance policy. For a student planning to be in Australia for five years, this can potentially set them back by more than $3,300. Canstar has analysed the insurance policies of all five providers of Overseas Student Health Cover and discovered that despite the highly regulated policy inclusions, the price can differ significantly between providers.
Unlike standard private health insurance, Overseas Student Health Cover is a regulated product in terms of what must be included, so it was interesting to discover that there is reasonably significant price discrepancy between providers.
Who offers Overseas Student Health Cover?
The five providers that are authorised by the Australian Department of Health and Ageing to offer Overseas Student Health Cover are:
In our comparison table below you can view the current policies available from these providers. Please note that this table is formulated based on cover for a student with a 3 year study visa.

What does Overseas Student Health Cover cost?
Canstar's research found the following equivalent monthly premiums across the providers:
Length of Policy (years)
Provider
1
2
3
4
5
ahm
34.09
34.43
36.38
40.66
44.28
Allianz
46.08
46.58
48.17
54.33
55.87
Bupa
44.99
45.98
45.98
53.46
53.46
Medibank
45.50
45.50
45.50
45.50
45.50
nib
38.00
38.00
38.00
38.00
38.00
Source: Canstar OSHC Star Ratings
Another interesting finding, which you can see in the table above, was the higher average monthly premiums for students planning to stay for a longer period of time. Presumably this is based on prior claims experience of these provider's; perhaps the longer a student is here the greater the risk of major hospitalisation either due to accident, illness or a life event such as pregnancy.
What extra benefits does OSHC offer?
For treatment not in a hospital – seeing a GP (your local doctor), specialist, or receiving an x-ray or other tests – OSHC must provide a minimum level of cover, which is based on the Medicare Benefits Schedule (MBS) Fee.
But some providers of OSHC also offer slightly more cover than they are required to. For example, some providers cover 100% of the MBS Fee amount instead of 85% of the fee. Bupa Australia is one provider who does this.
OSHC providers may also differ in the waiting periods before certain procedures or admissions might be covered.
If you decide to cancel your policy or switch providers, OSHC providers may charge you a fee that is equivalent to around 3 months of your premium.
Which Overseas Student Health Cover Insurer provides Outstanding Value?
Canstar is pleased to announce that nib has won this year's Canstar award for Outstanding Value Overseas Student Health Cover. nib received a 5-star rating for its 3, 4, and 5 year cover.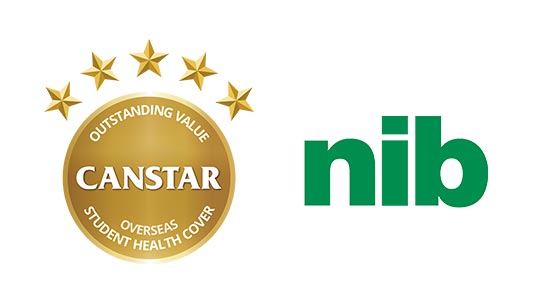 Based on the products researched by Canstar, nib offers the cheapest premiums for 4-year and 5-year OSHC cover and offers competitive prices for 1, 2, and 3-year cover.
nib's Chief Executive Officer, Mark Fitzgibbon, highlighted the significance of this award for the private health insurer.
"As one of the country's largest health insurer's covering over one million people across Australia and New Zealand, we believe health cover should be easy to use, easy to understand and most of all good value," said Mr Fitzgibbon said.
"Being a student often comes with financial burdens that can be exacerbated with the added factor of moving to a foreign country. We understand this and regularly review our OSHC products to ensure they meet the greatest needs of international students. We have a large hospital network and offer quick and easy claim options, so students can focus their time on what they came here to study and not worry about health issues that inevitably crop up as life happens."
Sponsored products are paid advertisements and do not include all providers. Canstar receives a fee for referring you to the advertiser. Canstar is not giving you advice in relation to sponsored products.
Products displayed above that are not "Sponsored" are sorted by Star Rating and then alphabetically by company. Canstar may receive a fee for referral of leads from these products. See How We Get Paid for further information. If you decide to apply for health insurance, you will deal directly with an insurance provider, and not with Canstar.
Consider the provider's detailed product and pricing information before making a decision to purchase a policy. The products displayed on this page do not include all providers and may not compare all features relevant to you. View the Canstar Health Insurance Star Ratings Methodology and Report. The rating shown is only one factor to take into account when considering products.
The Star Ratings in this table were awarded in September, 2016 and data is as at that date, updated from time to time to reflect product changes notified to us by product issuers.