After researching 5 overseas student health cover providers and 11 working visa health cover providers,
Canstar
has revealed 2 winners of the Outstanding Value Awards for 2018.
Canstar's Star Ratings for Overseas Student Health Cover and Working Visa Health Cover use a sophisticated methodology that compares health insurance policies on both price and features for those travelling to Australia for study or work.
Canstar has released the 2018 award results for these two products, with Medibank taking out the Outstanding Value award for Overseas Student Health Cover and IMAN taking out the title for Working Visa health cover.
Outstanding Value Overseas Student Health Cover: Medibank
In 2018, Canstar researched and rated 5 providers of Overseas Student Health Cover (OSHC), coverage that provides international students with out of hospital and in hospital medical services. This year's winning provider was Medibank, who has taken out this award for the first time.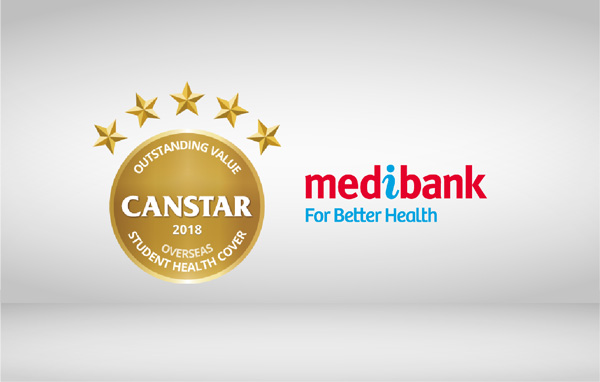 Medibank Overseas Student Health Cover
Canstar Research found Medibank's premiums for student health cover were market-leading for couples and most of the family profiles, while being extremely competitive in the singles market.
For example, 1-year premiums for couples with Medibank were $2,766, while the market average was $3,211.40.
Canstar also found Medibank was highly competitive when it came to features, with standouts including:
covering 100% of the Medicare Benefits Schedule (MBS) for in-patient medical services
covering ambulance services and pharmacy medicines – particularly non-PBS (pharmaceutical benefits schedule) where medicines are approved by the Therapeutic Goods Administration
a strong range of hospital inclusions, such as:
treatment outside of a hospital
surgical removal of wisdom teeth
gastric banding
psychiatric treatment
podiatric surgery
About Medibank
Medibank is a provider of health insurance, travel insurance, life insurance and pet insurance, in addition to overseas student health cover.
When it comes to health insurance, Medibank has won Canstar's Private Health Insurance Awards every year from 2008 through to 2017.
Outstanding Value Working Visa Health Cover: IMAN
In 2018 Canstar Research rated 11 providers of working visa health cover (WVHC) that complied with visa condition 8501 (the Government standard that specifies visa holders must hold adequate health insurance while in Australia). Of these 11 providers, IMAN took out 2018's Outstanding Value Award for Working Visa Health Cover for the third year running.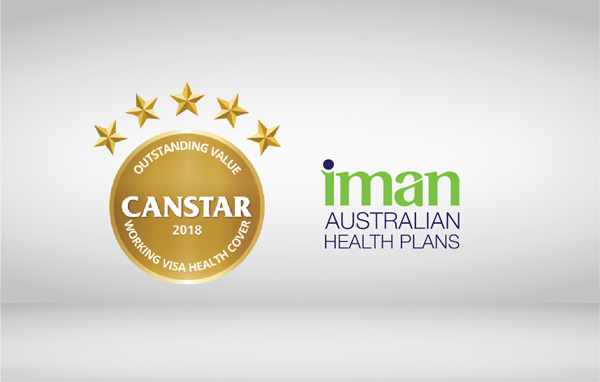 IMAN Working Visa Health Cover
IMAN performed particularly well in this year's research in terms of its low out-of-pocket costs in comparison to the rest of the market. IMAN's monthly premiums were market leading for singles and couples, while being competitively positioned for families:
singles: Its average monthly premium was $75 for budget visitor cover, while the market average was $141.14
families: IMAN's average monthly premium was $284.33, with their lowest premium being $219.67 – the market average premiums were $317.17
IMAN also required no excesses or co-payments from its members for this type of health cover.
When it came to features, IMAN offered ambulance, private hospital and pharmaceutical medicine coverage with particularly competitive hospital inclusions. This included coverage of all medical costs while in hospital and no limitation periods on obstetric or psychiatric treatment, plastic non-cosmetic (such as reconstructive surgery) and podiatric surgery.
About IMAN
IMAN has been a subsidiary of nib for seven years and is soon to be rebranded to nib. IMAN currently has three working visa health cover products rated by Canstar:
Budget Visitor Cover
Value Plus Visitor Cover
Basic Visitor Cover
How are these ratings calculated?
Canstar has strict requirements for OSHC and WVHC products to be eligible for our Star Ratings:
The policy and its provider must be approved by the Australian Government Department of Health and Ageing
The policy must not be restricted solely to members of a specific organisation
For comparison and evaluation purposes, the policy must be available to each visa term: 1, 2, 3, 4 and 5 years (where 5 years is the maximum student visa term in Australia).
The Policy must assist the visa holder in complying with condition 8501
The Policy must not be restricted solely to members of a specific organisation
The Policy must cover treatment in a private hospital.
All eligible products are reviewed annually, with points awarded for comparative pricing and for the array of positive features attached. To arrive at the total score for OSHC, Canstar applies a weight of 70% to the price score with a 30% weight applied to the feature score, while WVHC has a weighting of 60% for the price score and 40% for the feature score. The weightings reflect the importance of costs and features in determining the products offering outstanding value.
For more information about how the Star Ratings are calculated, refer to our methodology documents for OSHC and WVHC.
To compare OSHC and WVHC, see below: