The Government has warned shoppers to beware of excessive card surcharges and dodgy refund policies in the lead-up to Christmas.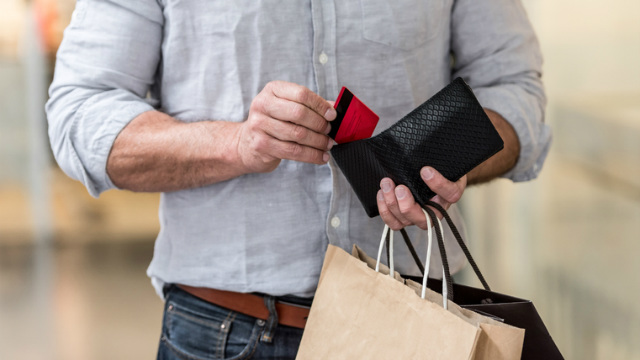 According to data released by Roy Morgan and the Australian Retailers Association, retail spending sees a spike in the last two months of the year when Australians are doing their Christmas shopping and getting into the holiday spirit.
But both the Treasurer and the ACCC have expressed concern that consumers may be confused or misled when shopping this holiday season, and have put retailers on notice in an attempt to prevent this.
Card surcharges: "businesses need to take this seriously"
Federal Treasurer Scott Morrison has announced details of some of the first formal infringement notices issued to businesses under the Government's recently implemented card surcharge provisions.
He said "a large merchant" had been slapped with four separate infringement notices and had paid $43,200 in penalties.
"More companies are expected to be issued with notices in the coming weeks in what will be a significant wake-up call for merchants," Morrison said.
"The Turnbull Government won't allow Australians to be ripped off when they make purchases with their cards.
"We've empowered the ACCC as enforcers of our ban on excessive surcharging and today's announcement shows that businesses need to take this seriously."
What surcharge should you reasonably expect to pay?
If a merchant decides to impose a card surcharge, by law they are only allowed to charge:
0.5-1% of the transaction cost for payments made by debit card
1-1.5% of the transaction cost for payments made by MasterCard and Visa credit cards
2-3% of the transaction cost for payments made by American Express
If a merchant charges a surcharge higher than these rates, Morrison recommends consumers refer them to the ACCC for investigation.
ACCC: "know your rights" on refunds
Another right shoppers should be aware of is around refund policies, with the ACCC issuing a warning to retailers prior to the Christmas period.
Despite the Australian Consumer Law (ACL) being very clear on the rights of consumers, retailers continue to receive slaps on the wrist for misleading shoppers about what manner of refund they're entitled to.
The ACCC says that out of all the issues they deal with on behalf of consumers, "misleading representations regarding online refunds and returns" are one of the most prolific.
According to ACCC Deputy Chair Dr Michael Schaper, "this year the ACCC has received over 750 complaints regarding consumer guarantees for clothing purchases."
"We are reviewing the policies of retailers at busy times such as Click Frenzy, in the lead up to Christmas and during the Boxing Day sales period," he said.
"If customers are looking to return faulty goods after this week's Click Frenzy online shopping event, the ACL gives them the right to choose between a refund or replacement if a product they have purchased has a major fault, even for sale and clearance items.
"If a product has a minor fault, retailers can choose to provide a free repair instead of a refund or replacement."
Dr Schaper stressed businesses must ensure the rights of consumers are honoured when they return a faulty product.
"Retailers must not misrepresent the consumer law and the rights of their customers in the wording and advertising of their returns policies.
"We will take further action if a retailer is not fulfilling its legal obligations under consumer law."
When are you entitled to a refund?
The ACCC makes it very clear that you are still entitled to a refund on faulty products regardless of whether they were on sale or not, or bought at a clearance store.
Additionally, signs that state "no refunds" or anything similar "are unlawful" according to the ACCC, and do not change or negate your rights under the ACL.
However, if the fault is brought to your attention before you buy the faulty goods in question, you may not be entitled to a refund.
Retailers are forbidden from restricting the period in which you can ask for a refund on faulty goods

Under the ACL you must be given a 'reasonable' period of time to seek remedy for the faulty goods
This cannot be overridden by any sort of 'express warranty' specified by the retailer.

If you purchase non-faulty goods, a change of mind is not grounds for a refund or exchange

Some retailers may have a refund policy which allows for a refund or exchange in such a circumstance, but it is not a requirement under the ACL.