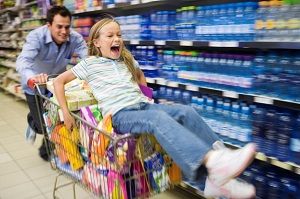 According to a recent study by Roy Morgan Research, almost 10 million Australians have either a Coles FlyBuys or Woolworths Everyday Rewards card. Specifically, around 36% of Australians over 14 have a Woolworths Everyday Rewards card and a slightly more modest 33% have a Flybuys card.
Both Flybuys and Rewards offer consumers discounts, fuel savings and longer-term points accumulation. They also offer some valuable information to the supermarkets. "Flybuys and Everyday Rewards provide the supermarkets with important information about purchase behaviour, "says Warren Reid, Group Account Manager – Consumer Products, Roy Morgan Research. "Clearly, most consumers are happy to make this trade, providing personal data in exchange for tangible benefits via a convenient and easy to manage process."
According to Roy Morgan Research, the most common user of supermarket rewards cards is likely to be young families in outer suburbs. "These Aussies are on relatively high incomes, but acutely feel the stresses of mortgages, childrearing costs and everyday household expenses," says Mr Reid.
Where do we spend our money?
According to the most recent Woolworth "Trolley Trends Report" …. The average Australian household allocates approximately 17% of their household budget on food and non-alcoholic beverages. It?s a lot of money, topped only by housing costs at 18% of the household budget. According to the report, the four areas of most significant spending are:
Housing 18%
Food & non-alcoholic beverages 17%
Transport 16%
Recreation 13%
In terms specifically of food, what we buy has changed over the years. To quote the report:
"In the 1980s, red meat, potatoes, fruit juice, margarine and tea dominated – today?s trolley is filled with fish, chicken, rice, fresh fruit, butter and coffee. Or, if it is tea, it is now a choice of one of 61 varieties.The most noticeable change is that Australians are purchasing significantly less red meat than 25 years ago. As a share of meat wallet spend, it is down 16 percentage points from 1984 – a dip that is largely attributed to specific dietary choices and affordability.

In contrast, chicken has become a staple for most Australians, rising by nine percentage points to constitute 21% of our food and non-alcoholic beverage share of wallet.

Interestingly, Australians are eating out more than ever, with 31% of the dollars in our food and non-alcoholic beverage expenditure being spent on restaurants, takeaway or school lunches – up nine percentage points from 1984. The local ethnic food restaurant has emerged as an extension of the family kitchen."

Source: Woolworths Trolley Trends 2013
With food costs such a large portion of our household spending, it makes sense to take advantage of loyalty programs on offer. Of course, shoppers shouldn?t change their habits just to get a reward – shopping around for the best price possible is likely to give a batter result. But if rewards are on offer for something that would go in the shopping trolley anyway, then it?s a win/win situation.