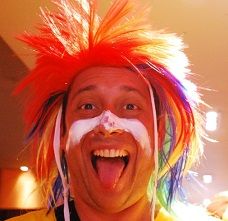 The Travel Tart (sometimes known as Anthony) is a travel writer at The Travel Tart – Offbeat Tales From A Travel Addict which is about the funny, offbeat and weird aspects of world travel today. He talks about how he funds his travel addiction by racking up frequent flyer points via credit card reward programs.
How important to you was the rewards program on offer when you last shopped for a credit card?
It's pretty important to find any sort of travel hack that will enable me to travel for as long as possible for as little money as possible. I've been part of a rewards program via a credit card for over a decade and have managed to milk quite a bit from them! I look for the lowest annual fee possible and compare this to the value of points that I might accumulate as I'm looking for value for money.
What type of rewards do you prefer and what type of rewards have you managed to accumulate over the last year or two?
I've always gone for the airline points/miles options because I'm an avid traveller and I look for any excuse to minimise or eliminate my travel costs! I tend to burn points for trips every year. I normally only burn points for long haul international flights because the points burned to distance flown ratio is much lower when compared to using them for domestic flights. For example, a return flight from Sydney to Melbourne on Qantas will cost 24,000 points (excluding taxes) for 1,413 km, which works out at 17 points per kilometre. However, a return flight from Sydney to London costs 128,000 points for 21,172 km which is only 6 points per kilometre. Which means that a domestic flight might use 3 times as many points per kilometre as an international one.
What bill-paying strategies do you use to maximise your rewards?
The main thing here is to use your credit card to pay for EVERYTHING, and I literally mean everything. All your shopping, all of your bills, and maybe even someone else's if you know they will pay you back. As an example, I always volunteer to pay for staff functions. Say a staff function costs around $10,000 and you can rack up 10,000 points for this. Well, a return flight to the United States is around 96,000 points, so you only have to do this 10 times to score a trip. Plus if you have an offset home loan and your company reimburses you in good time, this money can be used to offset interest so it's a win:win situation for you! Also, keep an eye out for bonus points that are offered from time to time. Some flyers have identified great ways to rack up loads of points quickly, like buying thousands of puddings and charging up their toll card in one cent increments!
Any tips for credit card shoppers on what to look for?
This really depends on what your focus is and what you want to gain from your rewards program – create a spreadsheet of your needs and see what your cost to reward ratio will be. Also, don't be too loyal. If your credit card provider changes the terms and conditions to make them less appealing to you, feel free to shop around for a better deal. Or even contact your existing provider to ask for a better deal and tell them that you'll leave if they don't!