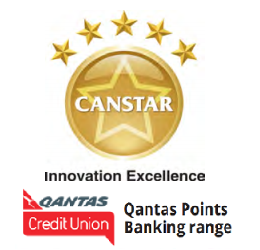 What is the product?
Qantas Credit Union has brought out a range of financial products that enable customers to earn Qantas Frequent Flyer points just by paying their bills.
Customers who take out either a Qantas Points Home Loan or a Qantas Points Car Loan, or who open a Qantas Points Saver account, as well as those with a Visa Platinum Credit Card, can accrue points through their regular payments or savings.
It?s possible for customers to maximise the amount of points they collect in two ways: take out multiple products from the range, thus increasing the number of points they earn by quite some margin; and holding the products for a longer period of time.
Unlike many other loyalty programs, which encourage people to sign up but often don?t reward customers for longevity, the principal of this suite of products is to reward customers throughout. So, the longer they take out a home loan, for example, the longer they will be earning points and, of course, the more points they will earn
According to Qantas Credit Union, a major benefit with these points-earning products is that they "offer customers the ability to accelerate the earning of Qantas Points from what they have become used to through earning points on their credit cards alone".
Standout features
• Several financial products from one provider that enable customers to earn extra Qantas Frequent Flyer points.
• Accelerated point-earning opportunities that arise just by undertaking day-to-day tasks (paying bills, saving money).
• With the Qantas Points Saver account, customers earn 400 points for every $1,000 of their average monthly balance per annum.
• With the packaged home loan, customers can earn 150 points for every $1,000 outstanding per annum.
• A handy calculator on the website enables customers to check just how many points they could be earning by using the various different products.
• Potential for sustained periods of point-earning. With a 30-year home loan, customers can potentially earn reward points for the whole 30 years.
Canstar's verdict …
This package of points-earning products takes the concept of rewarding loyalty to an institution and runs with it!
While there is another bank offering benefits from its home loan and credit card, Qantas Credit Union pushes the boundaries by adding the extras into its range. The fact that the rates offered with these products remain competitive means that this innovation still offers good value as well as an interesting drawcard. The website?s calculator also makes working out the potential earning fun!
www.qantascu.com.au | 1300 380 380