Excited about the new Coles flybuys/Virgin Velocity partnership but not sure how to make it happen? Here's what you need to know about transferring flybuys points into Velocity points.
Points can be transferred in increments of 2,000 flybuys points, which will convert to 870 Velocity points – an effective transfer rate of 2.3. The minimum transfer amount is 2,000 flybuys points and a maximum of 138,000 flybuys points can be transferred to Velocity each year per flybuys household. This is the equivalent of 60,030 Velocity points.
Shopping around for a credit card?
Whether you're a rewards-seeker or a frequent flyer, you can easily compare from over 100 cards with Canstar.
Until 30th November 2016, transfers from flybuys to Velocity will also yield a 15% bonus. This means that until then, 2,000 flybuys points is worth exactly 1,000 Velocity points (it would be 1,000.5, but fractions of points are lost in the transfer process).
Velocity Frequent Flyer Status Credits can also be earned by shopping a Coles, Coles Online, Liquorland and First Choice Liquor. These status credits are earned at a rate of 1 Status Credit per $100 spent each month – up to a maximum spend of $1,000 (which would earn 10 Status Credits). Status credits are automatically transferred to your Velocity membership each month, so there is no need to take any action other than linking the two accounts. There is no need to exchange flybuys points for these status credits either – they are earned on top of the flybuys points you receiving for spending at Coles, or with other flybuys partners.
How to link your flybuys and Velocity Frequent Flyer accounts
Firstly, if you aren't a member of both of the programs, you will need to sign up, which is free of charge. If you have picked up temporary membership card for either flybuys or Velocity you will be able to link that number to your new account as part of the sign up process.
After logging into your flybuys account, navigate to "My Account" and then "Linked Accounts".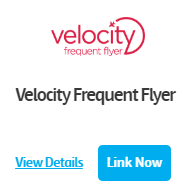 Your current linked accounts will be shown and there will also be options to link to other partners. Look for Velocity Frequent Flyer, and click on the "Link Now" button.
Click "Link a Velocity Membership". You'll then be prompted to enter your Velocity membership number, name, and date of birth to complete the process.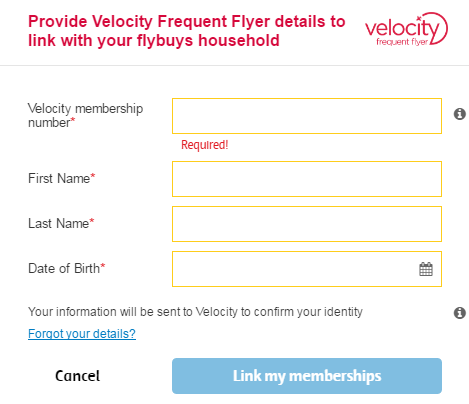 After the link is established, you will begin earning status credits on your spending, and can transfer flybuys points to Velocity straight away. You should also receive an email from Virgin Australia soon after establishing the link.
How to transfer flybuys points to Velocity
After your flybuys account is linked to Velocity the process of transferring points is very easy and, according to flybuys, immediate.
To redeem flybuys points, navigate to "Rewards" on the main flybuys, click the search icon, and type "Velocity". You should be presented with the Velocity points redemption option.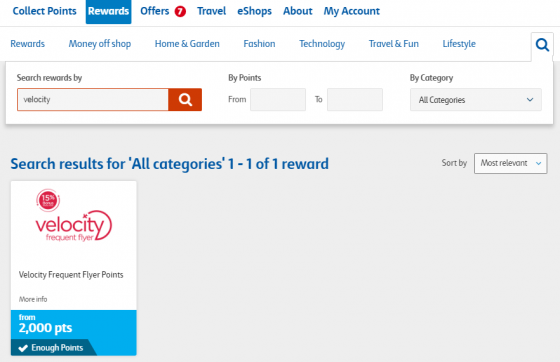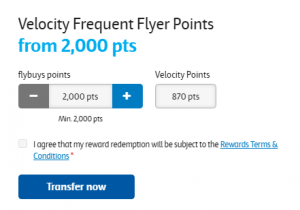 Next, you can choose the number of flybuys points you wish to redeem (between 2,000 and 138,000 – in multiples of 2,000). After you read and agree to the conditions of the transfer, click "Transfer Now". The points should be available for you to redeem through Velocity immediately.
Automatic flybuys points transfers?
Unfortunately, there is no option to have your flybuys points automatically converted to Velocity points on a regular basis. However, since the transfers are immediate, it will be easy to top up your Velocity balance if you need to.