Older Australians prefer to remain independent in their own homes by getting assistance from home care subsidised by the government, shows a new report from the government Productivity Commission. What is the future of home care in Australia?
The government Productivity Commission has recently released a report, Housing Decisions of Older Australians, covering older people's attitudes on a range of housing and retirement issues including retirement planning, housing preferences, and health care and independence.
The report analyses a Commission survey of 1,500 senior Australians aged 60 years and older, as well as ABS data from the past decade, creating a strong analysis of how older Aussies really think. The survey was representative of our nation's population in terms of age, gender, location, and socio-economic background.
Here's what the report said about home care.
Australians choose home care for independence
When it comes to housing decision in older age, health and financial factors play an important role – but so do social networks and security, with the majority of older Australians preferring to stay in their own home if they possibly can. For those who do move, health was the number one reason for moving out for those aged 80 years and older, while finances were the largest reason for younger retirees.
When a person can get nursing care and help with home maintenance such as cleaning and gardening at home, they are more unlikely to move. Thankfully, a wide range of home care services are subsidised by the Australian government, meaning older Australians can stay where they feel comfortable.
What home care services are you entitled to?
The services you are entitled to depends on two things: your health needs and financial situation assessed by My Aged Care and Human Services, and your housing situation. From 2015, eligibility for both programs will be assessed by the My Aged Care assessment teams.
Currently, home care services are funded by two government programs that provide different levels of support for health and home needs:
Commonwealth Home Support Programme (CHSP):
Entry-level support for occasional domestic assistance, home maintenance and home modifications, and personal care.
Designed for basic support needs, in order to maintain independence at home.
Client is referred to an approved service provider in their area.
Government funding is limited. Client pays some of service provider's fee.
Home Care Packages:
Intensive support from nursing, allied health, personal assistance, and clinical health services. Four levels of services: Low to High.
Designed for complex support needs, as an alternative to moving into residential aged care.
Clients choose their own provider (a 2015 reform).
Client payment is income tested by Human Services. Client pays minimum fee of 17.5% of their Age Pension, up to a cap.
Your housing situation may also affect which services and home modifications you are able to receive:
Housing situation
Home care services available
Home owners
Home care for eligible people (low income)
Government-subsidised home modifications

for eligible people

Funded by Federal Commonwealth
Private rental
Home care for eligible people (low income)
Government-subsidised home modifications

if landlord consent given

Funding depends on location
Social housing
Home care and other services

for eligible people (low income)

Home modifications made by housing provider
Funded by states and territories
Mobile home community

(e.g. caravan park)

Basic services, including home care
Government-subsidised home modifications

for eligible people

Funding depends on location
Retirement village
Home care varies by village
Government-subsidised home modifications

available if not offered by village

Funding depends on location
Residential aged care
Ongoing care in aged care residence
Home modifications already in place
Funded by Federal Commonwealth
Source: Productivity Commission Housing Decisions of Older Australians report
Finding home care for your situation
The most important contact you need to know is My Aged Care. You can call them for free on 1800 200 422 on Monday to Saturday, and their contact centre staff will ask you some questions to help understand your needs and provide advice. My Aged Care will create a client record for you, so that you won't need to tell your story over and over when you speak to assessors and service providers.
You will then need to contact Centrelink if you are receiving the Age Pension, to ensure that your home care costs will be covered when you begin paying them.
Recent changes to the home care subsidy system
The past few years have seen several changes to aged care policy, refocussing from expensive residential aged care to cheaper home care services that support maintaining independence, reflecting older Australians' preference to "age in place".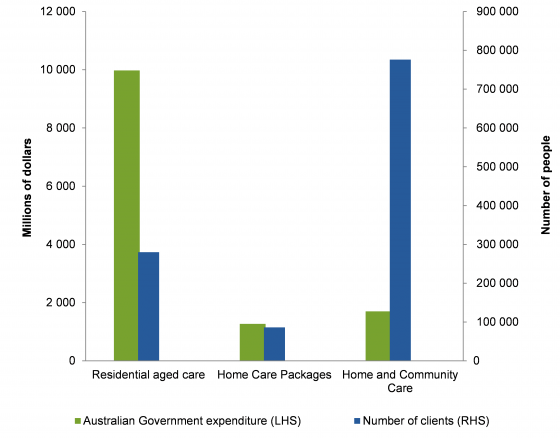 2015 saw the introduction of a new assessment and referral process through My Aged Care, and a new client co-contribution payment scheme. For the first time, all home care packages were based on consumer directed care, given older Australians more control over decisions regarding their own care.
Recent changes to the home care subsidy system
More changes are still needed for the home care system. Two issues that will be addressed during aged care reforms starting in 2018 relate to making the CHSP and Home Care Packages more consistent with each other:
Confusion over cost: Older Australians go through a different application process and pay different fees, depending on how Human Services assesses their income and assets. For example, the CHSP and Level 1 Home Care Package provide similar services, but CHSP clients pay much less. They receive a higher subsidy for these services and do not have to pay the income-tested fee that applies to home care packages.
Unequal services: Concerns were raised by KPMG in 2014 about the fairness of the home modification and maintenance services funded by the government. As you can see from our table above, funding for home modifications depends on a person's housing situation and location, meaning that renters with low income and low assets can actually receive less assistance than asset-rich home owners.
Flexibility: Previously, because packages were assigned to providers, clients couldn't switch between packages or providers easily as their needs changed. From 2017, packages will be assigned to clients instead of providers, meaning packages are "portable" and can be transferred from one provider to another.
Shortage of services: The government will be increasing the provision of home care services overall and reducing the number of new residential aged care places to match Australia's desire to age in place. This will involve removing current supply restrictions for home care services. This is also expected to have the effect of promoting competition and innovation in the housing and care industries.
Consumer focus: Human Services overall is making the massive transition from a provider-focussed system to a consumer-focussed system, giving clients the power of choice over their own care needs. This will require educating older Australians about their eligibility for home care services, a complex issue, so that they can make informed decisions. It may also require further government subsidy, as providers have reported that introducing consumer directed care has created huge administrative burdens on their business, which bumps up client fees.
Canstar looks forward to seeing how the government addresses these reforms and natural teething issues that arise as we move into an era of consumer-focussed home care.