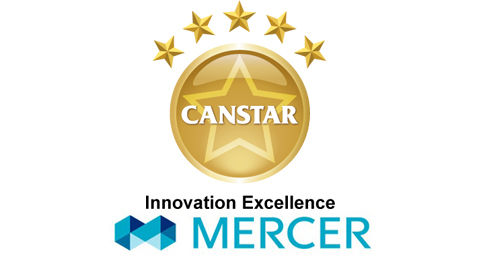 Each year CANSTAR highlights financial innovations within Australia that we believe represent excellence in their field. An innovative product should be a first in the market – even perhaps open up a new market. The degree of innovation should also be sufficient to have a real impact for both consumers and competition. And, of course, something that?s truly innovative can?t help but have that "wow" factor and the overall impact the product could have.
In 2015, CANSTAR is please to congratulate Mercer for winning an Innovation Excellence award for a product that helps mitigate longevity risk: LifetimePlus.
What is Mercer?s LifetimePlus?
Australians are living longer with many expected to live well into their late 80s and 90s, meaning retirement could last 25 years or more. Global health and retirement specialist, Mercer, has developed a product to help retirees manage the risk of their retirement savings running out as they age. Mercer LifetimePlus is designed to improve the income of retirees at older ages and provide an income for as long as they live.
Mercer?s LifetimePlus is a world-first pooled mortality investment fund which is an investment option within an account-based pension that can generate an income for life. It?s different because it combines an investment strategy focussed on capital preservation with a unique longevity pool structure so members share the risk together. There is no third party shareholder and no insurance premiums.
Currently the only lifetime income option for retirees is a lifetime annuity insurance product, which is not a popularly-used option for retirees. The Mercer LifetimePlus product offers the stability of a lifetime income within the flexibility of an account-based pension.
This product operates seamlessly within an existing account-based pension structure. There?s no need to change Funds, so it can be considered reasonably straightforward and cost effective. Your financial advisor will help.
Standout features of LifetimePlus
Some standout features of LifetimePlus include:
Unique income structure. Mercer LifetimePlus provides three types of income: Investment earnings distributions, living bonus payments and capital return payments.
Self-insurance against longevity risk. The unique pooled self-insurance aspect of the fund protects against mortality risk without the need to involve third-party shareholders or to pay insurance premiums.
Convenient. The product can be used within the structure of the customer?s existing account-based pension, removing the need to roll money from one fund to another.
CANSTAR?s verdict …
The Mercer LifetimePlus product is unique in the retirement income market, combining both investment control for the retiree with protection against longevity risk. With Australians enjoying one of the longest life expectancies in the world, and successive Intergenerational Reports flagging the sustainability of our welfare system as a significant concern, this product addresses a very real retirement income need.
The product turns longevity risk on its head, with the product effectively insuring against long life, rather than against death.