Each year CANSTAR researches and rates account-based pensions on offer to Australians. This year we have compared 64 account based pension products from 58 providers.
In 2016 Local Government Super has achieved a 5 star rating for its account based pension. CANSTAR caught up with Peter Lambert, Chief Executive Officer, Local Government Super for some insights into the recent Federal Budget, investment challenges and positive reforms.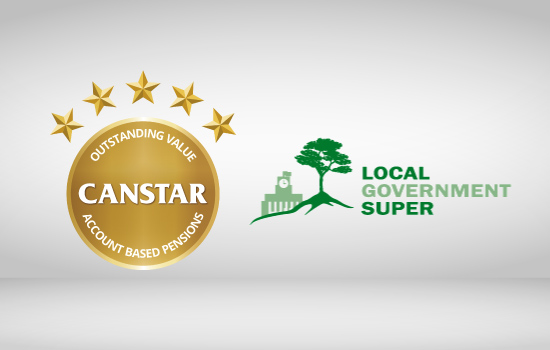 Q: The persistently low cash rate environment can make it challenging for retirees wanting yield as well as security. What does a typical asset allocation look like for a retired member of Local Government Super?
A: Most of our retirees are in our Conservative or Balanced investment options, which are our lower risk/return options.
While these options have a lower allocation to shares, the allocation is broadly diversified and the aim is to achieve reasonable yields without too much risk.
So while low interest rates do present an extra challenge, the current low rate of inflation is helping us to maintain the relative returns on these investments.
But of course, good financial planning advice is the key.
At Local Government Super, our financial planners have worked with many of our retired members to develop an effective investment strategy to help them make the most of their retirement savings in the current environment.
Q: There were a number of changes to superannuation announced in the Federal Budget. What will be the main impact of these changes on members?
A: There were a number of quite significant changes to super in the Budget. The overall aim of these changes is to redirect some of the super tax concessions from high income to low and middle income members.
The lowering of the caps for concessional and non-concessional contributions will mean that members may need to plan a lot more carefully if they're to make the most of their super investment.
On the other hand, the tax-offset for low-income earners and the extension of the spouse tax offset will help low-income earners, particularly women who take time out of the workforce, to boost their retirement savings.
The $1.6 million cap on transfers to account-based pension plans is aimed at curbing the build-up of excessive amounts of superannuation.
This change should have no impact on most retired members. But the lucky few who do have more than $1.6 million in an account-based pension plan may need to restructure their investments come 1 July 2017.
If any retired members are in this situation, we would recommend they contact their financial planner for professional advice on their options.
Q: Total superannuation assets now exceed $2 trillion. Does the growing amount of money pose any investment challenges?
A: The growing pool of super assets does pose some challenges mainly due to the fact all super funds have a degree of 'home bias' when it comes to the allocation of their investment assets, in particular, their exposure to the Australian share market.
The Australian economy can only support a finite number of investment opportunities without diluting investment returns.
It appears inevitable that as our assets continue to grow, more super funds will be looking offshore for their future investment opportunities.
At Local Government Super, we're also diversifying our portfolio; looking for good opportunities to invest in alternative assets such as infrastructure, private equity and structured finance.
Q: The Superannuation Guarantee turns 25 next year. Beyond the introduction of the Superannuation Guarantee, what, in your opinion, has been the most significant positive reform to super over that time?
A: While we've seen a lot of tinkering with the super system, there have been very few positive reforms to super over the last 25 years.
The one exception was the Low Income Super Contribution, and it's good to see the government is now replacing it with the Low Income Superannuation Tax Offset to help boost the retirement savings of members earning up to $37,000 per annum.
The Government's decision to proceed with legislation outlining the objective for the super system, namely, "to provide income in retirement to substitute or supplement the Age Pension" is a step in the right direction.
Hopefully it will provide the basis for more positive reforms in the future.