Each year CANSTAR researches and rates account based pension funds across Australia to determine which ones offer outstanding value for money. This year we looked at 66 different products from 59 superannuation providers. The ING DIRECT – Living Super Pension product was a winner, receiving a five star rating for outstanding value across all three profiles assessed.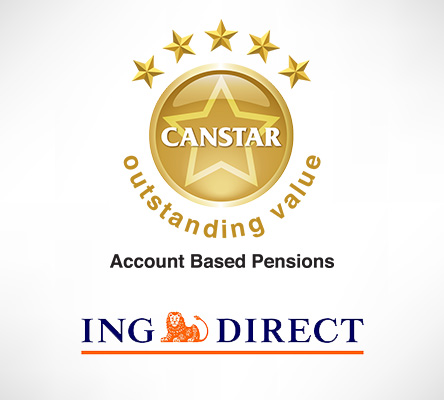 The profiles we consider
The needs and financial strategies employed during retirement will vary from person to person depending on his or her financial position. Recognising this fact, CANSTAR Account-Based Pensions Star Ratings are conducted based on three investor profiles which are the Low ($100,000), Medium ($400,000) and High Balance ($750,000) Profiles. The value proposition for each of these profiles is arrived at by using different weightings for price and features depending on the profile. Funds that offered outstanding value are awarded a CANSTAR 5-STAR rating.
ING DIRECT – Living Super Pension
In order to determine outstanding value for money, CANSTAR considers both price and features of account based pension products. ING DIRECT?s Living Super product is certainly a price leader: pricing benefits for members in the Select category assessed include no Member Fee, a low 0.50% Administration Fee, capped at $1,000 for balances over $200,000 and a 0.25% Investment Fee. ING DIRECT?s information about fees is contained here.
In terms of features ING DIRECT offer a good mix of investment options, including the ability to invest in direct shares, and excellent online functionality. In fact ING DIRECT Living Super was a CANSTAR Innovation Award winner in 2013. CANSTAR congratulates ING DIRECT on its most recent award: five star rating for outstanding value – account based pensions.
Nothing certain except death and taxes?
With the official cash rate now at just 2%, finding a healthy return on a retirement nest egg is very challenging. This makes it all the more important to reduce other costs wherever possible. This includes tax! At this point in time, account-based pensions are hard to beat for retirees as income and earnings on investments are tax free. It?s definitely worth discussing with your adviser.