How much will you need in order to have a comfortable retirement? According to the Association of Superannuation Funds (ASFA), those retiring now would require an after-tax income of $42,604 for a single or $58,364 for a couple (after all, there are economies of scale) in order to be comfortable. You can check ASFA?s most
recent Retirement Standard calculations here
.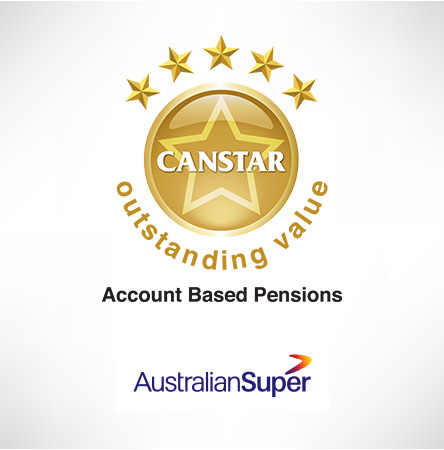 For many Australians an important and tax-effective source of retirement income is account based pensions and each year Canstar researches and rates account based pension funds across Australia to determine which ones offer outstanding value for money. This year we looked at 66 different products from 59 superannuation providers with AustralianSuper achieving a five star rating for outstanding value in each category assessed. We caught up with Australian Super for some insight into industry funds and the digital revolution.
Q. When it comes to choosing an account-based pension, is there still a distinction between industry funds and retail funds that investors should consider?
A: Yes – there are differences. There is still a significant distinction between fees for the average industry fund account-based income stream and retail fees.
Industry funds also have alternative assets such as infrastructure and property that are more stable, have less volatility, and that generate regular income streams that are better suited to a retirement income.
Q: What are the benefits of an industry super fund to members?
A: Lower fees – lower overheads – no shareholders to satisfy – profits all returned to members – members? interests first – in larger funds like AustralianSuper, economies of scale allows us to negotiate better deals for members; our advocacy on various industry issues benefits all super members; we offer lower-cost insurance than retail funds.
Q: The level of public understanding in terms of account-based pensions is increasing – what are some important questions that investors should ask when choosing an account-based pension?
A: The questions do not have to use a lot of complex jargon but an adviser needs to be able to explain to you what they are doing on your behalf so you are comfortable with their advice.
Fees

What fees am I paying?
Are there any ongoing?
What is my net return?
What are the fees for an industry fund option with a similar risk profile?

Can you explain why I am invested in these options and not something else?
Do you have any affiliations or financial relationships with product providers?
How will my investments act if the share market goes down? Do I have enough growth investments to combat inflation and my living longer?
Q: How important is it nowadays for Super funds to engage with their members online? What types of online resources do your members love?
A: The digital revolution is everywhere, including in the super industry. Members of all ages are increasingly computer-savvy. It?s critically important to ensure a positive member experience online, through ease of use, and offering engaging content. Calculators and tools like those on the AustralianSuper website are a great way of giving members (and potential members) valuable information – how much they?ll retire with, how much extra they could have in retirement with additional contributions now, comparisons with other products, tax effective strategies to help them save money, how much insurance they need… but our call centre will always be there for those who prefer some human contact! Of course we also have a presence on social media platforms like Facebook, Twitter & Linked In – which offer members more ways to keep in contact with us.