Retirement incomes are very much top of mind for many self-funded retirees at the moment, with future changes to age pension eligibility on the way. That, combined with Australia?s historically low cash rate, means that making retirement income as tax-effective as possible is critical.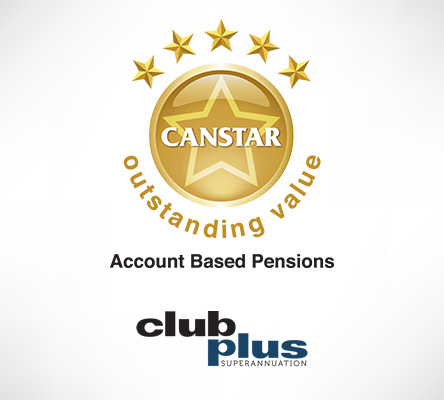 For many Australians account based pensions fill that need and each year CANSTAR researches and rates account based pension funds across Australia to determine which ones offer outstanding value for money. This year we looked at 66 different products from 59 superannuation providers with Club Plus Super, the superannuation provider for clubs, hospitality and related industries, achieving a five star rating for outstanding value in each category assessed. We caught up with Club Plus for some insight into industry funds and the digital revolution.
Q: When it comes to choosing an account-based pension, is there still a distinction between industry funds and retail funds that investors should consider?
A: Traditionally a fund which serviced a particular industry knew its members well and was therefore well placed to cater for their needs as they transitioned into retirement. That meant providing appropriate products and having informed member service people available when their members needed advice or assistance.
A real strength of Club Plus Super is that it remains true to those traditions and I believe rather than talking about generic types of funds nowadays the question should be "what kind of service am I going to get from my provider?" Transitioning into retirement is such a big step and the ability for a pension provider to support you with personalised service and appropriate advice is the most critical aspect and something we work very hard at to ensure our members make a smooth and successful transition into this period of their life.
Q: In addition, what are some important questions that investors should ask when choosing an account-based pension?
A: A lot of our long-term accumulation members switch into the Club Plus Pension as they know and trust the Fund along with the associated service.
That being said, investors should take time understanding the different investment options to ensure you find the right one for your needs. At a bare minimum, members should detail their financial position, goals in retirement and risk appetite. A good super fund can then outline all the options available to the customer and provide a recommendation on what may be the most preferable approach. Fees, returns, risk profiles and level of service are all key areas of questioning as part of this discussion.
Throughout retirement many factors can change so it is vital to have the appropriate support when these changes occur to ensure you are invested appropriately for your goals. It is also important to check the fees on various products and compare them to other providers and the industry average. People shouldn?t forget to investigate what the fees relate to; some fees may be worthwhile paying because they represent value.
Q: Your recent super survey found that while more than half of all respondents knew how much money they needed to enjoy retirement, only a quarter were making additional contributions. What were the main impediments to making extra contributions?
A: We found that a range of factors were holding people back from making extra contributions. Of the respondents, 50% said that their household income was the biggest impediment, followed by 13.8% believing that they did not need to put more into super. Respondents also had concerns around job security, a desire to spend the money immediately, or were considering making additional contributions in the future.
Q: What are some ways that super funds can engage with their members to encourage saving for retirement?
A: We believe the key to encouraging members to save is communication and education. We have found that there is a high level of demand for advice and support.
A way in which we have met this need is to hold a free retirement planning seminar twice a month. We have a range of experts at these seminars to help people understand the ways in which they can transition into retirement, and we have found that this helps our members.
We also run free education sessions at our members? places of employment. At these sessions we cover a range of topics including how to maximise government benefits, how to position for your retirement, and various strategies. We also make many outbound phone calls to check in with people, and ask if they are tracking alright with their super.
Another important idea is to try and show the value of saving for retirement. To help people understand this, we are including benefit projections on our members? annual statements to show not only what their super balance is now, but how much that it could pay them as an income through their retirement years. Our members can also go onto our website and use an online calculator to see how much those retirement payments can be influenced with a little extra contribution each week.
It?s important for members to be informed and better prepared so that they don?t find themselves in a difficult situation and avoid having a significant shortfall in savings at retirement.