Bankwest's Easy Alerts service has won a 2016 Canstar Innovation Award. Here are some details about this innovative product.
Australia is responsible for a number of world-changing inventions, from Google Maps and the pacemaker to the black box flight recorder. We're just as creative with our banking, superannuation and insurance, having invented the plastic bank notes many countries now use and the wi-fi we use for our online banking.
Every year, Canstar looks for the products being launched in the area of financial services to make our lives easier and more convenient. The products that Canstar judges to be the most innovative in their field are awarded a Canstar Innovation Award.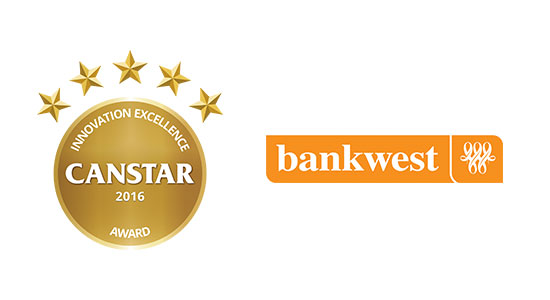 This year Bankwest has won a Canstar Innovation Award for its terrific Easy Alerts service. The product is a real time strategy to allow customers to save on fees, control their finances, meet their savings goals, and ensure their account stays secure. Find out more here.
What is the product?
Bankwest's research in 2015 found that customers wanted help in managing the unexpected in their daily banking, so Bankwest quickly provided the solution in the form of Easy Alerts. Easy Alerts are available for any customer with a personal transaction account, savings account, or credit card, and has the app on their smart device.
Bankwest is the first institution we've seen to offer push notifications sent from your mobile banking app to your mobile or smart device in real time. This is faster and cheaper than receiving an SMS or email, which can be delayed and incur excessive roaming charging for travellers.
Easy Alerts are also unique in that the notifications can be customised to meet the customer's needs or preferences. Bankwest's customer feedback since the launch in October 2015 has been overwhelmingly positive, with customers saying the alerts help them with their budgeting.
Some of the alerts available include notifications when:
The current account balance has fallen below a certain level or will not cover a scheduled payment.
The current account balance has reached a certain savings goal.
A deposit has been made to the customer's transaction or savings account.
Transaction or credit card payments are made overseas.
Customers should transfer some more money into their transaction account to avoid the monthly account-keeping fee.
Standout features
Multi-purpose. This app allows customers to save on fees, control their finances, meet their savings goals, and ensure their account stays secure.
Convenient. Instead of having to check your banking app several times a day to see whether you've been paid yet, the push notification lets you know as soon as it happens.
Crosses the generation divide. While Bankwest expected Easy Alerts to appeal naturally to those aged 18-34, the smartphone-raised generation, it quickly became popular across all customer age groups.
Canstar's verdict…
There's no doubt life is becoming increasingly busier, so any technology that makes it easier for us to track and manage our finances is a good thing. We commend Bankwest on being the first to use push notifications to benefit customers with alerts.