Even in a low interest rate environment term deposits are a popular form of investment, with more than 130,000 visitors to Canstar's comparison tables comparing term deposit interest rates over the past 12 months. But are there any traps of term deposits to be aware of?
Despite our low official cash rate environment, term deposits have still been in favour with cautious investors. While term deposits are seen as a safe and predictable asset class though, there is a more to a term deposit than just the rate. Particularly in a low-rate environment, the "real" rate that you earn can be eroded by a number of other costs. Here we outline five key points to be aware of before committing to a term deposit.
1. Term deposit: Early exit costs
A term deposit is a cash investment held at a financial institution – bank, building society or credit union – for an agreed rate of interest over a fixed amount of time, known as a term. This means that you are signing a contract to lock your money away for that period of time. But – what if you suddenly need access to the funds?
It is important to ask whether you able to access the money before the end of your chosen term. No-one plans to be caught up in an emergency but sometimes it does happen and you may need to redraw your investment before the term is up. In this event, your financial institution may charge you a "prepayment" or early withdrawal fee, which can amount to a significant penalty.
To apply for a term deposit, do you need to open an extra account?
In order to take advantage of some term deposits, the financial institution offering the investment may require you to also open a deposit account. If this is the case, check what the costs involved will be. Any ongoing account-keeping fees associated with this additional deposit account will eat into the real rate of interest your term deposit attracts.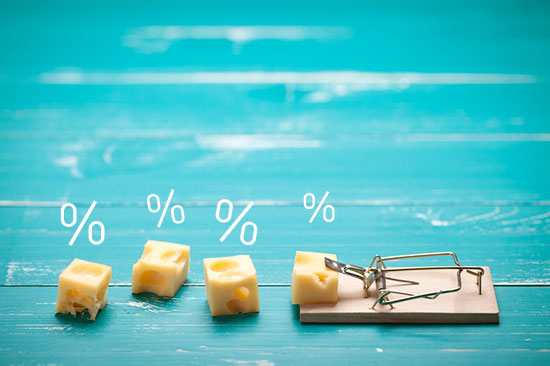 2. Term deposit: Automatic renewal
Automatic renewal of your investment can be a common pitfall of term deposits, particularly if you assume that your money will be automatically renewed onto a similar interest rate.
In 2013 ASIC released a Further Review of Term Deposits report, which made a number of recommendations for improvements to term deposit advertising, the disclosure of interest rates and the disclosure of the risk of dual pricing and grace periods. The report was a follow up to a 2009 investigation that found:
Seven of the eight ADIs reviewed by ASIC had dual pricing. That is, they promoted their term deposits by actively advertising the higher interest rates available on selected deposit terms while maintaining lower interest rates for other deposit terms.
Because term deposits can renew (or 'roll over') on a default basis (unless the investor intervenes), this dual pricing practice could create a risk that a term deposit could roll over automatically from a higher interest rate to a lower interest rate, without the investor being conscious of the change because of absent or limited disclosure in customer communications and disclosure documents.
There was a high level of default rollovers (a weighted average of 47 % of rollovers) from high interest rates to low interest rates.
The 2013 report found that, while ADIs still used dual pricing, there was an improvement in disclosure around this. So the message is that you shouldn't automatically roll over yoru term deposit!
To avoid automatic renewal and instead shop around and compare term deposit rates. Be clear on the financial institution?s rules regarding notifying you when the term is due to expire. Better still, make a diary note on your calendar and get in first.
3. Term deposit duration
The length of term deposit you choose carries inherent risk. For a short-dated term deposit (for example, 3 months – 12 months) the risk is that interest rates may fall and you may not be able to renew in the near future for an attractive rate. You can mitigate this risk by choosing a long-dated term deposit (for example, 3 – 5 years) however the risk then is that interest rates may rise in the near future while your funds are locked away at a lower rate.
Here is a practical example of this dilemma; our Research team has calculated approximately what return you would have received on a $25,000 term deposit over the past two years, based on whether you
Rolled you money from one 3 moth term to the next for 2 years;
Rolled your money from one 6 month term to the next for 2 years;
Rolled your money from one 12 month term to another for 2 years.
Over the past two years, based on a $25,000 initial investment and using the average term deposit rates on CANSTARs database at the time, here's how the sums would have worked out. Remember though that past performance is not an indication of future performance!
Date
3 Months
Interest Earnt
Total Amount
6 Months
Interest Earnt
Total Amount
1 Year
Interest Earnt
Total Amount
1/07/2014
3.70%
$228.08
$25,228.08
3.77%
$464.79
$25,464.79
3.85%
$949.32
$25,949.32
1/10/2014
3.70%
$230.16
$25,458.25
$25,464.79
$25,949.32
1/01/2015
3.40%
$213.43
$25,671.68
3.60%
$452.09
$25,916.88
$25,949.32
1/04/2015
3.10%
$196.23
$25,867.91
$25,916.88
$25,949.32
1/07/2015
3.10%
$197.73
$26,065.64
3.30%
$421.77
$26,338.65
3.30%
$844.60
$26,793.91
1/10/2015
3.10%
$199.24
$26,264.88
$26,338.65
$26,793.91
1/01/2016
3.10%
$200.76
$26,465.64
3.30%
$428.63
$26,767.29
$26,793.91
1/04/2016
3.10%
$202.30
$26,667.94
$26,767.29
$26,793.91
Total Amounts
1/07/2016 Total
$1,667.94
$26,667.94
$1,767.29
$26,767.29
$1,793.91
$26,793.91
4. "Real" rate of return
By their nature term deposits do not attract any capital growth. As such their entire return is in the yield – the interest rate that you receive. To calculate your real return, though, you need to subtract the current inflation rate from the interest paid, as well as any tax you will pay on the interest. So for example if inflation were running at 3% and your term deposit was paying 4%, your "real" rate of return is 1%, before tax. If your marginal tax rate was 30%, your "real' rate of return would actually be negative!
Let's look at a theoretical example though. The table below show the current maximum term deposit interest rates on Canstar's database as a 25 July 2016, and compares these returns against the current inflation rate of 1.3% and a marginal tax rate of 30%.
| Term | Max | Inflation | Less tax @ 30% | "Real" rate of return |
| --- | --- | --- | --- | --- |
| 30d | 2.65% | 1.30% | 0.795% | 0.555% |
| 60d | 2.75% | 1.30% | 0.825% | 0.625% |
| 90d | 3.10% | 1.30% | 0.930% | 0.870% |
| 180d | 3.01% | 1.30% | 0.903% | 0.807% |
| 270d | 3.10% | 1.30% | 0.930% | 0.870% |
| 1 Year | 3.02% | 1.30% | 0.906% | 0.814% |
| 2 Year | 3.10% | 1.30% | 0.930% | 0.870% |
| 3 Year | 3.20% | 1.30% | 0.960% | 0.940% |
| 4 Year | 3.10% | 1.30% | 0.930% | 0.870% |
| 5 Year | 3.15% | 1.30% | 0.945% | 0.905% |
Source: Canstar. Based on term deposit rates on Canstar database at 26/7/16, inflation of 1.30% and an assumed marginal tax rate of 30%. Indicative calculation only an a theoretical example.
Term deposits can be a great addition to an investment portfolio. It does pay, though, to research your options first. Check out Canstar's term deposits calculator.