Yes, World Emoji Day is a thing, and in 2016 it's about gender equality – one emoji at a time.
Emojis are popular, with a 2015 Emoji Report by emotional marketing platform Emoji estimating that emojis are used by approximately 90% of the online population. Given the popularity of emojis (perhaps even rivalling the popularity of PokemonGo), they are a perfect platform to make a statement.
July 17th 2016 is World Emoji Day – chosen because it is famously ? displayed on the iOS Calendar Emoji, which makes it the perfect date for World Emoji Day. The first World Emoji Day was only celebrated on July 17, 2014, but three years is long enough to call it an established tradition, and this year Google has made it about gender equality.
"While there's a huge range of emoji, there aren't a lot that highlight the diversity of women's careers, or empower young girls," said Google.
Google points out that there are emojis like this for men:

But emojis like this for women:

As a result, in May Google proposed a set of new emoji to the Unicode Technical Committee that represent a wider range of professions for women (as well as men), and reflect the pivotal roles that women play in the world.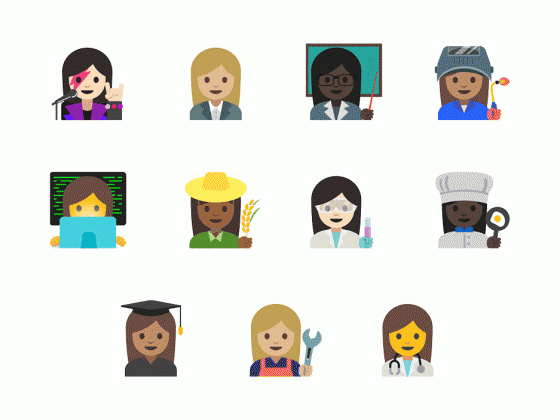 About emojis…
Here are some statistics about emojis courtesy of Los Angeles-based charitable ecommerce company I Am Emoji:
Almost half of the online population believes emojis create a more personal connection with other people.
Looking at an emoji face has the same effect on the brain as a real face.
Americans use an average of 96 emojis a day, and 6 billion emojis are exchanged globally.
The 2008 launch of the iPhone in Japan was hindered due to its lack of emojis.