Emergency and elective surgery waiting times have worsened, according to the latest public hospital report card. Does this highlight the value of private health insurance?
The Australian Medical Association's (AMA) 2017 Public Hospital Report Card has reported that Australia's public hospitals are failing to perform against key measures.
Emergency department waiting and treatment times
Bed number ratios
AMA President Dr Michael Gannon described public hospital performance against these measures across all States and Territories as "woeful".
"Emergency department waiting times for Urgent patients (patients who should receive care within 30 minutes) have worsened and, in most cases, remain well below the target set by governments to be achieved by 2012-13," Dr Gannon said.
"Elective surgery waiting times have worsened, and treatment times have only improved marginally. Bed number ratios have remained static.
"But this is not the fault of the highly-skilled and hard-working doctors, nurses, and other health professionals and hospital workers who work around the clock caring for patients, and who are being asked to do more with less year after year," Dr Gannon said.
Dr Gannon said hospitals are being choked by inadequate and uncertain Commonwealth funding.
"Without sufficient funding to increase capacity, public hospitals will never meet the targets set by governments, and patients will wait longer for treatment," Dr Gannon said.
The value of private health insurance
Dr Rachel David, CEO of Private Healthcare Australia, said people with private health insurance don't need to wait for essential medical and dental procedures, and don't add to overburdened hospital waiting lists.
"More than ever before people with private health insurance value the fact they can choose the time of their admission to hospital and their treating doctor," she said.
"Economic conditions are tough out there, and people can't afford to wait months to get failing sight, painful joints and essential checks for cancer scheduled."
Results of the 2017 Public Hospital Report Card
The 2017 Public Hospital Report Card shows that of 48 key measures, there were only 3 positives, and 40 'fails', with five 'no scores' because the data was not provided.
A few positives were highlighted among the report, including small improvements in elective surgery admissions in Victoria and Queensland (though not quite reaching their targets), and an improvement of 3 days in the median time Northern Territory patients wait for elective surgery.
Dr Gannon said despite these isolated improvements, the bigger picture for hospitals is bleak.
Public Hospital Capacity
The results from the Report show hospital bed ratios cut by more than 42% in the last 20 years.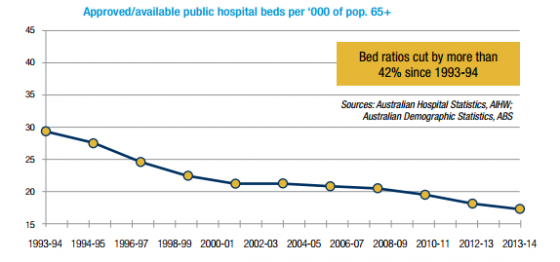 Emergency Department Waiting Times
With performance indicators recommended by the Australasian College for Emergency Medicine, 80% of patients should be seen within the recommended 30 minutes. However, it appears that performance is going backwards, with only 68% of emergency patients seen within 30 minutes.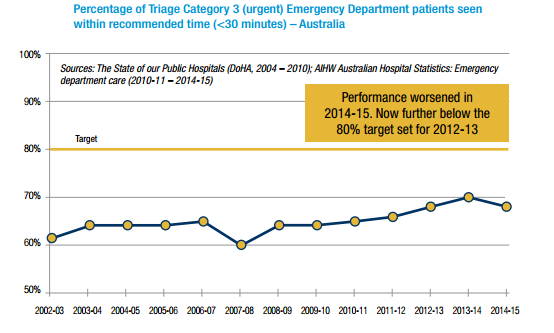 State-by-State Public Hospital Performance
The Report then showed a nationwide lack of performance highlighted by the lack of Commonwealth funding in place.