The Northern Territory Government plans to implement a regulatory model to legalise ride-sharing services such as
Uber
later this year, while aiming to sustain jobs for the taxi cab industry.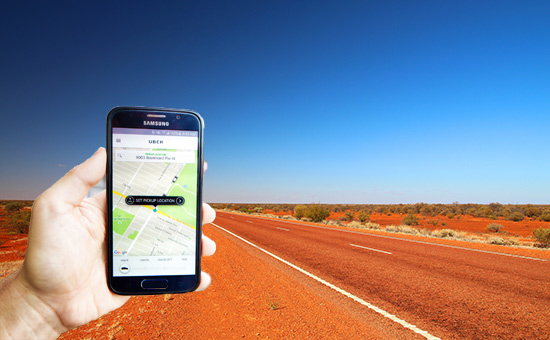 Minister for Infrastructure, Planning and Logistics Nicole Manison released the details today for changes to allow ride-sharing services in the Northern Territory.
She said the government has listened to industries, businesses, and the communities.
"A key way we are rebuilding trust in Government is delivering on our promises, including bringing ride-sharing to the Territory in 2017," Ms Manison.
"The regulatory model worked through with the Ridesharing Steering Committee will deliver changes to level the playing field between existing taxi services and ridesharing."
Taxi drivers to be protected
In good news for taxi drivers, the model will greatly decrease the yearly license fee for Commercial Passenger Vehicle (CPV) operators in NT.
For example, the annual fee to drive a taxi in Darwin will drop from the current fee of $20,240/year to just $5,000/year under the new model, and in Alice Springs it will drop from $16,445/year to $4,000/year.
The model will also retain the current cap on taxi licence numbers in Alice Springs and Darwin.
To offset the reduction in license fees, a $1 per trip levy will be applied to all services including taxi, minibus, private hire, and Uber.
Uber and ride-sharing laws in the NT
The new regulatory model corresponds with the Territory government's 5-point plan, which included:
Consultation: Territorians have been consulted through an online survey to help design an easy and effective set of rules for all ride-sharing services, including Uber, to operate.
Steering Committee: A Steering Committee was formed and it embraces representatives from the Commercial Passenger Vehicle industry, the Taxi Council of the NT and other community groups to advise Government.
Safety and fair working conditions: Making things fair for passengers and drivers to ensure safety and fair working conditions.
Smart, open, and fair regulation: Regulation guidelines will be directed by the National Sharing Economy Principles: primary property is yours to share; new services must support good wages and working conditions; everyone must pay their fair share of tax; proper protection for public safety; access for all; and playing by the rules with zero tolerance for breaches.
Implementation via legislation in 2017: Legislation will be introduced to parliament in 2017 to permit Uber and other ride-sharing transport services to operate in the Northern Territory.
Other developments – Uber set to soar
In related news, Uber also intends to expand to providing flying services in Texas and Dubai by 2020.
Jeff Holden, Uber's chief product officer, called it a "natural next step for Uber".
Uber estimated that a trip across the Californian city takes only 15 minutes by air, compared with 2 hours by road.
In the long-term, Uber predicted the cost of using flying taxis to fall below car ownership, setting out its vision for flying cars as an "affordable form of daily transportation for the masses".