Transport costs have increased in all of Australia's major cities, with the average Sydney household now spending $22,238 annually on transport.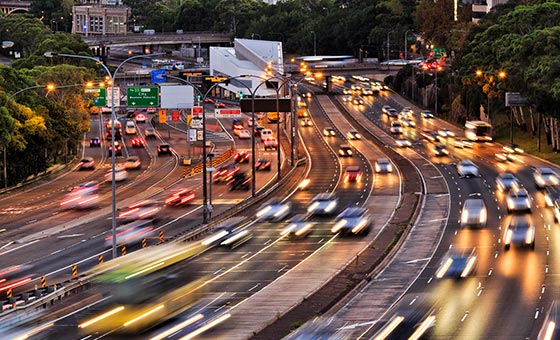 The latest Transport Affordability Index published by the Australian Automobile Association (AAA) found that Sydney is by far the most expensive city in Australia for transport, with households spending $428 per week over the March 2017 quarter.
Annual transport costs for Sydney households are thousands of dollars more than residents of Brisbane and Melbourne, which had annual transport costs of $19,629 and $18,889 per year respectively.
The national average increased $317 per week from the fourth quarter of 2016 to $336 per week ($17,463 per year).
This means 13.6% of the nation's average household income is spent on transport.
But for the average Sydney household, it's even more, with 17.2% of income being spent on transport.
Brisbane residents are a little better off, spending 16% of their income on public transport and private transport expenses.
Despite Hobart's annual transport costs being the lowest of all the capital cities, its lower average income meant it had the third highest share of income being spent on transport, at 14.7%.
Perth and Canberra, both high-earning cities, had the lowest proportion of income being spent on transport, at around 11%.
Perth the cheapest city for car insurance
The average weekly cost of comprehensive car insurance for both new and older cars decreased over the March quarter in every capital city except Darwin.
Perth is still the cheapest city to insure a car at only $14.09 per week, which is less than half the cost of the most expensive city for car insurance, Melbourne ($30.99 per week).
Comprehensive Car Insurance Weekly Costs: 2016 Q2 to 2017 Q1
Q2
Q3
Q4
Q1
National Average
$22.24
$22.37
$23.58
$22.26
City
Q2
Q3
Q4
Q1
Q1 Ranking
Sydney
$29.14
$29.06
$30.83
$28.29
2
Melbourne
$30.88
$30.02
$33.80
$30.99
1
Brisbane
$21.57
$23.90
$24.56
$23.42
4
Perth
$14.37
$14.32
$14.62
$14.09
8
Adelaide
$19.56
$19.56
$20.27
$19.13
6
Hobart
$16.69
$17.02
$18.73
$17.61
7
Darwin
$25.22
$25.24
$25.01
$25.37
3
Canberra
$20.45
$19.89
$20.82
$19.18
5
Source: AAA Transport Affordability Index, March 2017
Car-related expenses dominate transport costs
While public transport fares are often griped about, the car remains by far the biggest source of transport expenses for typical Aussie households.
Car loan payments accounted for the biggest fraction of weekly transport costs – an average cost of $124 per week represents more than a third of the average household's transport costs.
This was more than double the next-highest expense, fuel ($66 per week), followed by road tolls ($59 per week) and public transport fares ($40 per week).
Car loan payments increased by almost $164 per year in 2016.
While typical interest rates fell significantly from 6.25% to 5.75%, this was offset by an increase in the average new car price of more than $800.
The increased fuel excise – to just over 40 cents per litre – was the single biggest contributor to increased costs, with the average household paying an extra $226 per year.
Every state and territory saw petrol and diesel purchases increase by several dollars each week.
Adelaide remains the cheapest city to purchase fuel, while Hobart is the most expensive – the costs in the two cities differ by a hefty $170 per year.
Brisbane's recent public transport fare reductions saw it finally lose its spot as Australia's most expensive city in which to catch a bus.
The Queensland capital ranked third for public transport costs at $54 per week, with Sydney and Perth costing more at $59 and $55 per week respectively.
Costs were significantly lower in other cities, with Darwin households spending a mere $20 per week.
When combined with other costs including roadside assist, servicing, insurance and registration, car-related expenses accounted for nearly 90% of Australia's transport costs each week.
Despite the occasional inconveniences of public transport, it remains by far the more cost-effective option for Australians living in urban areas.