New research from the Australian Scholarships Group (ASG) reveals the total cost of a university education has risen by 22% over the last 10 years.
The 2017 ASG Planning for University Index discovered the overall estimated cost for degrees such as accounting, economics, human resources, law, veterinary science, dentistry and medicine has jumped 22% since 2007 for students who live at home.
For journalism, nursing, teaching and psychology students living at home, costs have jumped 21%.
The ASG Index considered a range of variables including course fees, transport, computers, study placements, and accommodation in order to determine cost.
The Index discovered a widening financial gap between students who live at home during their degree compared to students who rent. For example, medical students who live at home for the duration of their 6-year degree are estimated to be $102,580 better off than their renting counterparts. That's a lot of money!
CEO of ASG, John Velegrinis, says families often budget for the cost of primary and secondary education, but are blindsided by the total cost of a university degree.
"These fees are putting an intense financial strain on family budgets," he said.
"Families that have two or three children who want to attend university could be spending close to $1 million on fees in less than 10 years."
Which degrees are more expensive?
ASG estimated the total costs for a range of different degrees:
Accountant
Cost in 2017: $66,024 (ASG)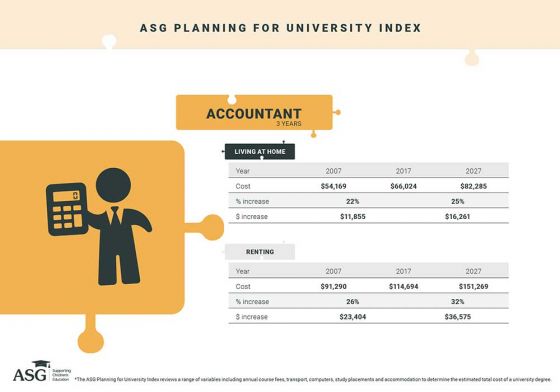 Doctor
Cost in 2017: $126,519 (ASG)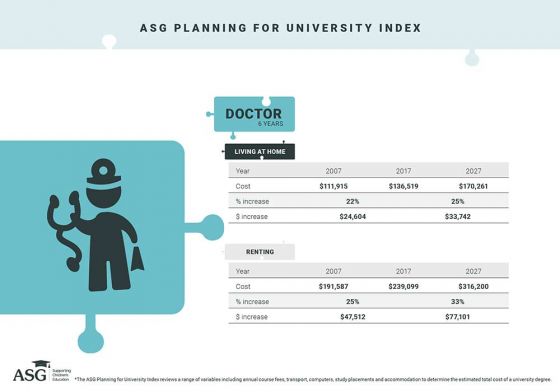 Engineer
Cost in 2017: $82,596 (ASG)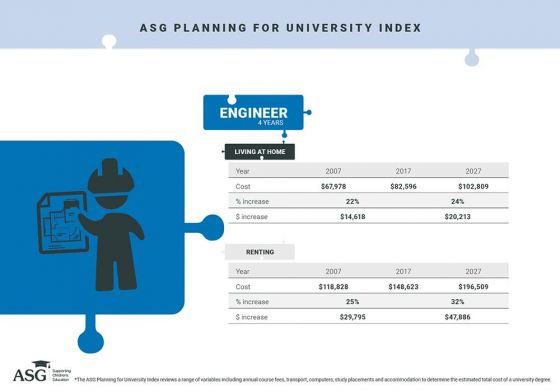 Lawyer
Cost in 2017: $89,008 (ASG)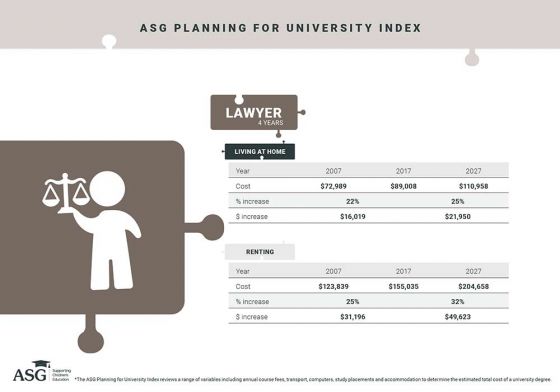 Psychologist
Cost in 2017: $71,392 (ASG)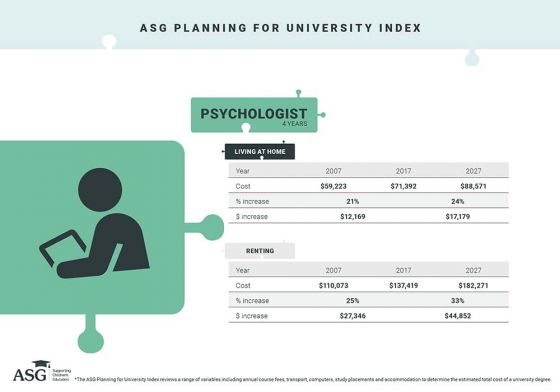 Vet
Cost in 2017: $112,502 (ASG)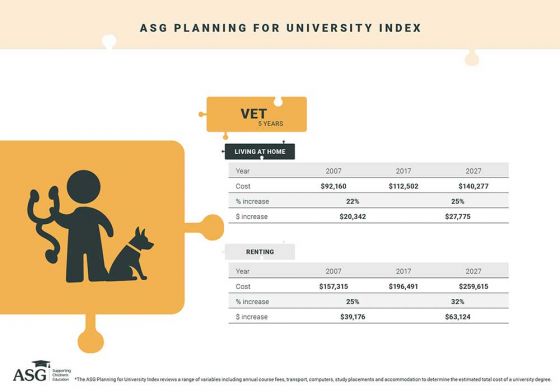 Photographer
Cost in 2017: $52,972 (ASG)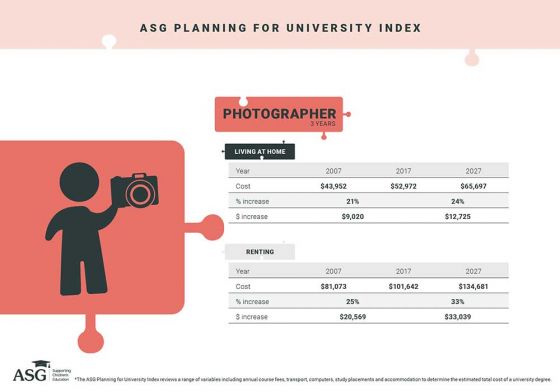 Horticulturalist
Cost in 2017: $61,273 (ASG)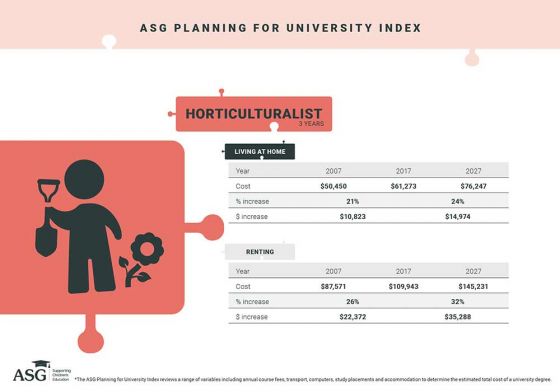 Planning for the future
Unfortunately for future students, it appears this trend is set to continue, with the overall cost of university education forecast to jump at least 32% by 2027.
After taking into account the cost of living expenses, students who live at home while studying in 2027 are predicted to be at least $68,894 better off than students who rent.
Those considering medicine should also be prepared, with the Index predicting those who rent in 2027 could be spending up to $316,200 to complete a 6-year medicine degree.
"Many students, particularly those from regional areas, don't have the opportunity to live at home during university," said Mr Velegrinis, "They must rent in order to attain a degree and this can put them and their families at a significant financial disadvantage."