Could you help protect your fellow Aussies from struggling this Christmas?
According to recent research from the Salvation Army, 2.4 million Australians are worried about how they'll pay for Christmas. Our minds might immediately leap to the question of whether those individuals will manage to afford gifts, and the numbers aren't good. According to the Salvation Army, roughly half a million children under 10 years old are likely to not receive any presents this year.
Food is more important than gifts, but many don't even have food
However, there's a more pressing financial burden than gifts around Christmas time, and that's food. The Salvation Army's Major Paul Moulds says their surveys show that "nearly half of our clients are forced to skip meals [from] extreme financial hardship".
It's an incredibly grim state of affairs at a time of year that's meant to bring the exact opposite. That's why groups and charities are working tirelessly to bring food and Christmas cheer to families in need over the holiday months.
Aussie Farmers Direct CEO, Keith Louie, says most Australians "don't know that hunger is an issue in our country".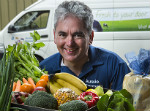 "They are unaware that in all likelihood, someone on their street will be unable to afford dinner this Christmas."
How you can help hungry families this Christmas
Aussie Farmers Direct are encouraging Aussies to buy a Project Rudolph dinner box as a donation for a family in need.
Project Rudolph is a joint effort from Aussie Farmers Direct and Foodbank (Australia's largest hunger relief organisation). Project Rudolph feeds families with a dinner box that includes all the food you need for a delicious Christmas day meal:
Roast pork
Zucchini
Potato
Carrots
Broccoli
Pumpkin
Anzac biscuits
Orange juice
Christmas cake or traditional Christmas pudding
The dinner boxes cost $45 and can be purchased by anyone who wants to make Christmas a little brighter for thousands of homes. The dinner boxes will be delivered by Foodbank to families around the nation.
Foodbank Australia CEO, Brianna Casey says, "More than half a million Australians will struggle to put anything on the table this Christmas, let alone something special."
Buying a Project Rudolph Donation Box could help a struggling family put something special on the table this Christmas.
According to the Salvation Army, 8.6 million Australians admit to buying "way too much food" at Christmas time. If you're one of them, why not take this opportunity to cut back a little on your own food expenditure, and help out someone who really needs it?
Statistics on food insecurity and food relief in Australia
The Foodbank Hunger Report 2016 claims that 1 in 6 Australians have reported experiencing food insecurity in the past year. For half of those people, food insecurity is something they've only experienced 1-3 times, but for over a quarter of those people, food insecurity is a regular occurrence.
In 2015, there was an 8% increase in the number of people seeking food relief. Sadly, over 43,000 people seeking food relief each month are turned away by charities and community groups due to a lack of supplies.
1 in 3 of the 644,000 people accessing food relief every month are children (33%) – and of those who are turned away on a monthly basis, 32% are children.
6% of those who receive food relief say it helps them make "longer term, lasting improvement to their lives", and for another 22%, it helps them through a crisis period of a few weeks or months. For approximately half of those who receive food relief, the tangible benefits only last about a week, after which they're back to square one.
It's clear that food relief is more important than ever in Australia, especially at this time of year. If you have the resources to do so, a donation to Foodbank or any charitable Christmas drive (such as the Salvation Army's Christmas Appeal) could make a world of difference to someone's Christmas Day this year, and we think that's priceless.
If you also want to help hungry families in poorer countries overseas, consider buying Christmas cards and presents from poverty-fighting organisations such as: