INFOGRAPHIC: 2018 Budget Winners and Losers
By Annabelle Conaghan May 9th, 2018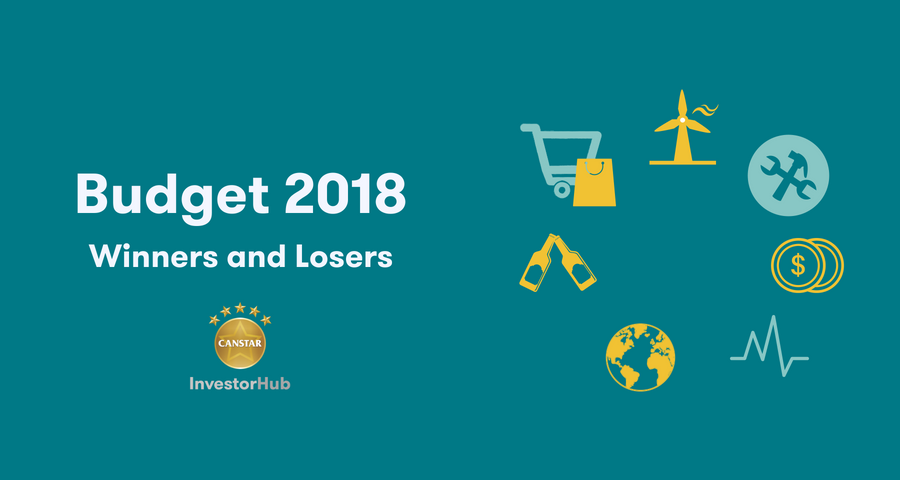 2018 Australian Federal Budget – Winners and Losers
On 8 May, the federal government released its proposed budget for 2018, announcing tax cuts for lower income workers, a continuation of planned infrastructure spending and a focus on aged care.
As an investor, it's important to know how the federal budget may affect the stock market and the operating environments of the companies you're invested in.
From beer to banking, we've put together a list of winners and losers to give you a guide to which industries might be impacted by this year's budget.
Winners
Construction and engineering
The government plans to spend big on infrastructure, which could reap a big windfall for the construction and engineering sectors.
Open banking
Funding has been committed to establish a Consumer Data Right, a necessary building block for the progress of Open Banking and increasing innovation in the fintech sector.
Retail
Tax cuts for middle and lower income earners could bring good news for retailers.
Craft breweries
Craft brewers will no longer pay an additional tax on small beer kegs, allowing them to compete with larger beverage companies.
Losers
Tech giants and foreign companies
The government has moved to further its crackdown on tax avoidance by multinationals and tech companies by closing more loopholes.
Health stocks
As the government provides funding for elderly people to stay in their homes, rather than in nursing homes or retirement villages, aged care stocks could suffer in the long term.
Renewable energy
Renewable energy companies could take a hit as the government announced the emissions reduction target will remain at 26-28% and the current subsidy scheme for renewable energy will be phased out from 2020.

If you're new to the Canstar, we invite you to take a look around. We research and rate over 16,000 products across 40 different categories including banking, insurance and wealth, so whether you're looking to compare credit cards, home loans, superannuation, health insurance or travel insurance, you'll find lots of helpful news and tips.
---
Important information:
Canstar is an information provider and in giving you product information Canstar is not making any suggestions or recommendations about a particular product or investment strategy. To the extent that any information or recommendations in this article constitute general advice, this advice has been prepared by Canstar Research Pty Ltd ABN 29 114 422 909 AFSL and ACL 437917 ("Canstar") and does not take into account your individual investment objectives, financial circumstances or needs. Consider whether this advice is right for you. You may wish to obtain financial advice from a suitably qualified adviser before making any financial decision. Consider the product disclosure statement (PDS) before making any financial decision. For more information, read Canstar's Financial Services Guide (FSG), detailed disclosure, important notes and liability disclaimer.