Terms and Conditions - Facebook promotion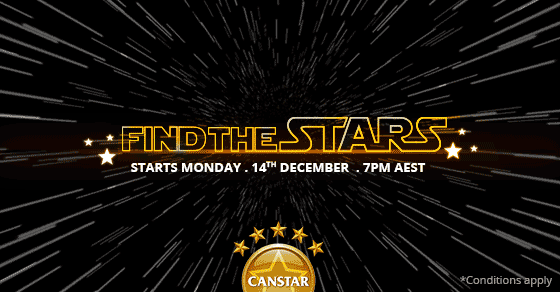 Between 14th and 17th of December, we are giving you 4 chances to win a $50 visa gift card. All you need to do to be in with a chance to win is simply like our Facebook page.
A daily winner will be selected at random from those entrants that have liked our Facebook page in relation to the daily post. Winner will be announced the following day at 4pm AEST.
Find the Stars competition will be held from 14th and 15th December 2015. Winner of the 'Find the Stars' competition posts will have to leave a comment with the correct number of stars in relation to that promotional post.
CONDITIONS OF PROMOTION AND ENTRY
Canstar Facebook promotion 2015 ("Promotion")
This promotion ("Promotion") commences at 7pm AEST on Monday 14 December 2015 and closes at 2pm AEST on Thursday 17 December 2015 ("Promotion Period").
The Promoter is Canstar Pty Ltd ACN 142 285 434 of Level 21, 143 Turbot Street, Brisbane, QLD, 4000 ("Promoter").
The Promotion is open to Australian residents only, except for residents of South Australia who are ineligible to participate.
Employees, and immediate family members (spouse/partner, children, parents) of employees, of any company in the Canstar group (including the Promotor), are ineligible to participate.
Entrants must be at least 18 years or older.
Information on how to enter the Promotion forms part of these terms and conditions. Facebook users who take up the offer to enter the Promotion are taken to agree to these terms and conditions. Each Facebook user who enters the Promotion is called an "Entrant."
The daily prize will be one $50 gift card ("Prize"), making a total of four (4) individual Prizes to be awarded in the Promotion, valued at a total of $200.
The Prize card issuer's terms and conditions of issue of a Prize will apply to the Prize and the Prize Winner's use of it.
Each Entrant expressly acknowledges that

(i) the Promotion is in no way sponsored, endorsed or administered by, or associated with, Facebook, and
(ii) by entering and participating in the Promotion, the Entrant agrees to hold harmless, defend and indemnify Facebook from and against any and all claims, demands, liability, damages or causes of action (however named or described), losses, costs or expenses, with respect to or arising out of or related to (i) Entrant's participation in the Promotion, or (ii) Entrant's participation in any Prize related activities, acceptance of a Prize and/or use or misuse of a Prize (including, without limitation, any property loss, damage, personal injury or death caused to any person(s).

Find the Stars – Competition: Each day from Monday 14 December 2015 until and including Tuesday 15 December 2015 (two days), Canstar will post an image ("Competition Post") on its Facebook page at 7 pm AEST. Visitors to the Canstar Facebook page who wish to enter the Promotion must 'like' the Canstar Facebook page, and comment within the Competition Post by stating how many stars they can see in the image in the Competition Post. Text is excluded. Comments must be entered before 2 pm AEST on the day following the Competition Post.
A prize winner will be selected each day ("Prize Winner"). This will be a person selected at random from those entrants that have like our Facebook page and commented with the correct number of stars in relation to that promotional post (only for 14th and 15th December 2015 competition posts).
The Promotor's decision in relation to which entry is a Prize Winners shall be final.
Prize Winners will be notified via Facebook by 4 pm AEST on the day following the original competition post. Results will not be published on the Promoter's website or in any other publication.
Entrants may only enter the Promotion once per day, but may enter on each day of the Promotion to a maximum of 4 entries during the Promotion Period.
The Promoter reserves the right to verify the identity of each Entrant. The Promoter reserves the right to disqualify any person for tampering with the entry process.
This Promotion is not available for use with any other discount, special offer or promotion.
To be eligible for this Promotion, and in order to make a valid submission under the Promotion, an Entrant must, in respect of each entry during the Promotion Period, do all of the following:

(i) "Like" the Canstar Facebook page and the promoted post,
(ii) "Comment" on the Competition Post with how many 'stars' they can see in the image (14th & 15th December posts only)

Under the Information Privacy Act 2009 (Qld), the Promoter must tell Entrants when it collects personal information about them and how it plans to use it. If an Entrant chooses to enter or take part in the Promotion, the Entrant will be required to provide the Promoter with personal information such as the Entrants name, email address, age and postcode. The Entrant collects participants' personal information in order to conduct the Promotion. Canstar's privacy policy at http://www.canstar.com.au/privacy-policy/ applies to the personal information you provided by Entrants.
Any personal details provided incorrectly over the internet to the Promoter may be deemed by the Promoter as an invalid submission.
Throughout the Promotional Period, the Promoter may at its absolute discretion contact some Entrants via email to further discuss the details of that person's entry. Any contact is not indicative of an Entrant's standing in the competition, and does no way indicate whether or not that Entrant has been selected as a Contestant/Finalist/Winner.
The Promoter may, at its discretion, substitute the Prize depending on availability, for a similar Prize of equal or greater value if the Prize Winner has been notified in writing and agreed.
The Prize is not transferable, exchangeable or redeemable for cash.
Should a Prize Winner not claim their Prize within 28 days of being notified, the Promoter may, at its discretion, re-determine a new Prize Winner in relation to that Prize.
Except for any liability that cannot be excluded by law, the Promoter (including its officers, employees and agents) exclude all liability (including negligence), for any personal injury, or any loss or damage (including loss of opportunity) whether direct, indirect, special or consequential, arising in any way out of the Prize as a result of the
The Promoter reserves the right at any time to change these Terms and Conditions.
All enquiries relating to this Promotion can be directed to enquiries@canstar.com.au
By entering the Promotion, you are deemed to have accepted these Promotion Terms and Conditions and Canstar's privacy policy. [hyperlink]