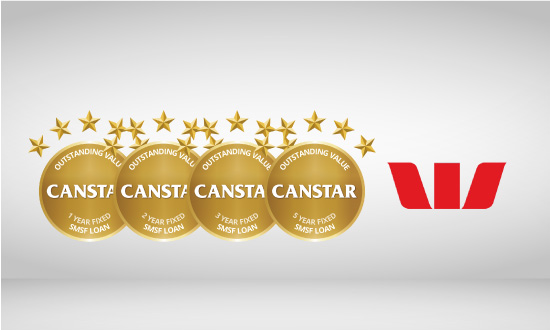 Each year CANSTAR researches and rates SMSF loans available to Trustees. Westpac has achieved Outstanding Value across all fixed-term  loans assessed.
The dollar value of non-recourse loans in self-managed super funds (AMSFs) has increased from $1.4 billion in June 2011 to more than $21.8 billion in June 2016. Just as with individuals though, Trustees are also keen to find a great-value loan.
In 2016 CANSTAR has assessed 67 loan products offered by 14 financial institutions, with Westpac achieving  Outstanding Value – SMSF Loans across all fixed terms assessed.
| | | Profile | | |
| --- | --- | --- | --- | --- |
| Outstanding Value | SMSF Loan | 1 Year Fixed | | Westpac |
| Outstanding Value | SMSF Loan | 2 Year Fixed | | Westpac |
| Outstanding Value | SMSF Loan | 3 Year Fixed | | Westpac |
| Outstanding Value | SMSF Loan | 5 Year Fixed | | Westpac |
In addition to offering the all-important competitive interest rates, Westpac also excelled in the features category of CANSTAR's assessment. Among other features, Westpac offers the following:
Both individual and company trustees are eligible to apply for a loan
Personal guarantee is not required
Refinancing is available
Additional borrowing is also available
Rental income can be used to assess the serviceability of the loan
Employer SG and voluntary contributions are allowed
Lump sum and additional repayments are allowed
Fee free split facility
90 day pre-approval is available
Instant valuations are available
About Westpac
Westpac was Australia's first bank, and its first officially incorporated company. Established in 1817 as the Bank of New South Wales, Westpac now serves around 13 million customers.
Westpac is one of the big four Australian banks and they own a number of other banking brands including St. George, Bank of Melbourne, BankSA, and RAMS.
If you're a landlord or own an investment property, watch Westpac's series of home loan tips for investors.
Using an SMSF to borrow to purchase residential investment property in Australia. Westpac advises:
Suitable for Australian residents with an established SMSF as well as those planning to establish a SMSF

Loan amounts from $200,000 to $2,000,000, giving you the potential to acquire property worth more than your SMSF's available cash funds

Use rental income to assist with repayments

A limited recourse loan where the amount recoverable on default is limited to the secured property itself, and all other assets of your SMSF are protected
Choice of repayment types – principal and interest, or interest only
Flexible terms from 1 to 30 years (interest only – maximum 15 years)

At the end of the interest only term, repayments automatically change to principal, interest and fees for the remainder of the contract term

Rates – variable, fixed and combination loans (fixed and variable) available.
Source: Westpac. Current 1/11/16
How Westpac supports the community