Each year the Research Team at Canstar assess the innovative business products and services developed by Australian institutions. Each year we are impressed by the overall level of innovation in this country; this year BT has impressed with a first in the market income protection product to cover the key people in a small business:
Key Person Income
.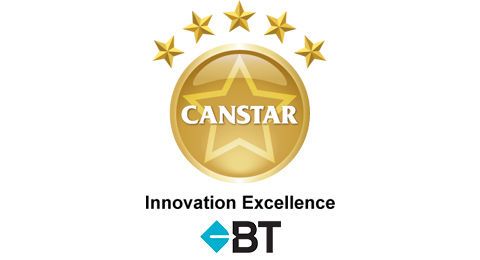 Q: BT successfully identified a real gap in the business insurance market with this product. Where did the idea come from?
A: Business Insurance has always been provided with lump sum cover, regardless of whether the need was lump sum or income. Often this didn?t make sense to advisers and customers, with a common question being: "is there income protection for businesses"? Income Protection helps individuals and their families to maintain their lifestyle and meet their financial commitments in the event they couldn?t work due to sickness or injury. In the same way, we believed a product was needed to protect the revenue of businesses in the event of a sickness or injury to one of their key people – so that they could ensure business continuity.
Q: It was launched approximately 9 months ago – what has feedback from financial planners and customers been?
A: Feedback has been outstanding. Over 2,500 advisers and their referral partners attended our launch national roadshow, supporting master classes and regional events. Due to the high demand for more information from advisers on the topic, we followed up the launch sessions with more business insurance training for advisers and their referral partners, across the rest of 2014. A common comment from advisers and customers alike has been "this makes so much sense, why didn?t it exist before"?
Q: From your research, what proportion of businesses currently leave themselves unprotected from loss of a key person?
A: All of the research we?ve seen suggests over 90% of small businesses have no coverage for the loss of a key person. It?s amazing because those same businesses are often covered for general insurance risks like fire or theft, but not for the loss of a key person which can damage their ability to operate.
Q: What are the main key person risks for small businesses?
A: Small business owners need to sit down and identify who the key people are in their business – these are the people upon whom the financial success of the business depends. They can then quantify what percentage of business revenue is tied to that person and consider what plans they have in place in the event that person was suddenly sick or injured and could not work.
Sickness or injury risks differ dependent upon the industry and nature of work, but range from musculoskeletal injuries like backs and knees to mental health, cancer, cardiac events like heart attacks and serious injury due to accident.