Service and retail employees will see up to a 25% reduction in their Sunday penalty rates following today's decision by the Fair Work Commission.
The hospitality, fast food, retail and pharmacy industries will all see Sunday penalty rates reduced by up to 50 percentage points relative to base rates, with only casual hospitality employees avoiding a reduction in pay.
The changes are set to come into effect on 1 July 2017 and will also see public holiday rates reduced by 25 percentage points for all of the above industries, with only clubs and casual restaurant employees spared.
The decision by the Fair Work Commission (FWC) affects hundreds of thousands of Australian employees in full-time, part-time, and casual roles.
According to the FWC's own data, 27.5% of all Australians worked on weekends from 2009-2016. This included nearly half (47.6%) of all retail employees and 60.8% of all accommodation and food services workers.
What the new weekend award rates will be
The new award rates to come into effect for weekends on 1 July are: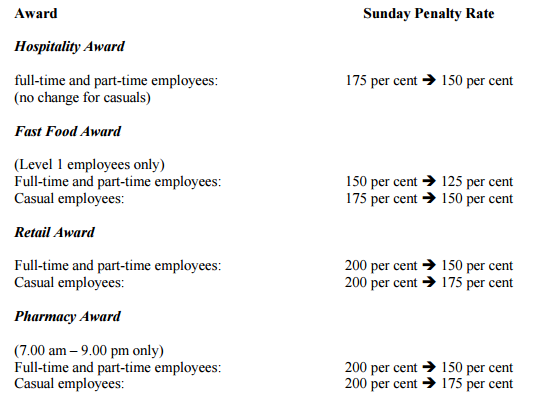 What the new public holiday rates will be
For workers on public holidays, the reductions will be: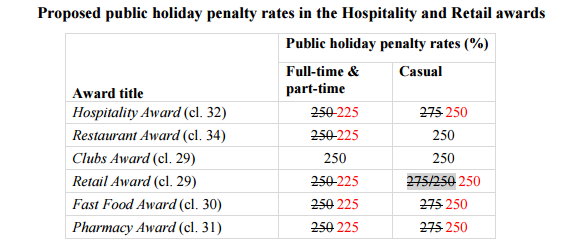 The Commission adopted the Productivity Commission's recommendation in that Casual award rates will always be 25% higher than that of non-casual employees, to compensate for casual employees' lack of benefits and job permanence.
Why penalty pay rates are being cut
The Fair Work Commission has justified their rate reductions in a report handed down on Wednesday. They say decreased penalty rates will likely lead to:
Increased trading hours on Sundays and public holidays
Reduction in the hours worked by small business owners
Increase in the level and range of services offered for consumers on those days
It also noted that the vast majority of retail, accommodation and food businesses operated for 6 or 7 days a week – which demands greater staff numbers on weekends and creates higher costs.
The Commission said these economic reasons justify a reduction in the higher rates of pay.
The Commission noted that the "disutility" or harmful long-term effect of weekend work, particularly Sunday work, is still worse than the effects of working during the week, with public holidays having even worse effects. However, they claimed that weekend and public holiday work these days is not as harmful as in the past, pointing out that workers now have a limited right to refuse to work on public holidays ("on reasonable grounds").
How will this affect workers?
The Australian Council of Trade Unions (ACTU) stated that the cuts would affect nearly 1 million Australian workers, with the worst case scenario being losses of up to $6,000 per year for some employees.
The Council urged the Prime Minister to institute subsidies, to protect workers from losing pay as a result of the cuts, stating that many families rely on penalty rates to support their families.
While the Coalition has indicated its support for the reduction in rates, both Labor and the Greens have stated that they will attempt to compensate for the cuts through new legislation in parliament.
BREAKING: Sunday & public hol rates cut for retail, hosp & fast food workers. Greens will move in parl to stop cuts coming into effect.

— Adam Bandt (@AdamBandt) February 23, 2017
The Fair Work Commission's decision comes at the conclusion of a 4-year review of modern award rates, as mandated by the Fair Work Act 2009 (Cth). The review encompassed 39 days of hearings in 2015 and 2016, with 143 lay and expert witnesses called, and over 5,900 submissions received from stakeholders such as businesses, employees, governments, and political entities.