Health fund HCF has released a new online tool to give patients more information about procedures and typical costs.
The Preparing for Hospital website by HCF details multiple common surgical procedures, including in-depth explanations, estimates of the cost, pre- and post-operative advice, and experiences from previous patients.
The procedures covered include common ones such as tooth extractions, childbirth, and colonoscopies, as well as more serious operations such as coronary bypasses, joint replacements, and hysterectomies.
HCF's cost estimator provides an average cost of a procedure in private hospitals, as well as a visual and numerical cost breakdown for each procedure.
This enables patients to easily see how much each operation costs out of pocket, and how much is paid by HCF and Medicare.
In addition to providing a payment breakdown, HCF's cost estimator also explains where the gross cost comes from, by breaking down each specialist involved in the procedure.
The fees charged for a surgeon, anaesthetist, nurse, pathology work, and much more are all included, enabling you to understand just why medical procedures are so costly.
The motivation behind HCF's industry-leading new tool was "a significant disconnect between member expectations and actual experiences in hospitals", as discovered in the fund's 2016 Hospital Patient Experience Survey.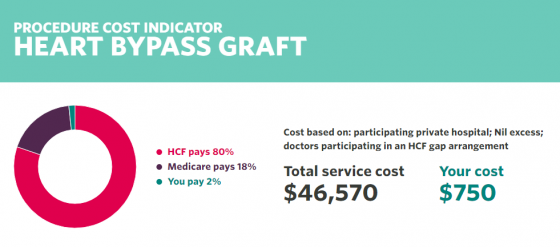 An indicative cost breakdown for a Heart Bypass Graft. Source: HCF
Shaun Larkin, HCF Managing Director, said the Preparing for Hospital tool helps consumers avoid "bill shock" by providing "a more complete picture of the costs".
"Insight from our members has shown there is a gap in perception versus reality when it comes to the cost of going to hospital," Larkin said.
"To improve outcomes, it is our responsibility as a health fund to ensure we are supporting Australians as best we can when they need to go to hospital – it is a particularly vulnerable time for patients – and we hope to empower them to make informed decisions about their health."
Choose your own specialist
In addition to their cost breakdown and information, HCF has partnered with Healthshare, a site which allows prospective patients to search for doctors and other health professionals who participate in the HCF No Gap or Known Gap scheme.
Participating professionals either bulk-bill their patients, so that the entire fee is covered by Medicare and health insurance (No Gap), or provide the majority of their services at a fixed out-of-pocket cost of up to $500 (Known Gap).
Both certifications make it much easier for patients to estimate costs and to request a referral from their GP to a specialist of their choice.