What myths do you believe about low doc loans?
Yellow Brick Road Wealth Management's list of the top 30 home loan myths that Australians believe includes quite a few relating to low doc home loans. Low doc loans are available to borrowers who don't have the traditional versions of paperwork required for a mortgage, such as payslips to prove your income.
"Self-employed people pay a higher interest rate"
Myth number 24 is that self-employed people automatically have to pay a higher interest rate. Busted!
Being self-employed won't give you a higher interest on face value. It's only if you don't have enough documentation to take the "full doc" home loan route that you will likely face the higher interest rates and bigger deposit requirements that come with a low doc loan.
There is definitely a slight interest rate difference between average full doc and low doc loans. Banks face a higher risk with low doc loans, so the interest rate is likely to be higher, along with the deposit requirements.
And it is certainly true that if you don't have sufficient documentation available to show the bank, you will have to apply for a low doc home loan. If you do have the proper documentation, most institutions will push for a full doc loan.
Canstar's recent research into low doc home loans found the following interest rates on offer:
Home Loans vs. Low Doc Home Loans
Standard Variable
Low Doc Standard Variable
3-Year Fixed
Low Doc 3-Year Fixed
Min
3.55%
4.59%
3.59%
4.05%
Average
4.58%
5.22%
4.08%
4.67%
Max
5.84%
6.86%
5.05%
5.54%
Source: Products on Canstar database as at 15 August 2016. Based on Residential Home Loan with $350,000 loan amount and 60% LVR.
"Self-employed people can't borrow as much"
Some people assume they won't be able to borrow as much in a low doc loan as they would if they were an employed person applying for a standard home loan. Busted!
Some institutions on our database allow low doc borrowers to borrow up to $2.5 million. The table below shows the maximum loan amount on offer for low doc borrowers with the various institutions on our database at the time of writing:
Provider
Maximum Loan Amount
AMO Group
$ 1,000,000
ANZ
$ 2,500,000
Bank of Melbourne
$ 1,500,000
BankSA
$ 1,500,000
BOQ
$ 1,000,000
Commonwealth Bank
$ 2,500,000
Homeloans
$ 2,000,000
Liberty Financial
$ 1,000,000
Pepper Money
$ 2,000,000
RAMS
$ 1,500,000
RESI Mortgage Corp
$ 750,000
St.George Bank
$ 1,500,000
State Custodians
$ 1,500,000
Westpac
$ 1,500,000
Source: www.canstar.com.au. Based on information provided to Canstar in August 2016 by the financial institutions listed
"Low doc means no doc"
Many people assume they can get a low doc loan without any documentation – no BAS or tax return, no bank statements, no proof of income and assets at all. Busted!
As the name suggests, low doc means you need less documentation than a normal loan, but you still need some. Find out what documentation you will need here.
"Consolidating debt is free"
Myth number 4 is that you can always save money on a personal loan by consolidating it into your home loan. Busted!
The interest rate on your home loan might be lower than on your personal loan, but you'll end up paying more interest on your home loan in the long run if you add to the principal amount and don't pay it off in a timely manner.
And if you do have a low doc home loan with a higher interest rate than your personal loan, then you need to do your sums carefully before you switch.
If done right, debt consolidation should let you make the same affordable monthly repayments on your home loan, so you can pay off your personal loan along with your mortgage without feeling an extra pinch to your budget.
"The interest rate is all that matters"
Myth number 2 is that the interest rate is all that matters, and myth number 13 is that all home loans are pretty much the same. Busted!
A low doc home loan is not just about interest rates. There are often ongoing and establishment fees – and exit fees when it comes time to refinance. When you're making comparisons, always take into account the whole cost of the loan, including fees and the interest rate.
You also need features that make the loan work for you, not against you, and low doc loans should have just the same features as any other loan. This can include being able to make additional repayments to pay it off, redraw or access the money you've already paid.
Do your shopping around before signing up for the first low doc loan you see. Picking the minimum or the maximum interest rates in the table above makes quite a big difference to your monthly repayments.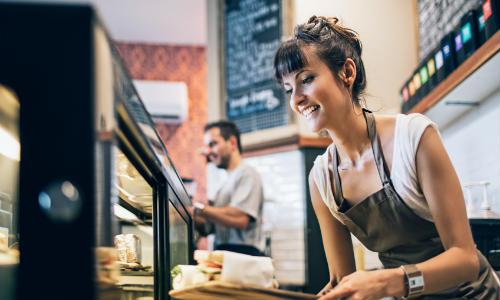 "Self-employed people can't get a normal home loan"
One last myth is that self-employed people are forced to take the low doc route. Busted!
If you have an established business with a reliable stream of income, then you could be eligible to apply for a "full doc" loan. To verify your income, you'll need your last few years of tax returns, BAS, and bank statements. Some lenders count just 6 months of trading to be an established business, if your profits are consistent enough.