Espresso yourself for a chance to win
By Launa Lee June 18th, 2018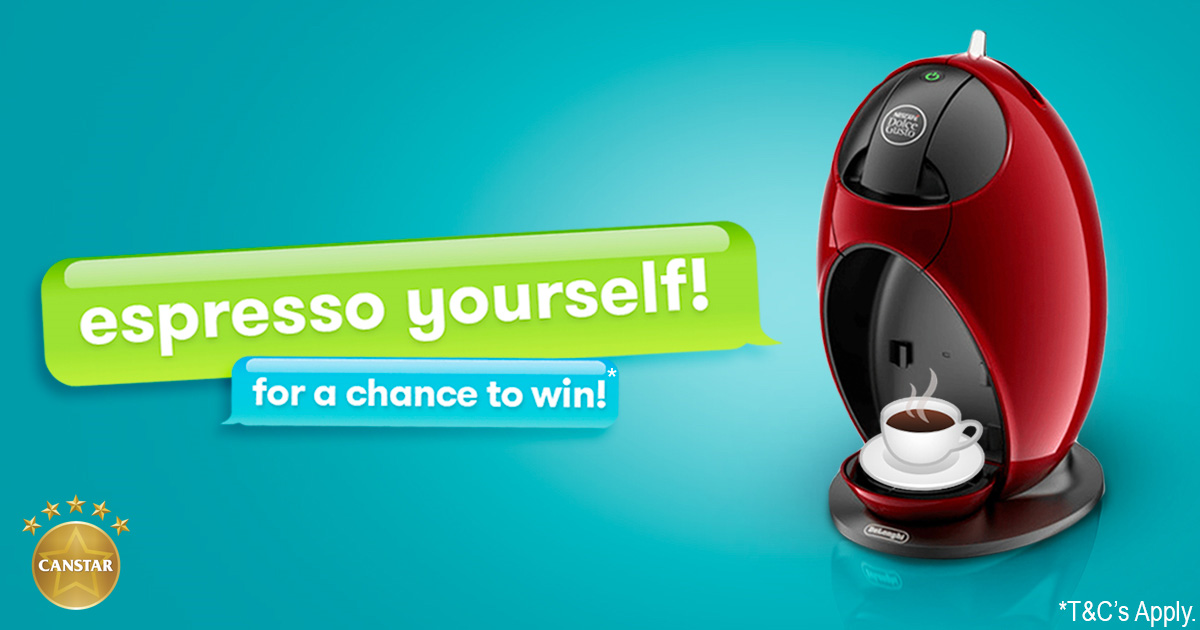 Chance to win a Nescafe Dolce Gusto Jovia Coffee Machine
This competition is closed. Congratulations Rachel from South Australia.
Follow the below steps to ensure you have successfully entered into our competition for your chance to win!
Entries close at 11:59 pm AEST on Thursday, 5 July 2018. *Conditions apply
---
1. Fill in this short entry form.
2.'Like' Canstar's Facebook page.
3.Tell us what coffee means to you on our Facebook competition post
---
Step 1:
By filling in this entry form, you are subscribing/resubscribing to our newsletter.
(If you're already subscribed to our newsletter, you still need to fill in the entry form to be entered in the competition)
SCHEDULE TO CANSTAR PROMOTION GENERAL TERMS AND CONDITIONS
Promotion name: Canstar 2018 'Espresso Yourself' Competition
This Promotion Schedule is incorporated into and forms part of Canstar's "General Terms and Conditions of Promotions", available at www.canstar.com.au/terms-of-use. The General Terms and Conditions apply to the Promotion subject of this Promotion Schedule. To the extent of any conflict between this Promotion Schedule and the General Terms and Conditions, this Promotion Schedule will prevail.
Item Number
Description
Details
1
Promotion Period
This Promotion commences at 10:30pm AEST on Monday 18 June 2018 and closes at 11.59pm AEST on Thursday 5 July 2018.
2
How to enter
To enter the Promotion, each Entrant must:
3
Inclusions or exclusions
As per the General Terms and Conditions.
4
Details of Prize and value
The draw will be in relation to one prize, a Nescafe Dolce Gusto Jovia Coffee Machine, valued at $149 RRP (called a "Prize"). The prize will be posted to the winner's validly nominated postal address, at Canstar's expense.
The winning Entrant will be required to notify Canstar within five business days, via reply email or Facebook private message, of their: acceptance of the prize,
● full name,
● contact phone number,
● postal address,
● year of birth,
● approval for Canstar to announce their name as the Prize winner on the website www.canstar.com.au and on relevant publications
5
Draw date, time and location
The Prize winner will be selected from a list of eligible entrants. The selection will take place between 10am and 3pm AEST on Friday 6 July 2018 at Level 22, 143 Turbot Street, Brisbane, QLD, 4000.
The Prize winner will be notified by email and Facebook private message by no later than 5pm on Friday 6 July 2018.
6
Selection of Winner
The winning comment will be selected based on originality, creativity, humour and quality by the Promoter's judge.
7
Additional Conditions
– This is a game of skill. Chance plays no part in determining the winner. Each entry will be individually judged, based upon individual creative merit.
– All entries must be an independent creation of the entrant and free of any claims that they infringe any third party rights. Entries must not have been published previously and/or used to win prizes in any other competitions.
– Where an Entrant submits an entry to Canstar as part of their entry in this Promotion, the Entrant warrants that either:(a) they are the owner of any intellectual or other property rights that may be associated with the entry; or(b) they have been granted the right to submit the entry to Canstar by the holder(s) of these rights.- The judge reserves the right to disqualify any entrant submitting an entry which, in the opinion of the judge, includes objectionable content, including but not limited to profanity, nudity, or any images or language found to be potentially insulting, scandalous, inflammatory or defamatory. The judge's decision will be final and no correspondence will be entered into.
– Incomplete, indecipherable or illegible entries will be deemed invalid.
– The Promoter is not liable for any tax implications arising from prize winnings. Independent financial advice should be sought, as tax implications may arise as a result of accepting a prize.
– In accepting a Prize, each winner agrees that their winning entry shall become and remain the property of the Promoter and its associated companies in the Canstar Group.
– The Promoter and its associated companies may use entrants' names and submission contents for any commercial purpose, including future promotional, marketing and publicity purposes, for an unlimited period without remuneration.
– By entering the Promotion, each entrant agrees to be bound by the General Terms and Conditions, read in conjunction with this Schedule, and agrees to the terms of Canstar's Privacy Policy.
– Nothing in this Schedule or the General Terms and Conditions limits, excludes or modifies or purports to limit, exclude or modify the statutory consumer guarantees as provided under the Australian Consumer Law, as well as any other implied warranties under the ASIC Act or similar consumer protection laws in the States and Territories of Australia. ("Non-Excludable Guarantees"). Except for any liability that cannot by law be excluded, including the Non-Excludable Guarantees, Canstar (including its officers, employees and agents) excludes all liability (including negligence), for any personal injury; or any loss or damage (including loss of opportunity); whether direct, indirect, special or consequential, arising in any way out of the Promotion.
– For the Espresso Promotion:

Clause 14 of the General Terms and Conditions will be replaced by the following clause: "the judge's decision will be in relation to [number of prizes] prize[s] ("Prize")."
Clause 16 of the General Terms and Conditions will be replaced by the following clause: "The person whose entry is judged the most original, creative, humorous and best quality in the sole discretion of Canstar's judge shall be the winner of the Prize."
Clause 26 of the General Terms and Conditions will be replaced by the following clause: "Results of this Promotion will be published on the Promoter's website at www.canstar.com.au on 12 July or, should a re-draw be required, on 20 July."
Clause 27 of the General Terms and Conditions will be replaced by the following clause: "Should a Winner not claim their prize within 14 days of being notified, the Promoter may, at its discretion, re-determine a new Winner."