Bank Australia wins Customer Owned Banking Award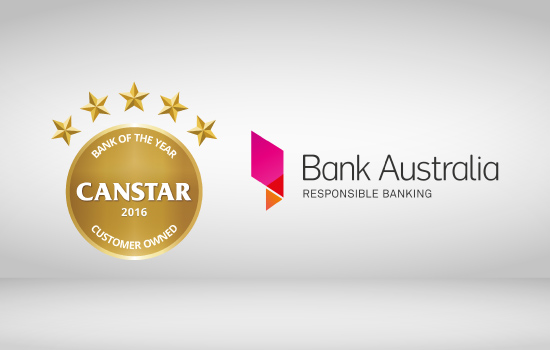 CANSTAR has researched and rated 59 customer-owned institutions to determine who offers outstanding value for consumers, and we are pleased to congratulate Bank Australia on winning the 2016 Award.
CANSTAR is pleased to congratulate Bank Australia on winning the 2016 Award for Customer Owned Bank of the Year. Here's why they won.
"Responsible Banking. A bank all Australians can call their own."

Compare Mutual Banks with CANSTAR's Customer Owned Banking Award
Why Bank Australia is a winner
This is Bank Australia's first time winning the CANSTAR Award for Customer Owned Institution of the Year.
This year, Bank Australia has consistently shown outstanding value for the consumer across all product areas that we consider within our Star Ratings, particularly within Residential Home Loans.
They not only offer outstanding value products within the lending space, but also offer their customers value for money when it comes to its savings and transaction accounts.
Recent rebranding has seen Bank Australia drastically revamp their online banking platform and mobile banking apps, making it more user-friendly, functional and flexible for all aspect of customers' day to day online banking.
About Bank Australia
Bank Australia was Australia's first 100% customer-owned bank. It has been running since 1957, when it was founded as the CSIRO Co-operative Credit Society Ltd, with just 40 members. In their first year, they granted three loans totalling $525.
Profits are reinvested in Bank Australia, which was also formerly known as bankmecu. Today, nearly 130,000 people and community sector organisations choose to bank with Bank Australia.
In 1984, Bank Australia was the first credit co-operative to issue Visa credit cards in Victoria. They now offer access to over 3,000 rediATMs and 24 branches around the country, and you can also make deposits through Australia Post.
As of 2015, half of the Board of Directors of Bank Australia are women, which is far better than the average rate of 20% reported by ASX boards in ANZ's 2015 study.
How Bank Australia supports the community
Uniforms for disadvantaged kids: Bank Australia supports State Schools' Relief, which began during the Great Depression when students stopped coming to school because they couldn't afford uniforms. In 2015, SSR helped 20,500 kids get kitted out so they could go to school without getting in trouble about their uniform. SSR also now provides expensive maths graphics calculators to high school students who otherwise wouldn't be able to study Maths B, Maths C, or the Sciences.
Bank Australia Impact Fund: The Bank Australia Impact Fund invests 4% of Bank Australia's profits into programs that improve measurable environmental, social, and economic outcomes. They also support projects run by Bank Australia customers through an annual Small Investments Round.
Bridging the gap for Indigenous students: In 2010, Bank Australia launched their Reconciliation Action Plan, and in 2011 they began supporting the CSIRO Science Pathways for Indigenous Communities program in schools.
How Bank Australia protects the environment
Bank Australia Conservation Reserve: A world first for a financial institution, this private nature reserve uses the help of conservationists and local community groups to offset the impact of Bank Australia's products on the environment. Bank Australia purchased the first of their five conservation reserve properties in 2008 in West Wimmera, Victoria. This land is home and habitat for many endangered species including the South-Eastern Red-Tailed Black Cockatoo, the Golden Sun Moth, and the Growling Grass-Frog.
Carbon neutral: Bank Australia has been carbon neutral since 2013. More than 10% of power used at head office is generated by solar panels on the roof. In 2004, they began offsetting carbon emissions on cars they financed.
Biodiversity: In 2008, the bank began offering biodiversity offsets for new home construction loans.
Compare Mutual Banks with CANSTAR's Customer Owned Banking Award
Please note that CANSTAR is an information provider and in giving you product information CANSTAR is not making any suggestion or recommendation about a particular product. If you decided to apply for a product, you will deal directly with a financial institution, and not with CANSTAR. Rates and product information should be confirmed with the relevant financial institution. For more information, read our detailed disclosure, important notes, and additional information.