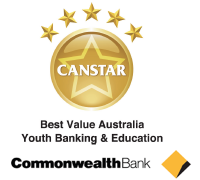 Each year Canstar research and rate the youth financial education and banking offerings of Australia's financial institutions. In 2014,
Commonwealth Bank
has once again taken the award, thanks to excellent junior and youth banking-specific websites, incorporating a variety of tools, games and activities to engage children in developing financial literacy skills.
Commonwealth Bank also offering a well-supported school banking program and school grants, as well as workshops and curriculum material covering topics such as saving, spending, investing and banking.
Danielle Murrie – General Manager Deposit & Transaction Products, took the time to answer a few Canstar questions.
Q: Commonwealth Bank has a very impressive track record in prioritising financial literacy for youth. Why is financial literacy so important for this age group?
A: CommBank has a strong and continuous focus on developing financial literacy for Australian children, demonstrated by a commitment of more than 80 years to our national School Banking Program and our ongoing investment in the Commonwealth Bank Foundation's StartSmart program. We believe learning practical life skills based around smart money management is important as we all engage with money on a daily basis.
Q: What opportunities does new technology have for enhancing kids' understanding of money issues?
A: Research points to an ever increasing take up of smart phone and tablet devices amongst children. With an eagerness to engage with these devices, there is a natural fit to providing engaging resources to children through this medium. Resources such as Dollarmites offer children a great way to learn about money through the power of games and other online activities. However, as with all areas of society, the uptake of technology is also creating challenges in the way children learn about money and understand it as a tangible asset. With a continued shift towards a cashless society, instilling these basic skills in a child's early years is becoming increasingly important. This is why our fridge chore trackers, school banking programs and other opportunities to interact with physical money and the child's bank account are still just as important as they were 20 years ago.
Q. What are three of the most important money lessons for children to learn?
A: The message around money management for children should always be practical and simple. CommBank focuses on three main areas to ensure children have all the practical skills they need to manage money effectively. These are:
saving for a goal;
the concept of borrowing; and
'smart' spending.
CommBank also offers fantastic practical advice for parents via our Beanstalk page.
We congratulate Commonwealth Bank on their achievement. Click here to read Canstar's 2014 Youth Education & Banking Award report.