There's more to planning an overseas holiday than just hunting down the cheapest airfare and the best hotel deal. How are you going to pay for things while you're travelling? Taking time to consider your options here and planning your travel money will result in peace of mind that you have all bases covered and are less likely to be involved in an unwanted financial drama away from home.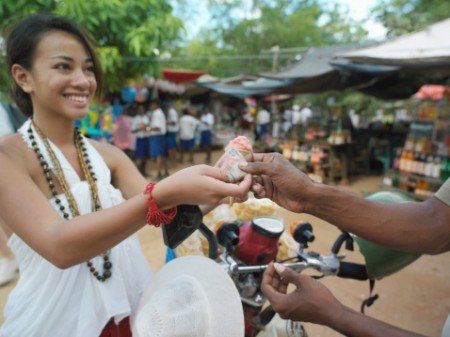 The first thing to understand is that there is no single right way to access funds overseas that will work for all travellers in all places all the time. Whether it's a short trip or a long one, where you're heading, how much you're taking and the level of security you need are all factors to consider.
Cash
Cash is not a smart idea for the bulk of your holiday money; if you lose your wallet or your hotel room gets done over, bang goes your holiday spending fun. However, make sure you do have some local currency when you land. At least enough to get you out of the airport and to your hotel with no hassles. It's also great for tips, coffees, market shopping and other small purchases.
Travellers Cheques
Once mandatory for travellers, the proliferation of global ATMs has taken the lustre off this form of money. However there are some destinations, such as some third world countries if you are travelling for an extended period, where travellers cheques can be a great backup. If you can't find a functioning ATM, travellers cheques are a relatively secure alternative to cash. Also, if you lose your travellers cheques you only have to contact the nearest office of the issuing authority with the numbers of your unredeemed cheques to get them replaced, usually within 24 hours. Make sure you know those numbers!
Credit cards
Credit cards are terrific for large purchases such as airline tickets, hotel bills, car rentals and restaurant meals. Factor in currency conversion fees plus interbank exchange charges. If you travel frequently it is possible to find a credit card that doesn't charge any foreign transaction fees. While you can use credit cards to get cash advances from ATMs, you'll be hit with a hefty interest rate straight away. If you're not home by the time the bills come in and you haven't made arrangements to pay to pay them, you might be up for more than you bargained for.


What is purchase price protection insurance?
ATM Debit card
ATMs are just about everywhere and they are a convenient way to access funds when you're on the road. A debit card means you are using your own savings and not racking up further debt. Provided you have a debit card that is authorised for use overseas – your bank or financial institution can advise – you're in the money at your bank's preferred global ATM network. But do be very wary of ATM transaction fees – they can add up significantly.
Convenient, secure and replaceable if you lose it, there's a lot to like about Travel Money Cards. You buy the card at home and deposit several currencies on it, according to which countries you intend visiting. You'll pay an initial card fee and a re-load fee when you top up the card via Bpay. You'll also pay to use your currency card at an ATM but on the plus side, you have already locked in the exchange rate at home when you purchased the card and are not subject to the vagaries of currency conversion rates when overseas. Read more about travel money cards here.
Finally, don't forget to call your bank and make it aware of your travel plans; sudden international activity using your debit or credit card could cause your account to be frozen.
Other articles you might like