The new $50 note, the most popular banknote drawn from ATMs, has hit the streets today with the Reserve Bank expecting there to be little disruption to consumers and businesses.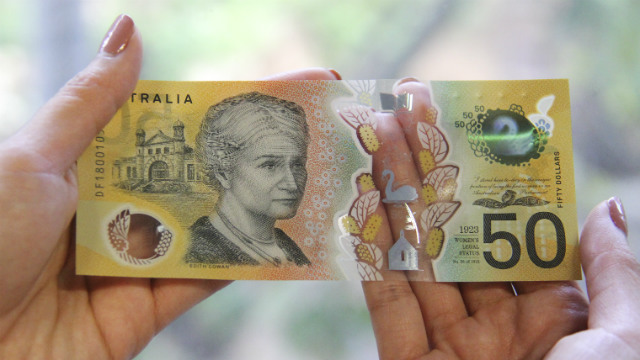 The $50 note is the latest release in a new series of banknotes from the RBA.
It follows the launch of a new $5 note in 2016 and a new $10 note last year which initially had some teething issues with a number of vending and gambling machines spitting them out because they didn't recognise them.
"We were keen for the new $5 and $10 to be well accepted before we launched the most popular note, the $50," RBA Governor Philip Lowe said.
"This has involved working closely with businesses to assist cash handlers and cash-handling machines to identify and use the notes, which will help minimise disruption to people and businesses."
The new notes include security features to deter counterfeiting and tactile markings designed to help vision impaired people distinguish between the different notes.
There are four raised bumps along the edges of the $50 note.
It also features portraits of Aboriginal writer and inventor, David Unaipon, and Australia's first female member of parliament, Edith Cowan.
Mr Lowe said they were both campaigners for social change and the microprint includes excerpts of Unaipon's book, Legendary Tales of the Australian Aborigines, and Cowan's first speech to the Western Australian Parliament.
He said as with the past releases, it would take some time for the new note to be widely available and the existing series of $50 banknotes will be progressively withdrawn from circulation, however they will retain their legal tender status and can continue to be used.
The new $20 note is expected to be released in 2019 and the new $100 in 2020.