Are you looking to switch banks? Canstar has announced two award-winning providers of transaction accounts and credit cards in this year's Everyday Banking Award.
After analysing 122 transaction accounts and 196 credit cards from 14 banks and 33 customer-owned institutions, Canstar has announced the providers offering consumers a comprehensive suite of products that can meet their everyday banking needs.
On top of offering quality products, recognition was given to institutions found to provide consumers with a strong online banking platform and comprehensive coverage of ATMs and branches throughout Australia.
To be eligible for Canstar's Everyday Banking Award, banks needed to offer consumers a deposit account and credit card rated in Canstar's respective Savings and Transaction Account Star Ratings and Credit Card Star Ratings, with the winners consistently performing well across the breadth of consumer profiles assessed in both ratings.
The recipients of our 2018 Everyday Banking Awards are listed below.
Bank of the Year – Everyday Banking: Westpac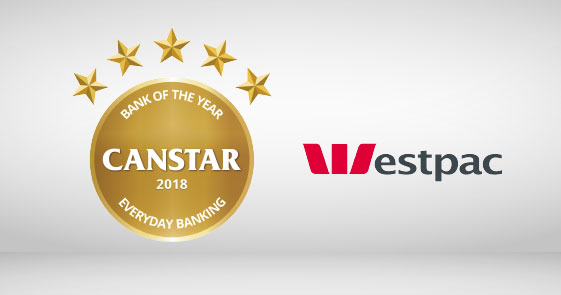 Westpac performed strongly across the range of categories assessed by the Canstar Research team in this year's Everyday Banking Awards. Westpac's Choice transaction account has consistently been a strong performing transaction account, achieving a 5-Star rating in our recent Savings and Transaction Account Star Ratings for both high and low transactors. Westpac will also waive account keeping fees for customers who meet certain conditions, such as meeting a monthly deposit, being a senior, or being a tertiary student. These features are what make it an outstanding value option for the majority of consumers.
When it comes to credit cards, Canstar Research found Westpac's comprehensive suite of products allows them to meet the needs of a range of customers. For instance, Westpac's Low Rate card could be suited to people who carry over debt month to month. It has a competitive interest rate of 13.49% on purchases and currently offers no annual fee for the first year – saving consumers $59 – while its 55-day credit card offers customers 55 interest free days on purchases and no ongoing annual fee.
For consumers who want to earn rewards points on everyday spending, Westpac's range of Altitude cards were found to provide plenty of options, with a choice of Altitude points or Qantas Frequent Flyer points.
Rounding out Westpac's credit card line up, is its lower limit card with an interest rate of 9.90%, called the Westpac Lite card.
The bank has also teamed up with American Express to offer an Amex issued companion card for their Altitude cards targeted at point-hungry consumers.
Customer-Owned Institution of the Year – Everyday Banking: Bank Australia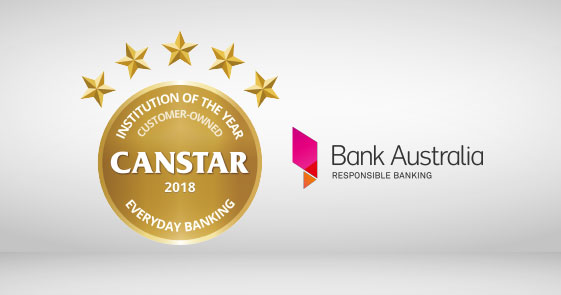 The Canstar Research team found Bank Australia provided standout banking products to its customers, which led to them receiving this award in the 2018 Everyday Banking Awards.
Bank Australia's Everyday Access transaction account was found to be a solid performer, but it was its suite of credit cards on offer that saw the customer owned institution pull ahead of the pack, with its rewards credit card offering consumers a genuine alternative to the larger banks.
Canstar Research made particular mention of Bank Australia's Low Rate Visa credit card, providing an interest rate of 9.39% for purchases – below what is offered from the major banks. For those consumers not revolving a balance, the Visa Credit Card had no annual fee, 55 interest free days and an interest rate of 12.39%.
For consumers interested in earning rewards, Bank Australia's Platinum Rewards Visa credit card earns a competitive 0.75 Qantas points for every $1 spent, as well as providing complimentary travel insurance. It is also compatible with Apple Pay, Google Pay and Samsung Pay.
For more information about the 2018 Everyday Banking Awards and how they are calculated, please view the ratings methodology.