Each year Canstar researches and rates retail superannuation funds available for Australians. In Canstar's most recent rating of 74 superannuation funds that are directly available for individuals to purchase without an intermediary, AMP's Flexible Super product received a 5 star rating as a product representing outstanding value for both wealth accumulators and pre-retirees.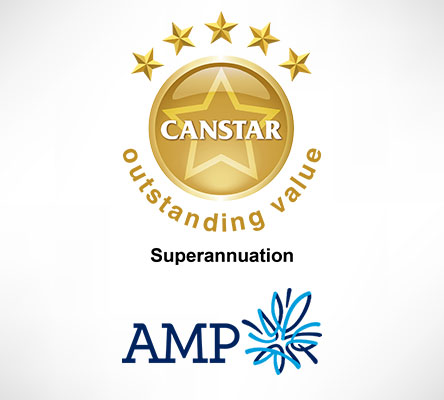 Please note that this information is provided as a general summary only. It is not a recommendation to invest.
The main features of AMP Flexible Super, at time of writing, are as follows:
Investments
AMP Flexible Super offers three broad levels of investment. The Core investment level is a limited range of diversified investment options (plus cash) of which those in the accumulation stage can choose up to three. The Select investment level offers a greater number of diversified investment options and members can choose up to five of these options at any one time. The Select investment level also offers a lifestage strategy. Finally, the Choice investment level allows members to choose up to 15 investment options from a range of over 70 options from more than 10 fund managers.
Insurance
The AMP Flexible Super product offers death cover, total and permanent disablement cover and temporary incapacity (income protection) cover, across two levels of insurance; the Essential Protection level offers death and TPD cover ranging from $50,000 to $250,000 (in $1,000 increments), from age 16 to 65. The next level of cover, Super Protection, provides a comprehensive level of insurance for death, permanent incapacity cover and temporary Incapacity cover.
The availability and cost of insurance cover is subject to underwriting and your personal circumstances – you can download a fact sheet here.
Fees
The fees charged by AMP Flexible Super include insurance premiums (if insurance is chosen) as well as investment fees, an administration fee and a member fee. There may also be an exit fee, an estimated transaction cost and advice fees if you use a financial planner. The percentage value and dollar value of fees will differ depending on which investment options you choose. Please read the AMP Flexible Super product disclosure statement for more information.
Canstar Star Ratings
Canstar's Superannuation Star Ratings applied an extensive methodology to 74 public-offer funds to determine which ones offer outstanding value for members across the four different life stages assessed. Overall we found:
8 products that represent outstanding value for Starters
7 products that represent outstanding value for Builders
7 products that represent outstanding value for the Wealth Accumulators profile
7 products that represent outstanding value for Pre-Retirees