Superannuation and retirement pensions are concessionally taxed savings vehicles. The tax concessions available are currently being scrutinised by the Federal Government.
"The tax system is designed to support growth, it's designed to support people build up their retirement savings for the future, it's designed to do things around innovation, and innovation is the issue, retirement incomes is the issue, growth is the issue. Whether it's on retirement incomes, for example, I think people want to know what would be changes to the tax arrangements for superannuation in the broader context of superannuation changes."
"As you know, we're pushing for tighter governance of superannuation. We're looking for more independent directors. We're looking at greater choice out of the Financial Systems Inquiry Report."
Why are superannuation tax incentives under review?
Tax reform, including superannuation tax reform, has been part of the government agenda for some time. Public focus has been increasingly on the tax concessions within superannuation and retirement income vehicles since the release of the Tax Expenditures Statement (TES), which measures the use of tax concessions by taxpayers. Large tax expenditures include the capital gains tax exemption on the main residence, superannuation, and GST exemptions (e.g. food, health and education).
The release of the 2015 Tax Expenditures Statement calculated that with the exception of the capital gains tax discount for an individuals' main residence superannuation tax concessions – both contributions and earnings – are the largest Commonwealth tax expenditures and are expected to deliver a $32 billion annual cost to the budget within four years.
Both supporters and detractors of the current concessional superannuation treatment arrangements jumped on the report to bolster their arguments.
Do we need to reform superannuation tax concessions?
The federal opposition has contended that superannuation tax concessions are inequitable with almost 40% of all superannuation tax concessions accrue to the top 10% of income earners.
Federal Opposition Response
"If you're fair dinkum about making the tax system fairer, you don't jack up the GST, you look at some of those big, poorly-targeted superannuation tax concessions. We've been saying that for almost a year now. We've had a detailed policy on the table. We think that's the right way to go. We think that's the first port-of-call when it comes to tax reform," said Shadow Minister for Financial Services and Superannuation, Jim Chalmers.
"At the moment we've got forty per cent of the concessions going to the wealthiest ten per cent of people in the system. That's a really poorly-targeted set of tax concessions and that needs to be fixed."
The Association of Superannuation Funds of Australia (ASFA), though, believes that there is still significant work to be done to get an accurate picture of the costs and benefits of superannuation tax concessions, estimating that the actual cost of tax concessions is more likely to be around $16 billion per year when the savings the government makes on the Age Pension as a result of super, and the impact of behavioural change (people shifting money from one tax-effective vehicle to another) are taken into account.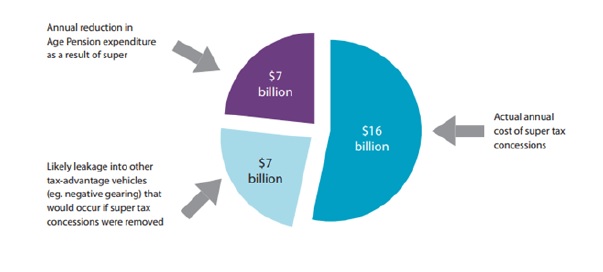 "There are certainly opportunities to look at the level of tax in the superannuation system and it is vital to consider three objectives when doing so: equity, sustainability and the delivery of adequate incomes throughout retirement. ASFA has already made suggestions in this regard and will constructively engage in any public debate on options canvassed by the government in its tax consultation process," said Pauline Vamos, CEO, ASFA.
"ASFA's preference is to encourage people to save as much as possible for their retirement up to a certain account balance threshold and then reduce tax concessions after that."
The SMSF Association also cautioned against knee-jerk tax decisions in relation to superannuation.
"The release of the updated 2015 Treasury TES has resulted in the predictable criticism that superannuation tax incentives are too generous, and the Government should take immediate steps to reduce them," said SMSF Association CEO/Managing Director Andrea Slattery.
"It is inconceivable that we would use a short-term revenue measurement that does not account for the long-term savings to Government through lower age pension spending to assess the performance of superannuation tax incentives."
Slattery says that when the debate focuses on what superannuation tax incentives mean to government revenue, the end result is that we lose sight of the key objective of the superannuation system – to provide income in retirement and to cut future dependence on the aged pension.
"Tax incentives that encourage people to people forgo income today to become self-reliant in retirement are absolutely integral to the system."
The Financial Services Council has also urged the Government not to tax Australia's superannuation savings harder, but instead consider how best to deliver better retirement outcomes to Australia's lower and middle income earners.
Sally Loane, FSC CEO said: "While the Government hasn't yet spelled out what it wants to do with tax treatment of superannuation, if there are changes, we urge close consideration of options which deliver better retirement savings outcomes for the majority of Australians, those in the lower to middle income groups.
"The Government needs to be very careful it doesn't sacrifice national retirement savings to appease calls for more taxation on super.
"Options that leave Australians worse off in retirement and even more dependent on the age pension should be discarded. Options that raid superannuation savings to fund other projects or fill Budget holes, must not be considered."