A fintech start-up claiming be Australia's first 'crowd powered'
super fund
has become the latest new player attempting to shake up Australia's $2.6 trillion superannuation industry.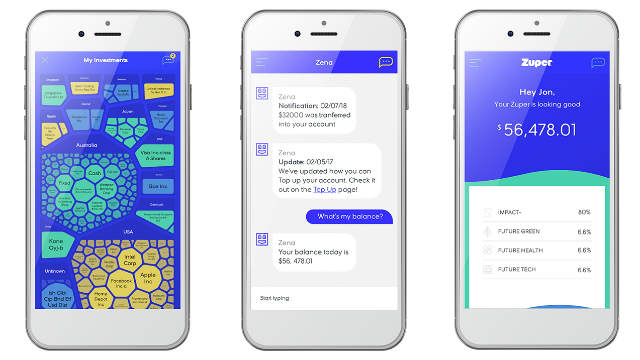 Aimed at millennials, Zuper offers people the ability to vote on the industries and trends they would like to see as options when it comes to investing their super.
"We've seen a huge demand for people to be able take control of their super and where it's invested," Zuper CEO and Co-Founder Jessica Ellerm told Canstar.
"We want to show the people who aren't on top of their super that it isn't a boring thing that doesn't affect them – it can make a difference right now."
The fund invites people to think of their investment "like a pizza". It offers two "base" portfolios where at least 80% of a member's total super balance is invested in assets including cash, bonds, Australian shares, international shares and property.
They then have the option of adding "toppings" by directing the remaining 20% of their balance towards their choice of "health", "green" and "tech", the sectors Zuper says resonated most with consumers in pre-launch research.
A higher annual fee applies to users who choose to sprinkle on "toppings".
Zuper has asked members to vote on the next investment option to be added to the mix, with a choice between "Future Women" – companies that prioritise gender diversity and leadership, "Emerging Markets" – companies in growth regions and "Future Australia" – up-and-coming Australian companies.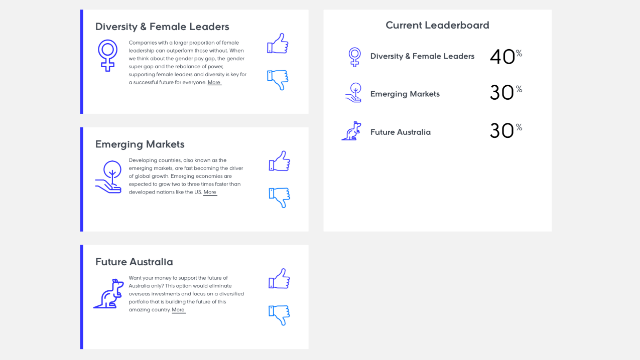 Zuper CEO Jessica Ellerm said the range of options were vetted by investment experts.
"We thought long and hard about how to construct a portfolio fundamentally driven by growth and low cost," Ms Ellerm said.
"Especially at a time when people are less likely to buy a house, we believe super will become the main wealth creation mechanism."
Zuper's launch follows the arrival of other start-ups like Spaceship and GROW Super, who also claim to give members more control over how their money is invested. It also comes at a time when Australia's super industry is coming under intensive scrutiny from regulator ASIC and the upcoming royal commission.
Canstar's Group Executive of Financial Services Steve Mickenbecker said millennials were a group that traditionally were not as actively involved with their superannuation and hoped Zuper would help to increase their engagement with, and understanding of, their investment.
"The key to super is to achieve a healthy retirement savings benefit," Mr Mickenbecker said.
"This means achieving a strong investment return after costs and using quality tools and tracking to assist you in meeting your goals.
"Obviously Zuper doesn't have an investment track record, but costs can be a drain on returns and Zuper has kept these in check at the lower end of the scale, by passive investing to reflect the market index.
"The add-on investment options add more cost to the consumer, although not at the high end. They do give potential for higher returns, but also scope for more ups and downs relative to the market."